Rhinestone Nails Are The Anti-Quiet Luxury Trend Even Minimalists Will Love
@nailson7th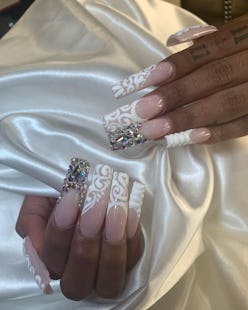 Recently the internet has been taken with moody nail colors and cafe-inspired hues. Though a solid manicure in a deep, dark shade can be alluring during the colder months, it doesn't have quite the same appeal as nail art. With intricate designs that feature hand-painted decorations and delicate accessories, you can instantly create a unique look. Take summer's bow trend, for example, that features 3D shapes and dreamy pink polishes. This fall, rhinestone nail art is making a strong case for its 2.0 era. As one of the top Y2K trends, it's quickly becoming the new favorite among manicure enthusiasts.
During the early 2000s, rhinestones were the element of choice when it came to nail designs. Today, rappers and nail artists are embracing rhinestones as bejeweled accessories, resulting in manicures that are as captivating as they are creative. Many feature gems of all colors, shapes, and sizes, and are delicately blended with trends like ombré and extra-long extensions. But like any good nail look, there's also room for minimalists to thrive.
If you've already mastered oyster nails and are looking for a dazzling way to spice up your manicure, consider these embellished designs a fresh start. Ahead, the best rhinestone ideas to try ASAP.
Emerald Green
Contrary to popular belief, rhinestones come in a range of colors. In this manicure, emerald takes center stage as the leading hue. The simple nude base serves as the backdrop, while sparkling green gems create an ornate design on each finger. The final touches include white flowers that are artfully placed and decorated with gold rhinestones.
Lap Of Luxury
Ready to rake in compliments on your nails? Well, this might be the manicure for you. With a jellied glitter base and large diamonds ranging in cuts and shapes, it's truly a work of art. True, it's not for the timid. But for those who live in the moment and are maximalists at heart, this manicure is a treat to wear and look at.
Elevated French Manicure
When it comes to nail designs, nothing is more elegant than a French manicure. However, if you are searching for a way to increase its charm, this look is a good choice. The soft pink base and optic white tip are a classic combo that never gets old. But the addition of a single rhinestone placed at the base of the traditional design feels elevated and fancy.
Teardrop Diamonds
There are a million ways to wear a French manicure. While this option sticks to the classic color palette, it has a fresh look thanks to a few of this year's top nail trends. The almondetto shape gives it a sleek look and is perfect for the deep French tip. The cherry on top, however, is the teardrop diamond detailing that decorate the pinky and middle fingers. Artfully placed, they create a delicate design that's too pretty to go unnoticed.
Butterflies & Flowers
There will always be a place for butterflies and flowers in the world of nail art. Whether hand-painted or formed into a 3D design, the two icons are staples that works year-round. This manicure features the latter with rhinestone decor for an artistic look. Instead of a simple nude polish, it relies on a mix of lilac ombré and clear extensions for a truly eye-catching design.
Negative Space
With the holidays just around the corner, you're probably thinking about your party outfits and makeup looks. Your manicure might not be top of the list but it's just as important. Enter this sparkly set. Created with glitter, rhinestones, and an edgy negative space design, it's the perfect way to complete your ensemble.
Diamond Studded
True, many designs use the gemstones to create ornate looks. But, they don't always have to be over the top. This option leans into the quiet luxury aesthetic and is easy to recreate. Thanks to a seemingly bare nail with a sheer wash color, the scattered rhinestones become the star of the manicure. For the most natural look, opt for an almond shape and medium-length extension.
Heavy Metal
Short nail art is becoming just as popular as long extensions. Even better? The looks can often be easily recreated at home. Take this stunning metallic manicure that features perfectly groomed nails, silver chrome polish, and a single finger studded with rhinestones. The final look is disco ball meets heavy metal, a combo that will turn heads wherever you go.
Sapphire Desire
Created by the queen of bling herself, Jenny Bui, this gorgeous manicure is a sight to be seen. From the sapphire gems to the deep navy and chrome polishes, it's a celebration of color. Each nail offers an exquisite design that uniquely features the hue. The artist is beloved for her over-the-top designs and is the long-time technician of rapper Cardi B. Though booking Bui may be near impossible, her Instagram constantly delivers swoon-worthy inspiration to enjoy and save for later.
Gothcore
The gothcore nail aesthetic shows no signs of slowing this season. Luckily there are a ton of ways to make it your own. Instead of going with a shiny or matte finish, why not give this sparkling manicure a try? The black French tip design is decorated with ebony rhinestones and gems for a moody and sinister feel. Whether you go long or short, it's a look that's sure to be loved.