Almondetto Is The New Nail Shape Going Viral — Here's How To Wear It
@klawsbysonia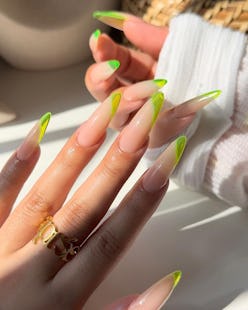 Wearing nail extensions is no easy feat. But in the event that you've mastered maneuvering your daily tasks with long square or coffin-shaped nails, you may be on the hunt for another option to add to your rotation of manicures. Turns out, you don't have to search high and low, as the internet has recently added a new shape to the general lineup: meet almondetto. Part almond, part stiletto, the look, which features the best elements of the two shapes, is reliant on length. That's right — no short nails here. Instead, the best almondetto nail ideas capitalize on the extra long surface area of the extension and can even help elevate the overall design.
It's no secret that the original almond shape is sought after for its natural appearance or that dramatic stiletto nails are beloved by celebrities and nail artists alike. That said, the hybrid shape has the unique ability to fit out-of-this-world nail art designs while still appearing elegant. And if TikTok and Instagram are any indication, the style is poised to take over. (In fact, rapper Saweetie recently chose the shape for her birthday manicure.)
In short, you might want to hop on to the trend before everyone else does. And with the following almondetto nail ideas, you won't have to think twice about your next set.
Sherbet Swirls
Just as sweet as the dessert itself, this set of almondetto nails painted in sherbet colors is hard not to love. To keep the design from feeling too summery, apply a matte top coat to the base shade and keep the swirls glossy. Trust, the contrast will turn more than a few heads.
French Tips With Hearts
As one of the OG nail designs, the French Manicure has seen many iterations. But unlike the micro French or the half-moon style, this heart-adorned option is a unique way to beautify the classic.
Ombré
You may have seen this unique ombré style pop-up on your FYP. If you have, it's also likely to have been paired with extra-long almondetto nails as it makes the design even more appealing.
Half & Half
Embracing your inner Cruella is easy with this split design. To help ground it, use a nude base and a shiny black polish on one half. Then, apply the contrasting white shade only on the tips.
Dainty Designs
The extended length of the almondetto shape gives a pinky nude a luxe look that sits somewhere between bold and natural. While the color is ultra-flattering on its own, it also makes the perfect base for dainty designs crafted from delicate hand-painted line work.
Diamonds & Bows
Wedding nails often follow the quiet luxury aesthetic with lots of nudes and sheer creamy polishes. But with this design, you can add just the right amount of shine to your look — even if you're not the bride.
Brown Marble
In case you haven't noticed, brown nails are a having a moment. Instead of opting for a solid chocolate color, why not give this marble design a try instead? Swirls of varying tones and flecks of gold foil give it a textural appearance despite feeling completely smooth.
Pastel Florals
Despite being seasonally tied to spring, there's never a bad time for a floral manicure. But if you're still on the fence, this blooming design is sure to change your mind.
Crystal Ball
It's hard to deny the allure of this ombré design, especially when paired with the enticing shape of almondetto extensions. The melange of purple, black, and cream polish colors complements all skin tones and is the perfect manicure with which to ring in the spooky season.
3D Chrome
If you're interested in 3D nail art but skew to minimalist manicure styles, then look no further than this simple design. On nude almondetto nails, the silver chrome elements pop and read more elegant heavy metal.
Glazed
Glazed chrome manicures are one of the easiest nail trends to get into. If you haven't tried the look just yet, consider this subtly glazed set your open invitation.