Level Up Your Manicure With These 3D Nail Looks
@nailsinurcoffin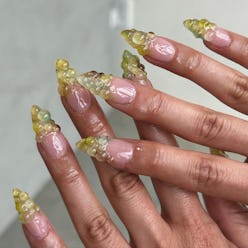 It's impossible to get bored with your manicures when there are always viral looks to try. Following fruit-inspired designs to modern twists on classic French tips, 3D nail art is the latest trend flooding Instagram nail account feeds. Textural and tactile, the style is characterized by raised accents that literally make the manicure stand out. While three-dimensional designs may seem like a maximalist's dream, you can still lean into the look if you subscribe to a quiet luxury nail aesthetic.
That's because this popular trend has range and is completely customizable to suit your personal style. Whether that's using jewels and baubles to add shimmer or simply creating texture with blobs of polish. The driving force behind 3D nails is creativity, so whatever look you land on is sure to be a one-of-a-kind, statement-making manicure.
Ahead, 10 3D nail art ideas that demonstrate why this unique trend is quickly becoming one of the most sought-after looks. From bold maximalist designs to subtle accents, there's an option for everyone. There's even a few looks for those who love short nails because good nail art knows no length.
Goth Chic
Fall is just around the corner and if you're on the hunt for a moody nail look to help you usher in the season, give this unconventional look a try. Black polishes ranging from glossy to matte come together to create a wild design that's as alluring as it is gothic. Keeping with the trend, this set features gorgeous tactile components like swirls and metal nail jewelry.
Sea Glass
No doubt about it, mermaidcore is still going strong even with the end of summer approaching. But if you've been looking for an artsy, not too literal way to partake in the trend, this sea-glass-inspired design is ideal.
Floral French Manicure
The French manicures from the Y2K era that featured intricate floral nail art and rhinestone detailing have made a major comeback. This time around, 3D flowers bring the design to life and add dramatic show-stopping flair.
Space-Age Blob Nails
Blob nails — a textural design that's literally created from blobs of polish — enjoyed a brief moment of virality in 2021. With the 3D designs back on the rise and the popularity of summer's alien nails, it's not surprising to see this look resurrected with a space-age twist that artfully blends chrome polish, jewels, and pearls.
Seashell
This seashell set is an easy way for manicure minimalists to lean into the mermaid trend. The base color is universal on all skin tones and the swirls and droplets of texture add an enchanting effect. To fully embrace the aesthetic, add an iridescent top coat for a pearl-like finish.
Melted Marble
Is there anything more artistic than chiseled marble? In this design, swirls of grey and silver blend with cream-colored polishes for a truly sculpted finish.
Crystal Clear
Perhaps the easiest way to test out 3D nails is to forgo an opaque polish and opt for a design solely focused on unique shapes and pearl decor. While these nails aren't exactly plain, the lack of color brings attention to the nail bed area. That said, grooming your cuticles will go a long way to making the final manicure stand out.
Little Black Bows
Just think of this manicure as the equivalent to your favorite LBD for cocktail attire. A classic design that's elevated with chic accessories, like bows, and the ideal amount of diamonds to celebrate the occasion.
Watercolor Swirls
For the art lovers and painters, this airbrushed design is a creative way to showcase 3D elements. With this look you don't have to settle for one color and can instead choose an assortment of shades that make you smile.
Washed Effect
Inspired by crashing waves on the beach, this melange of blue, grey and white polish is a cool and impressive take on creating lifted nail art. The addition of crystals and raised elements only further the design and give it a realistic appearance.