Meet The Nail Artists Hip-Hop's Top Stars Swear By For One-Of-A-Kind Manicures
Killing the game one set at a time.
TZR/ @cocamichelle, @customtnails1, @britneytokyo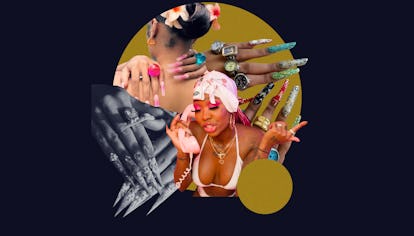 Much more than a genre of music, hip-hop is a feeling. It's been an expression of creativity and a voice for the subcultures that weren't always recognized or accepted by mainstream media. Since its birth in the Bronx in the 1970s, hip-hop has influenced many lanes, like fashion, art, and, dance, infusing them all with its culture and pride. Though rappers and songstresses have long popularized trends in beauty, it's hard to ignore the impact they've had when it comes to nails. From the looks worn by artists such as Mary J Blige to Lil' Kim's infamous money nails, hip-hop nail artists have been dictating the rhythm of the industry, churning out one ornamental design after another.
Just as lively as the lyrics, bass, and beats, the manicures sported by today's hip-hop artists deliver a vibe that is inventive and unique. But behind every amazing set is a manicurist turning mood boards and ideas into Instagram-worthy nails. Creating larger-than-life art on a tiny canvas is no easy task. As 2023 marks the 50th anniversary of hip-hop, it only seems right to celebrate the talented minds (and hands) creating imaginative designs for the genre's leading ladies.
Below, TZR chatted with four of hip-hop's top celebrity nail artists for an inside look at their process and how their love for nail art came to be.
Mei Kawajiri
Three-dimensional manicures may be the trending look of the moment, but for Kawajiri, the technique has always been part of her arsenal. The Japanese New York City-based nail artist, known for her hyper-realistic designs which can range from pearl ornaments to sculpted figurines, has been making waves with some of hip-hop's top names for quite some time now. Whether it's creating a unique look for rappers like A$AP Ferg and Travis Scott, colorful ombré nails for Justine Skye, or out-of-this-world sets for City Girls rapper JT, it's clear to see just how diverse her art can be.
"Most of my ideas come up naturally by searching for images online and imagining how to create that look on 10 fingers," she says. Loading up on photos is an important place to start but as Kawajiri tells TZR, finding the balance between reality and imagination is also key. "I find inspiration in everything, especially in New York as there is so much stimulation in the city."
Despite the fact that her designs are displayed in music videos and magazines, Kawajiri's art is rooted in self-expression. "Nails are such a personal part of who you are. No two people are the same, and your nails should be [just] as unique," she shades. "My favorite nails to do are not really trendy at all, and it feels like myself and the client are coming up with something for the first time together."
Coca Michelle
London-born and Los Angeles-based, Michelle is known for her elevated sleek style and whimsical designs. A visual poet whose creations are more like wearable art than just nails, her work is as fanciful as it is technical. With several years of artistry under her belt, Michelle's designs have been worn by entertainers including Ari Lennox, Summer Walker, and perhaps most notably, Megan Thee Stallion.
Though each creation is meticulously crafted, Michelle's process is pretty free-spirited. When developing a design, she tells TZR that her methods vary depending on the client, job, and even the day. "Getting to know the client is the most important since I like to pull from their own unique style and try and elevate that."
Along with her clients' styles and personalities, Michelle looks to everyday elements to inspire her designs. "When I have a fresh canvas (nails) it gives me an opportunity to find inspiration. Sometimes it's my client's mood, our visual surroundings, a story, a movie, or even a milestone," she says.
Tameka Jackson
Jackson has always had a penchant for creating, growing up with a family of canvas artists who inspired her. But her style was more free-flowing than traditional, and her love of creating on small canvases (like nails) helped mold her talent. Many of her designs, which have been worn by the likes of Saweetie, Alicia Keys, Mary J. Blige, and more, celebrate the golden era of hip-hop and pay homage to many of the trends popularized by the artists of the '90s.
"Lately, I've been loving the resurgence of the auntie nails," she says. "Those curved shapes, and the linear and dotted designs that ruled the '90s and early 2000s have so much range and have allowed me to do a lot artistically." As an artist whose creativity thrives on visualizing, Jackson's unique designs are the perfect blend of nostalgia and modernity.
But no matter if she's designing Pokémon-decorated or diamond-encrusted nails, her process is similar to that of any designer. "I like to begin with a mood board of images sourced from Pinterest, fashion magazines, and runway shows, to help ground the idea before designing," she says. Just like nails, these avenues showcase wearable art and help the creative process flow. Moodboards, however, are just the jumping-off point as Jackson also loves to push the boundaries of her art.
"Depending on the shape or length of the nail it can be a challenge to create the art that inspires me, but I love taking that on and seeing the idea come to life." She tells TZR that while long stiletto nails are her favorite canvas, she often has clients who need to have shorter nails but still want something extraordinary. "Short nails need love too, and being able to fit intricate nail art onto a smaller surface is always a beautiful challenge for me."
Britney TOKYO
Born and raised in the city that's also her namesake, TOKYO's clients come to her for her artistic eye and Y2K-inspired designs. Her eccentric looks have been worn by R&B artists like Keyshia Cole and viral lyricists such as Flo Milli and Rico Nasty. In short, her range is wide. Though she specializes in 3D nail art, her intricate hand paintings are also well-loved within the music industry.
For some, creativity is a full operation, but for TOKYO it's all about the feeling. "My process is simple, and I try not to think too much and to follow my intuitions," she says. Like many artists, TOKYO counts the world around her as one of her greatest inspirations, taking principles from everyday elements and incorporating them into her art. "It's really about embracing the small things, like color, shape, smell, and even sound, and finding a way to work them into your design."