11 Fresh French Manicure Ideas To Wear Right Now
@press_reset_nails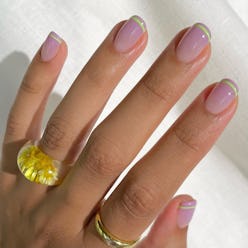 In the vast world of nail trends, it's not uncommon to see certain designs, aesthetics, and shapes take the spotlight. On any given day, the internet is teeming with nostalgic styles, like Y2K-inspired square nails, that have been remixed with modern elements to feel current. While trends may fizzle out after a brief moment of virality, some nail art looks, like the French manicure withstand the test of time. Characterized by its nude or light pink base and crisp white tip, the classic, elegant design is the perfect foundation to build upon, which allows nail artists to be imaginative when drumming up new French manicure ideas. But most of all, it's versatile and can be adapted to suit your personal manicure style, from neutral and minimalist to eclectic and artsy.
That said, it should come as no surprise that the French manicure is currently in its 2.0 era. From candy-colored palettes to mixing patterns, there are lots of fresh ways to update the traditional design. So much so, it's easy to get overwhelmed when deciding on just one. Luckily, Instagram is a goldmine for inspiration. Below, a curated list of the best ways to wear a French manicure right now. Find your favorite, then book a salon appointment ASAP.
Barbie Pink French Tips
Let's face it: Barbiecore is officially ruling summer 2023 and if you're looking for a way to lean into the trend without going completely overboard, consider this ombré pink French manicure. With melding rosy shades and strips of glitter, this set is fit for Barbie herself.
Hourglass French Tips
Mixing patterns can be a fresh update from solid colors and simple nail art. This monochromatic design blends the dreamy allure of hourglass nails with a traditional French manicure for a look that's modern and captivating.
Rainbow French Tips
For an easy, vibrant twist, swap your white tips for a rainbow of neon shades. The pops of color are sure to bring summer vibes wherever you go.
Cherry French Tips
Delicate nail art never goes out of style and if Hailey Bieber's most recent manicure has any weight (spoiler alert: it always does ), cherries are about to be the next big trend. Not only does the fruit feel seasonally appropriate, but the tiny designs are just the zhuzh a classic French manicure needs.
Monochromatic French Tips
Now, this Starburst-colored manicure is the perfect blend between subtle and eclectic. The monochromatic tones of each nail make the "French" aspect of this design feel subdued while the jelly finish amps up the vibrance. The result is a candy-coated look that's juicy and summer-ready.
Naked French Tips
For the ultimate "quiet luxury" look, go for a shiny take on naked nails. This style consists of classic elements such as an almond shape and nude base color. To complete the barely-there aesthetic, use a creamy milk-colored polish to enhance the natural shape of the nail's tip
Chocolate Milk French Tips
If you've been dying to try the chocolate milk trend that surfaced earlier this summer, this option is a great way to dive in. The creamy brown base provides a nice backdrop for a nude tip, and if you really want to punch up the look, try creating a two-toned strip.
Micro French Tips
French manicures are characterized by their white tips. But on shorter nails, the bold strip can be overwhelming and appear too heavy. Enter the micro tip: A thin line of white that skims the top of the nails and makes the classic manicure design a minimalist's dream.
Crocodile Print French Tips
Like playing with texture? Give your French manicure an artsy twist with a pink and blue crocodile print created on long square nails. Not only does the colorful polish lift the look, but it's the perfect design for a girls' night out or beach vacation.
Butterfly Jewelry
Jewelry can be a fun addition to any nail look, but it's especially appealing when paired with a pink French manicure done on stiletto extensions. Just think of channeling your inner Mariah Carey and say yes to crystal butterflies and diamond studs.
Chevron French Tips
Instead of just changing up the color or shape of the tip, why not do both? This deep chevron option created with a rich copper brown gives the illusion of pointy nails and feels moody in the best way. If bright or neutral colors aren't your thing, try giving this unique design a try.