Chrome Nails Are The Manicure Trend The Internet Is Hooked On
Add these looks to your mood board, ASAP.
@checkyesmichelle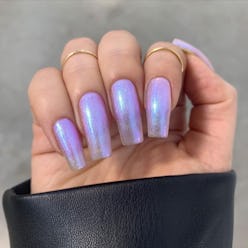 Like clockwork, the change of seasons always brings a new set of beauty trends to refresh your routine, whether you finally pull the trigger on that asymmetrical haircut you've been eyeing, test out a pretty pastel eyeshadow look, or treat yourself to a bold manicure. As far as nail art goes, the options are seemingly endless, but TikTok-viral chrome nails are the anomaly of designs because they appeal to both manicure minimalists and maximalists.
The effect, which is created with a pigmented powder that is rubbed over a polish with a gel-like consistency, produces a look that is fashion-forward and modern. As an added bonus, chrome nails also deliver when it comes to versatility thanks to a range of finishes, such as metallic, color-changing, and mirrored.
This is why the style has received an array of celebrity approval, from Kerry Washington to Kourtney Kardashian and of course, the nail trendsetter herself: Hailey Bieber. No matter what variation you choose, there's no shortage of chrome nail inspiration floating around the internet. Even if you're not one for a super long or dramatic styles, manicurists are turning out some seriously swoon-worthy designs. Keep reading to discover the 10 best chrome nail looks to test drive the trend.
Summer Sunset
Melded hues of golden yellow, orange, and grapefruit are the perfect way to brighten your mood and your day. Instead of the traditional glossy top coat, chrome polish adds a metallic element that enhances the gradient of shades.
Alien Chrome Nails
The alien nail trend may be new, but it has already been spotted on Hollywood A-listers such as Anne Hathaway. For this terrestrial look, have your manicurist use a builder gel with a sheen to get the same shimmering results as chrome pigments.
Gold Dipped
Along with metallic accents, chrome powder is also used to add texture to a design. This 'dipped' look gives an otherwise bare manicure a bit of edge. Perfect for both nail art enthusiasts and those who prefer something more understated.
Cold As Ice
At first glance, these icy extensions may look daunting, but the smooth silver color is just as wearable as milky white shades. Dusted with chrome powder and finished with a high-gloss top coat, the reflective, glass-like look is easily clean-girl approved.
Rainbow-Inspired Chrome
Add a touch of sparkle to your manicure with a design inspired by the colors of the rainbow and the glittering sky after it rains. While the blended hues —which fade away from the natural base color — can be done on shorter lengths, this design best suits extensions in either almond or coffin shapes.
Green Accents
Green shades are one of spring's biggest nail trends, but if you're not ready for a full emerald set, try accenting your manicure with gilded chartreuse. Against a moody palette, the vibrant is more wearable, but still stands out.
Red Chrome Nails
Who says the glazed donut trend has to be neutral? Buffed with red chrome pigments, this look is a modern take on the classic color.
Mixed Metals
This minimalist take on chrome nails also spotlights the micro French manicure trend in a subtle but super-stunning way. If you favor a short and clean look, this simple design will go a long way regardless of the season.
Unicorn Chrome Nails
Much like the mythological creature, the holographic effect given off by these unicorn nails is truly unique. To get the mirrored look, paint nails with a pink chrome color and finish them with a clear coat of glossy polish .
Multicolored Reflection Nails
When polish alone isn't enough, get creative with foil nail art and disco ball colors. Once the strips have been applied to each nail, a jelly top coat will allow the full reflective elements of the design to come through.
This article was originally published on