Deep French Tips Are The Coolest Way To Level-Up The Timeless Manicure
@miralina_nails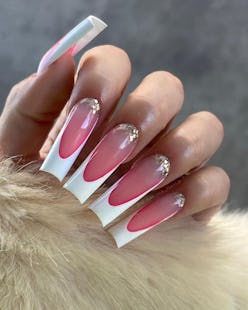 The French manicure is the ultimate classic nail design. Despite years of rotating nail art trends and seasonal hues, it's managed to endure the test of time. Yes, it's simple, versatile, and extremely easy to wear — but like any icon, it's stuck around mostly because of its countless reinventions. From micro-sized tips to monochromatic colorways, the traditional look continues to evolve to fit changing nail aesthetics. The latest iteration to surface? Deep French nails, a modern spin on the original design that's both trendy and timely, especially in the era of long extensions.
Similar to the original manicure, this new version zeroes in on the tip of the nail and its stark contrast with the base. However, while the OG can be worn on both long and short nails, the deep French relies on length to create an elongated look. But don't write off this design as one note — just like the iterations that came before it, deep tips have enough range to fit every manicure style.
Whether you want to keep your look as close to the original as possible or want shake things up with vibrant colors, there's lots of room to play around. Below, a few deep French nail ideas to spark your imagination and inspire your next manicure.
Classic Colors
This may bear a striking resemblance to the traditional French manicure, but it has much more creative flair. The simple deep-set tip gives it a modern look that sets it apart from other takes on the design. With the addition of a few scattered gemstones, it instantly becomes a stylish work of art.
Black Tie
Let's face it, stiletto extensions aren't necessarily the most practical nail shape. But with this design, you can create the illusion of the popular pointed style. Thanks to a deep V-shape in an ebony polish, the nude base gets a a spiky appearance that's elegant. To make the manicure even more glamorous, arrange a trail of gold foil around the outline of one nail and use a glossy black polish for the pinky.
Invisible Deep French
An invisible manicure is often paired with short nails for an au naturel feel. But the minimalist style fares well with long stiletto shapes too – especially with a deep French tip in the mix. To really cinch it, you need to be strategic about your color choices. The base should be as close to nude as possible to ensure that the final look appears transparent. If you really want your nails to pop, opt for a bright neon outline.
Creamy Nude
In line with the quiet luxury nail trend, this tonal set is all about creamy colors and textures. Instead of contrasting shades, it relies on combining similar ones from the same family — think vanilla ice cream, ivory, eggshell, and beige. Though it may not be dark and moody, this set has a cozy feeling that begs for crisp autumn days and sweater weather.
Bows & Charms
A deep French manicure is already modern on its own. However, if you're a nail art enthusiast and want to add in a bit of your maximalist style, this decorative design is made for you. Not only does it feature a mix of viral trends like chrome polish and bow art, it's also well-balanced thanks to its pinky nude base. In other words, it's a win all across the board.
Orange Cream
The real beauty of deep-set tips is how they instantly transform even the simplest, most traditional design. This version, for example, features a simple marbled tip against bare-colored nails. Instead of a sharp white polish, it has a blend of orange shades that range from neon to peach. For the full effect, opt for a curved extension that gives this look a truly nostalgic feel.
Diamond Dusted
Diamonds really do make everything better — just take a cue from this glitter-encrusted manicure. Using the signature colors, these nails bring the drama with a deep, square-shaped tip and a heavenly dusting of white sparkle powder. It's never too soon to start thinking about the holidays, so save this shimmering set if you like your manicures to have a hint of glamour.
Cherry Red
Red will forever be a classic nail polish color choice. Whether it's used for a fresh, solid manicure or for an artistic design, its sophistication is undeniable. The key to this deep French tip look is keeping things simple. A natural base is the perfect canvas to allow the bold hue to shine. As for the polish shade, be sure to select a red with some depth, like this cherry tone. Together, they make for an elegant manicure that has just the right amount of va-va-voom.
Coffee French Tips
Recently, the beauty set has been obsessed with all things latte-inspired. From the bronzy-brown makeup look that ruled the summer to this fall's creamy cafe-colored manicures, it's clear that coffee is the new black. This set takes the cake with a mix of rich browns and toasted creams, fusing the two trends to create a whole new brew that's so tasteful and captivating. If you'd like to up the ante, add a few gold jewels to various nails.
Crocodile Nails
While most of the manicures on this list showcase an elongated almond or stiletto shape, not all deep French tips do. This design takes the tip a bit further down the nail to create an oval-shaped base instead. Though it could be done with a single solid color, the crocodile print gives it a cool, textured appearance and keeps it from skewing more toward a half-moon than a deep French manicure.