Half-Moon Nails Are The Answer To French Manicure Fatigue
@essie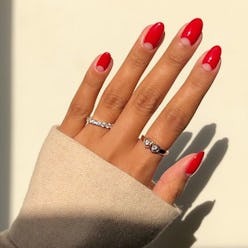 When it comes to beauty trends, it's not uncommon to look to the past to create the next viral look, especially within the lane of nail art. In fact, many creators rely on retro trends to inspire their designs. In the case of the half-moon manicure, it's perfectly in line with minimalist nail aesthetics that have been popular as of late. Consider it a step up from traditional French tips and barely-there lip gloss nails.
Classic and unfussy, the style combines rich polish colors and negative space to deliver a clean, elegant look with a focus on the natural moon shape at the base of the nail. (Formally known as the lunula.) While half-moon nails have never completely fallen off the radar, they've taken a backseat to other classic designs in recent years. But now, with every possible iteration of the French manicure peaking in the trend cycle, half-moons are in the spotlight as a fresh alternative.
Whether you fancy yourself a trendsetter or swear by simple, modest nail art, it's a universally appealing design. Ahead, 10 of the best half-moon manicures to break you out of your French tips rut.
Half-Moons & French Tips
Make your moons extra alluring by pairing them with a classic French tip in the same shade. On a neutral base, the design has a negative space aesthetic that's equally attractive as it is enticing. Be sure to finish off the look with a glossy topcoat that will make the contrasting moons even more prominent.
French-Tip Inspired
A nude base and crisp white tip have a nostalgic appeal that never gets old. But if you're looking for an interesting way to add some edge to the feminine design, this French manicure-inspired option is the way to go. Much like the original style, this version uses the same color palate making it perfect for those who adore the classic look. For an added dose of glam, opt for a topcoat with a subtle touch of shimmer instead of your typical glossy formula.
Asymmetrical & Neon
Fall is on the horizon, but if you're not ready to say goodbye to summer just yet, give this fun neon set a try. Cocktail colors gradually blend together with variating asymmetrical lines to create a design that's artistic and fresh. Just think of them as watermelon nails' older and cooler cousin, here to help you celebrate the last drop of summer vibes.
Delicate Mini Dots
The half-moon design may look intimidating, but like many of the internet's favorite nail trends, there's a version for every manicure style. Take this minimalist option, for example, that uses delicate micro-dots to outline the nail's natural moon shape. While you can certainly do this design on bare nails, a sheer creamy base provides a nice contrast and gives the overall look a romantic milk bath feel.
Assorted Muted Brights
Settling for just one polish color can sometimes feel like a heavy ask, especially when you're drawn to a particular aesthetic. Opting for an assortment of shades often skews towards rainbow bright hues. But this cheerful set focuses on several colors that are soft and subdued without appearing washed out.
Nearly Naked
Nude nails get an ethereal update with the help of a delicately thin strip of gold polish. Simple and clean, the tiny element adds just the right amount of elegance to make the natural finish really stand out.
Glossy Tortoiseshell Moons
From bags to shoes to jewelry to sunglasses, the tortoiseshell pattern is considered as classic as leopard. And it also works extremely well with nail designs such as half-moons. Keeping the base of the nail bare adds a nice contrast to the intensity of the glossy and pigmented brown print.
Mellow Yellow
You don't have to have extensions or long natural nails to embrace this trend. For shorter lengths, try opting for a color combination that is a bit unexpected like nude and sunny yellow.
Patent Leather Red
Almost overnight, patent leather nails became one of the year's top trends, thanks to celebrities like Kourtney Kardashian embracing the look. Whether you choose jet black or candy-apple red, the glossy style is actually quite optimal for the half-moon design.
Rainbow Sparkle
It's almost impossible not to smile when looking down at these adorable little rainbows. Delicate and detailed, this whimsical design is the epitome of mood-lifting nail art. For an added boost, try using all glitter polishes to make them shimmer as though they appeared after a fresh rainfall.