The Invisible French Manicure Is Every Nail Art Minimalist's Dream
Blink and you'll miss it.
@amyle.nails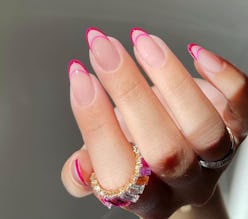 Of the many nail designs and manicures to go viral, the French manicure has stood the test of time. It's a true classic thanks to its ability to adapt to different style aesthetics. Following the barely there micro tip trend, the manicure took on a whole new look with rainbow-colored ends and even a reverse design. Its latest reinvention, the invisible French manicure trend, is not only an archetypal design for nail art minimalists, it serves as the natural transition from lip gloss nails and glazed donut looks.
The negative space, tiny lines, and soft neutral tones are what sets this look apart from its predecessor. Where the original manicure focused on the distinction between the sheer nude base and thick optic white tips, the current version takes a 'less is more' approach.
While white tips will always be classic, the frequent reinventions of the design are why this manicure transcends generations. "With the invisible French manicure, the style becomes even more eye-catching against the neutral canvas and it's an excellent conversation starter," says Candice Idehen, celebrity nail tech and owner of Bed of Nails Salon in New York City. Just like the traditional design, the invisible French manicure is likely to be around for a while. Whether you're tiptoeing into the style or declaring it your new go-to mani, expert tips and design inspiration is always a good place to start. Ahead TZR, spoke with two celebrity artists and nail educators for their insight on the trending invisible French manicure.
What Is The Best Nail Shape For Invisible French Manicures?
Versatility is the name of the game when it comes to invisible French manicures, which means the design can work on a range of nail shapes from almond to coffin and square. "One of the best aspects of the invisible style is that it's a complete revamp of the traditional look and more flattering because of the thin lines," Idehen says.
As with any manicure, you'll want the design to complement your length. However, the invisible French doesn't require a particular (or perfect) nail shape. The most important thing to keep in mind is the appearance of the nail bed. With so much negative space and dainty design, "a well-manicured hand," as Idehen notes is crucial.
How To Do An Invisible French Manicure On Natural Nails
Thanks to the concealed nature of this design, it is perfect for natural nails. Celebrity Manicurist and Educator Mimi D. tells TZR that because the root of the manicure lays in neutral and almost bare colors, not much is needed to make this design pop on natural nails. "The look can easily be achieved by simply polishing the nails with a semi sheer color and adding in the French line using a thin line or glitter," she says.
How To Find The Invisible French Manicure Shades For Your Skin Tone
Since the invisible French manicure is so dependent on light and natural shades, finding a polish that is close to your nail tone is key. To start, Idehen suggests first determining what kind of tone you're looking for. "Ask yourself: Do you want a muted tone that blends with your skin or are you looking for a more vibrant neutral shade that will stand out?," she says.
Additionally, Mimi D. recommends searching for a color that not only matches your skin tone but also your undertones. "Typically undertones range from warm, neutral, and cool," she says. Once you've gotten that down, finding the perfect shade for the base of your manicure will be a breeze.
What Designs Work Best With Invisible French Manicures?
Thin lines and outlines of either the tip or edge of your nail will be best suited for this manicure, and with so many color and texture options, the design possibilities are truly endless. "That's exactly what makes the invisible French manicure so amazing," Mimi D. says. From color and glitter to gems and chrome powder, the sky is the limit. Keep scrolling to see a few inspiring designs below.
Double White Tips
Similar to an original French manicure, this design uses a crisp white polish to outline the tip of the nail. However, the slim shape and double lines give it a modern dynamic.
Natural Baby Pink Nails
Mimicking the look of your natural nails is a simple, clean way to do the invisible French manicure. Whether you choose to do a gel overlay as shown above or use a clear polish to coat your nails, the allure of this healthy look is hard to ignore.
Thin White Tips
With just a slither of white at the very tip, this trendy milk bath shade becomes the perfect base for an invisible mani.
Ombré Invisible French Tips
An airbrushed ombré design in nude tones is the essence of the 'clean girl' aesthetic. For this look, opt for an almond shape to really show off the blending aspect of the design.
Pink Trim
Delicate and dainty, this invisible mani highlights the nail's negative space by accenting it with a single pink line.
Chrome Powder
Bold metallic colors are most frequently associated with chrome nails, but the effect can be just as enticing for neutral colors. Here, a light application has an invisible effect when buffed into nails.
Sparkling Tips
Clear polish with glittering French tips give this manicure an icy yet natural look.
Glitter Trim
To make your manicure truly invisible, you can use a delicate line of glitter to outline the French portion. With just a hint of distinction the tiny line will give the illusion of of the traditional tip.