The 'Latte Makeup' Trend Has The Internet In A Chokehold
@taniellejaimua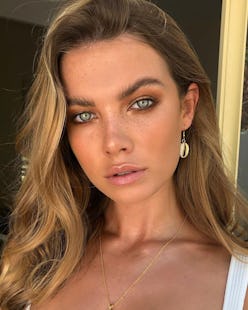 We may receive a portion of sales if you purchase a product through a link in this article.
It's no secret TikTok is a treasure trove of beauty inspiration. Whether it's season-friendly nail art or chic braid hairstyles, the platform always delivers new and exciting ideas to try. The latest one that's come into the spotlight is latte makeup, and just like the many trends the app has brought forth, it's already gone viral. You've probably seen a clip or four pop up on your FYP and thought it was simply a bronzy look ideal for summer. But latte makeup is so much more than just sun-kissed skin.
As makeup artist and founder of the namesake brush line, Tanielle Jai tells TZR, "Latte makeup is defined by caramel tones, creamy skin, and nude lips." Just like the delicious espresso drink it's named after, the look is all about warm browns and velvety textures. That said, Jai notes that there's one beloved makeup product that takes a back seat to this rising trend: blush. "Think tonal hues — more yellow-based browns and creams than the red-toned products that have always been trending, and no pinky blushes or rosy cheeks," she says.
Ahead, TZR tapped two makeup artists for the full scoop on this viral trend and a step-by-step guide to creating your own latte look.
What Is Latte Makeup?
Characterized by caramel, chocolate, and coffee tones that are applied all over the face, latte makeup is a mellow trend that works well on everyone. While the look gained popularity on TikTok after creator Rachel Rigler made a video on it, the look was actually first created by Jai back in 2018 for a photo shoot with jewelry brand Cendre. "I knew we'd made magic that day with this makeup that was focused around natural bronzy tones. I'd always felt it was a caramel-bronzed look, but think that Rachel's 'latte' name fits perfectly," she says.
Inclusivity is just one of the main elements that have shot this trend to viral fame. From light to medium to rich to deep, the look can easily be achieved on a range of complexions. "I adapt this style of makeup to each person depending on their undertones," says Jai. "Cooler skin tones work best with a taupe brown color palette, while warm and deep skin tones should lean into chocolate and espresso hues."
With summer hitting its peak, it's also the perfect choice for any seasonal events. "Glowy, bronzed, sun-kissed skin and eyes lined with brown shades are great for summer nights out because they allow the eyes to become the focal point," says celebrity makeup artist Carly Fisher.
How To Achieve The Latte Makeup Look
Unlike some of TikTok's other makeup moments, this look is easy to recreate at home and doesn't require too many products (or an artist-level skillset ). In fact, according to Jai, all you really need are basic prep products (like primer and tinted moisturizer), concealer, bronzer, your favorite brown eyeshadows, and a lip pencil.
Step 1
Begin by prepping it with a glowy base product like a tinted moisturizer for a lit-from-within look. In line with the tonal palette and summer season, Jai recommends opting for a shade that's a little warmer than your natural skin tone to deepen the glow. Next, go in with your usual concealer to cover any problem areas and brighten the center of your face.
Step 2
"Cream bronzers and cream contour sticks will be your best friend for this look," says Fisher. Not only will they sculpt your face and add warmth, but can also be used on your eyes to make everything cohesive. "You can be generous with your cream bronzer and apply it where the sun hits the heights of your face and on lids as an eyeshadow base," says Jai.
Step 3
Using a soft-textured brown eyeliner pencil, draw a line along your lash line and smudge it to create a blurred effect. In this step, you can be creative and tailor the look to your eye shape and makeup preference. "Try lining the eyes with a brown liner and adding a subtle gold glitter to the lid," says Fisher. For something a little more smoldering, you can also bring the color to your inner lash lines, blending it into your waterline and intensifying the pigment right where the lashes begin.
Step 4
Nude lips bring the latte look together but instead of mixing lipsticks, Jai suggests using a pencil to define the lips and blend it into your natural color. To finalize everything, top your pout with a dab of gloss for a plumped look.