Long Square Nails Are The New It-Style Currently Flooding Your FYP
Get the look with these tips.
@lovetrenna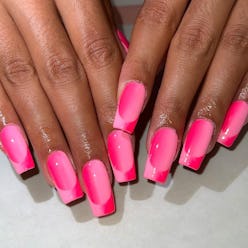 Over the last few years, extensions have been in-demand at nail salons, and based on bookings, the long nail trend is here to stay – whether it's achieved with overlays or acrylics. For those devoted to the length, there are a few shapes that have consistently been popular, such as almond and coffin. Both of these styles provide enough real estate for bold, intricate designs while also giving hands a slender look. However, long square nails are finally getting a moment in the spotlight after years of sitting on the sidelines.
In the past, long, square, acrylic nails were often considered "ghetto" and linked to characters like Nisi (Halle Berry) and Mickey (Natalie Desselle) from the 1997 film B.A.P.S, or Sheneneh (Martin Lawrence) from the comedian's TV show, Martin. These women, among many other Black women of that decade, sported the lengthy squared off tips with intricate designs, bold colors and precisely placed rhinestones. In 2023, the nail aesthetic has been resurrected and holds a place in popular culture, showing up everywhere from runway shows to celebrities on red carpets.
While frequently compared to coffin nails, the square shape is continuous from the nail bed to the end of the extension. And contrary to popular belief, it can be just as feminine as rounder-shaped tips. Ahead, TZR spoke with celebrity nail artist Trenna Seney and fashion manicurist Dawn Sterling to get the basics on this trending new old nail look.
What Are Square Nails?
"To me, square nails are a very specific shape that always reminds me of a fab time back in the day," Sterling says. In the '90s, the shape wasn't considered harsh or un-feminine; in fact, it was just the opposite as most square acrylic nails bore detailed nail art, flower designs, and tiny jewels.
Although the shape is a classic, it is very different from the coffin shape that people are most familiar with. "Unlike coffin or almond shapes, square nails are not tapered in any way, which keeps the overall look boxy and a bit thicker at the tip than the other shapes," Seney says.
What Extensions Are Best For Achieving Long Square Nails?
Like most extensions in the past, square nails were frequently done using acrylic nails. But the nail industry has since grown to include a multitude of options for long nails. For Seney, Gel X tips are a good option because of their durability.
However, all extensions have the risk of breaking or chipping, so it's important to take precautions for certain activities. "My main tip for avoiding breakage is to make sure you have a great nail foundation and application," Sterling says. She also prefers to use a gel overlay for square nails as opposed to acrylic. "With gel, I can achieve a natural square nail in less time and, more importantly, with less damage to the nail."
What Nail Art Styles Work Best With Long Square Nails?
Just like when they were in their prime, long square nails are the perfect base for a number of nail art designs but you can never go wrong with a classic French manicure. "My favorite is a deep French design which features the inner part of the white tip curved under in a 'U' shape," Seney says. The curved base complements the square tip in a way it can't with other nail shapes. And Sterling couldn't agree more. "Airbrushed French '90s styles look fabulous on long square nails, though I also really love a classic red or black nail," she says.
Long square nails have always been linked to edgy street looks, and while they received a bad reputation in the past, the look is on track to become the next big manicure trend. "I think everyone should try long square nails at least once. If you're nervous start with a gorgeous nude then branch out to different styles," Sterling says.
Top Designs For Long Square Nails
Hourglass Nails
Long square nails make a great canvas for the trending hourglass manicure, thanks to the slender shape of the nail. For a retro style circa the '90s, opt for bright colors and perfectly placed gemstones at the base of each nail.
Ballet Pink
Natural pink colors and nude tones add a soft touch to square-shaped nail extensions.
Punk French Tips
Spikes and silver tips give this classic manicure a punk rock feel.
Airbrush Designs
With lots of surface area, long square nails are the perfect option for airbrushed designs with hand-painted details.
Metallic Colors
If you're used to minimalist nails, a metallic French tip manicure may be just the design to shake up your routine. Try using hues in the same shade range for a look that is tonal – and artistic.