10 Orange Nail Ideas To Shake Up Your Fall Manicure Routine
@nailslpc.xo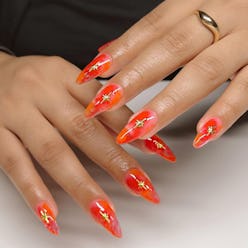 Nail art trends can be hard to keep up with. Ranging from delicate designs to ornate adornments, creating a cool, Instagramable manicure at home can require a skilled hand. Luckily, the platform has been embracing a spectrum of colors that makes DIY-ing swoon-worthy nails easier than ever. If social media's endless pages of orange nail ideas are any indication, the shade is going to be sticking around for quite a while. Vibrant, joyful, and warm, it may feel unexpected in the sea of moody shades ruling fall — but given the time of year, it's a great option for celebrating autumn's best moments like Halloween and the changing leaves.
As a secondary color made from red and yellow, orange is an inherently warm hue with so many variations to experiment with. From tangerine to pumpkin or peach, everyone can lean into this trend and make it their own. Regardless of whether you prefer brilliant, bright polishes or stick to muted and subtle variations, the options are endless. Ombré, for example, is one popular nail design that works especially well here thanks to the orange's wide shade range. The color also allows for experimentation with creative effects, unique nail art, and even some seasonally-themed manicures.
While you could turn to your explore pages to scroll endlessly for inspiration, this curated list will save you a good deal of time and energy. Ahead, 10 of the best orange nail ideas to shake up your fall manicure routine.
Matte Vs. Glossy
If your nail polish color preferences are more moody come fall, this set is perfect for you. Not overly bright nor too dark and vampy, it features a muted burnt orange shade that feels especially timely for autumn. However, it's the additional elements that makes this particular look unique. The squared-off nail shape paired with long French tips gives it modern appearance, but the contrasting matte and glossy finishes cinch the classic design.
Sunset Aura Nails
Summer brought with it some interesting designs trends, like the aura nails craze that skyrocketed to viral fame. Designed to replicate the rainbow of energy colors said to emanate from the body, the dreamy design often focuses on deep blues, rich purples, or bright greens. Orange, however, can be just as impactful. Representing health and happiness, orange aura nails are the epitome of a mood-booster.
Soft Peach
On the softest side of the orange spectrum, you'll find this subtle shade of peach. But don't be mistaken — the lighter tone is equally alluring as its brighter siblings and is just as ideal for creating a beautiful ombré effect on nude nails. As the base of this ornate manicure, the gradient peach provides a nice backdrop for 3D flowers and decorative gemstones. Truly a one-of-a-kind design, it takes the idea of orange nails to a whole other playing field.
Sun-Kissed
Simple and to the point, a solid-color manicure has the power to draw you in and hold your attention. The key is to choose a shade that's eye-catching and intriguing, like an energetic and lively shade of orange. This sun-kissed orange is an excellent example. Bold and bright, it's unexpected in the best way possible and is sure to be a show-stopper wherever you go.
Creamsicle Swirl
Is there anything better than orange and cream? There's no denying how well the two shades work together, whether they're swirled in a sweet, icy treat or an equally-satisfying nail design. Here, a neutral shade — lighter than taupe but darker than white — forms the base, while a peppy orange is used to create geometric shapes — and the iconic creamsicle appearance. Pro tip: be sure to add in a few loops of pale yellow to uplift the final look.
Chrome Cobwebs
With Halloween just around the corner, you may be on the hunt for a subtle way to embrace the occasion. Holiday-themed nail art can often go overboard, but this low-key design is a nice option that's easy to wear throughout all of October. With a metallic orange nail polish as the base, it has tiny hand-painted cobwebs in the corners. The result is a striking manicure that's juuust spooky enough.
Citrus Jelly
Ah, the joy of jelly nails. Sumptuous, glossy, and intriguing, the manicure style is completely in a lane of its own. Though most often associated with sheer washes of color, the jellied effect of this set is amplified by intense shades like mango and tangerine. Nailing the rest of this design isn't as difficult as it may appear, too. If your polishes have creamier consistency, trying using a clear extension as the base to give them a gummy-like look.
Electric Orange
Neon nail polish is the most popular during the summer — but a truly eclectic set like this works year-round. Whether you love bright and bold or stick to classic styles, this manicure is a great option to shake up your routine. To break up the solid colors, have your technician create an abstract design on your two innermost fingers. Using neutral accent colors like black and white will help keep the look feel more '80s.
Tequila Sunrise
No longer relegated to just summer pool parties and beach days, a tequila sunrise can be just as at home in your manicure. Vibrant orange, creamy peach, and strawberry red come together to create lively nail look, combined just like cocktail ingredients. On their own, each of these colors can skew a bit too warm for the colder months ahead. But subtly blended together, they make a unique look that's just as delightful as the drink itself.
Pumpkin Patch
Pumpkins are the very symbol of fall — whether you're celebrating Halloween or simply the arrival of harvest season, it's hard to think of autumn without them. With a few shades of orange polish and some fine-tipped brushes, let your imagination guide you to the seasonal manicure of your dreams.