The 9 Nail Color Trends That Will Define Fall 2023
Goodbye neon, hello vampy.
@charsgelnails_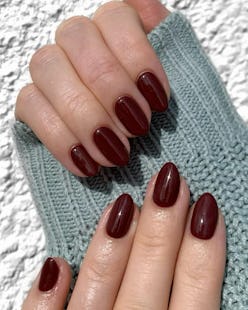 We may receive a portion of sales if you purchase a product through a link in this article.
With the heat and humidity still at an all-time high, it's hard to believe that fall is just around the corner. However, as one of the most beloved seasons, there's already excitement in the air surrounding the new beauty trends to come. From sultry brown smoky eyes to copper hair colors, it's a given that earthy hues inspired by the change in weather will dominate autumn beauty mood boards. Though you might not be ready to ditch your coral lipstick or braids, you can lean into the shift with a fresh manicure. The best fall 2023 nail colors are relying heavily on the moody hues traditionally associated with the season, but also include a few vibrant colors for a fresh twist.
When contemplating which to try, Rachel Apfel Glass, founder of GLOSSLAB, tells TZR that this fall's trends are focusing on classic colors and seasonal motifs. "Think varying shades of red and barely there looks like the popular 'your-nails-but-better' trend," she says. Fall can be a tricky time with transitional styles, but Glass notes that a simple coat of color is the perfect way to move from fun summer brights to the more subdued autumn hues. "The beauty of these colors is that they will never go out of style," says Glass. So while it's time to say goodbye to the neon and pastel shades that ruled spring and summer, rest assured that fall's nail polish colors are just as enticing.
Ahead, TZR tapped five manicurists and industry experts for their insight on the color trends that will be everywhere this fall and the polishes that will help you get the look at home.
Candy Apple Red Will Reign
No doubt about it, red nails will always be a staple. Whether it's a swipe of lipstick or a vibrant manicure, the color continues to be a staple for its wearability and commanding appeal. Of the many shades that fit the bill this fall (because there's never really just one good red), a bright polish is a top option.
Reminiscent of a glossy candy apple, this pop of red is a great way to transition into fall. "A bright cherry red is always classic and it makes for a fun manicure during the last few months of summer just before we head into fall," says Glass. Even better? The nail pro notes that the shade also looks stunning on any nail shape and length.
Mushroom Brown Gets A Matte Update
Like clockwork, some nail polish colors come back into focus as soon as the weather shifts. But as celebrity manicurist, Stephanie Staunton, notes there's always a way to make them feel fresh. "While an earthy brown isn't exactly original this time of year, using different topcoats or trendy placements can add a spin that feels modern and new," she says.
For a timely look that's seasonally-appropriate, she suggests opting for mushroom brown polishes that range from beige to deep soil tones. As for the topcoat, Staunton tells TZR that while these earthy colors look great glossy, a matte finish is perfect for autumnal vibes.
Grass Green Is Going Strong
Out of nowhere, green emerged as the it-nail color this spring and picked up steam throughout the summer. Now as we begin to usher in the next season, the hue continues to be a prime choice for statement-making mails.
A grassy variation is ideal when the weather teeters between hot and breezy and teases cool fall days. Look for shades that showcase the full range of green, from bright and bold to muted and mossy.
Burnt Orange Is The Best Way To Go Bright
Just because summer is on its way out doesn't mean you have to completely let go of your vibrant manicure. Sure, fall is perfect for melancholic colors, but the season also brings a range of bold options inspired by changing leaf colors. And according to Elle Gerstein, celebrity nail stylist, burnt orange is the top shade to embrace.
Ainur Rustemova, nail technician and owner of Noor Nail Bar in LA, tells TZR that "pumpkin-colored polishes are pretty typical this time of year, but this time around a burnished version is better than the poppy colors of the years past."
Wine Shades Are Classic & Chic
Similar to red, wine-colored polishes are a go-to for instantly chic nails. "Dark and broody hues are a top choice because they present a goth-like aesthetic that's also wearable," says Eunice Park, nail artist, and research and development manager at Aprés Nail. Think deep burgundy and bordeaux shades that are borderline black.
To really play into the vampy feeling of these colors, Park suggests wearing them with almond-shaped extensions but assures you don't have to go to the extreme to get an alluring look. "What's great about almond tips is that they're versatile and can still look natural, whether you choose to keep them extra short or go all the way long," she says.
Naked Nails Are Still In
With little surprise, the 'quiet luxury' trend that took the internet by storm after Sofia Richie's wedding continues to be a strong choice for manicures heading into fall. However, as Glass states, the look is different than the completely nude versions of the summer. "Naked nails get an update with creamy polishes that are paired with a little something extra, like shimmer or high-shine top coats," she says.
This trend works on any nail length, but to fully embrace the look, she recommends going with a shorter style. "Not only will your manicure require less maintenance but it will also add to the clean barely there look the naked nail trend thrives on," says Glass.
Forest Green Is Having A Moment
Much like the rich brown and burgundy shades we're seeing for fall, forest green is the epitome of the moody manicures often associated with the season. According to Glass, moss and emerald shades that are reminiscent of the forest floor are trending high. Considering how popular lighter and neon versions of the hue were during the summer, it's not hard to see why this shade is leading the pack now.
"If you're looking for a new deeper polish color that isn't black or wine, try a darker-toned green that's sure to pop against your favorite cozy knits," she says. To give your manicure an extra dose of edge, she recommends using a glossy polish and finishing with a high-shine topcoat.
Intense Carbon Blues Shine Bright
Mermaidcore may have brought ocean tones to the forefront this summer, but come fall, expect to see rich gemstone shades of blue come to the forefront. This trend is especially flattering for shorter nail lengths. "I always say it's personal style, but there's been a shift to short square and oval shapes that really offset the deep colors," says Gerstein
The key here is to look for polishes that offer intense color payoff. An opaque cream formula will give the illusion of an endless night sky.
Mauve Is The New Pink
Falling somewhere between bold and neutral, mauve is the latest pink shade to get into this fall. It's easygoing and muted enough to fit in with the season's staple colors, but it also makes for a unique manicure.
According to Staunton, the toned-down look is also ideal for natural nails. But if you're not blessed with long nail beds, the stylist has a great tip to ensure that your manicure turns out perfect every time. "You can cheat this look by asking your technician to add an extension just above the tip of the finger," she says. The elongated shape will help make the mauvy color stand out and keep nails from looking too stumpy.