No, Your Eyes Aren't Deceiving You, Double Ombré Nails Really Are Everywhere
@polished_dtla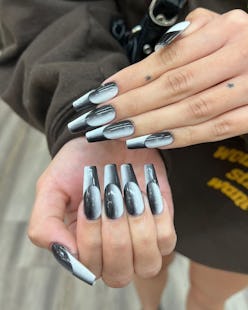 There's a reason the French manicure has stood the test of time. As a simple design that looks stunning on every nail length and shape, it lends itself well to customization. Whether you prefer pastel tips or a bold chrome ones, there's a version that suits your personal style. But just when you think you've seen every possible way to wear the style, the internet says otherwise. The latest take going viral is the double ombré nail trend, an eye-catching design that incorporates classic French manicure elements with varying color gradients.
Also known as optical illusion nails, the design uses two different colors of polish and a deep French tip to create a cool tonal look. In terms of the many iterations that have come before it, the double ombré nail is one of the most creative to date. With varying colors in light and dark shades, the effect mimics mirroring light and has an enticing appeal on long nails. With the potential to be subtle or extravagant depending on the color scheme you choose, the endless possibilities are exactly why this look will withstand the lighting-fast trend cycle.
Below, TZR has compiled some of the best takes on the manicure trend to inspire your own look. Whether you have extensions, short nails, or an almond shape, you'll find a design you'll love.
Cherry Cola
Don't sleep on the combination of red and black. As two classic nail colors that look good on all complexions, they are perfect choices for the double ombré trend.
Gorgeous Jade
Green has been a popular nail color as of late, and was even deemed one of the trends to watch for fall. From mint to emerald to forest, varying shades come together in this design for a look that mimics a gorgeous jade gemstone. Once the nails have dried, top them with a light gold glitter polish for a shimmering effect.
Bubblegum Pink
The 'soft girl' aesthetic is still thriving, especially when it comes to nail art. Instead of blending several pink polishes, this look uses white to make the bubblegum color softer and more approachable. The colors also rival those of the original French manicure. So if you're not interested in straying too far from the blueprint, this is a good option to make the look more current.
Short & Sweet
The double ombré nail trend is often associated with long or extra-long nails. But shorter lengths can also pull off the look by using a traditional French tip depth and rounder shape. Even with the decreased surface area, the design is still mesmerizing.
Golden Hour Glow
No matter how you slice it, a golden hour glow will always be alluring. The same can be said about these colors that imitate those of the sun as it begins to set. To get the full effect, be sure to use some white polish to soften the varying shades of yellow and give them a melded appearance.
Smoke & Mirrors
Think of this smoky design as the cooler cousin of shiny black patent leather nails. In this look, creamy ebony and grey are artfully blended and create a high-shine finish.
Royal Violet
Purple is one of the most regal shades around. But when combined with black and the double ombré technique, it has an alluring effect almost as if you're staring into a crystal ball. For a unique style, try incorporating violet and other jewel tones to keep the design from reading too heavy and moody.
Ballet Pink
Recently seen on the runways of New York Fashion Week, 'balletcore' details continue to be a popular manicure trend. Though the double ombré trend is usually about intense colors and high-shine finishes, this look leans into the soft and minimal art designs seen at the most recent shows.
Wood Grain
Black and brown are ideal fall nail colors, so it only makes sense that, together, they'd make the perfect seasonal manicure. If you love tortoiseshell nails and are in need of some new inspiration, give this wood grain design a try instead.
Barbie Pink
The thick square-tip nails from the 2000s are back in full force, and with this Barbie pink design, you'll be able to embrace the era fully. However, if you're feeling extra bold, pair these nails with a swooped side bang for the complete Y2K vibe.