Fall's Best Nail Art Trends Are Embracing Texture Head On
@phoebesummernails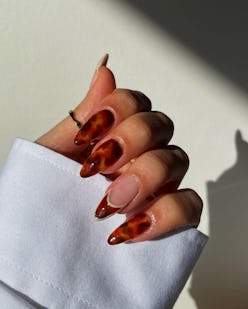 It's hard to believe that summer is almost over. While the long days filled with sun, sandals, and ice coffee are on the way out, it's time to get excited about the next season on the horizon: fall. In terms of beauty, that means leaning into the bronzy viral makeup trend the internet loves, getting a stylish new haircut, and switching to moody manicures. But if a solid coat of polish doesn't quite put you in the autumnal spirit, you can usher in the season with one of fall 2023's nail art trends.
This year, Pattie Yankee, celebrity nail expert, and founder of Pattie Yankee nail polishes, tells TZR that there's a strong emphasis on nostalgic elements and textural designs. But that doesn't mean the classics are yesterday's news. "Instead of a simple French or swirled design, we're seeing lots of updates using chrome finishes and even velvet," she says.
But that's not all fall has in store. Brittney Boyce, celebrity nail artist and founder of Nails of LA predicts that fine lines and delicate designs will also be going strong. "These elements are a simple way to elevate your manicure and can even be done using decals or nail art stickers," she adds.
Whether you subscribe to long stiletto shapes or prefer to keep your nails neat and short, this season's trends cater to everyone. Ahead TZR, spoke with four nail artists to get the scoop on what looks are hot for fall.
Aura Nails
Aura nails may have been one of the summer's most notable designs, but according to Rita Remark, essie's Global Lead Educator and Nail Artist, the radical ombré trend will continue to trend come fall. "Instead of bright bursts of color, think deep shades of blue, and rust or amber. These will make the look more appropriate for the season."
Tortoiseshell
According to Hang Nguyen, Nailing Hollywood Artist and author of Nail Art Deck, we're going to be seeing a lot more tortoiseshell print nails during the fall. "Glassy caramel, shiny black, and earthy browns are all colors that add to the cozy feelings of autumn," she says. A full set can be intimidating, so Nguyen suggests using the print to spice up a simple design like a French manicure or half-moon nails.
Matte Black Designs
While matte black nails have been quietly trending for quite some time now, Boyce tells TZR that designs utilizing the shine-free top coat are going to be a top choice this season. "I am obsessed with this look because it adds a little bit of edge and doesn't feel too goth," she says. Whether you decide to go all out or keep things simple, the combination of matte and black polish is hard to beat.
Chrome French Manicure
The French manicure will always be a staple, regardless of season or year. And with so many creative variations on the design, it's impossible to be bored of it. However, this fall, Boyce notes that chrome is the best way to update the look. "It elevates the design and easily fits with any outfit," she says.
Metallic Decals
For days when you're wanting a quick way to refresh your look, turn to nail art decals. They're easy to use at home and can breathe new life into your manicure. After filing and cuticle care, Boyce suggests using tweezers to pick up and gently place the decals onto your nail. "Next, you'll need to apply a top coat to seal everything and more importantly, add protection so they stay put," she says.
Chocolate Brown Designs
Deep brown is the new way to do neutral nails. Not only does the color go with everything, but it's a little more exciting than classic beige or sheer nudes. That said, you can't go wrong with any artsy design that features the color. For a swirled pattern such as this, Remark recommends using essie's take the express-o, a rich brown that's more dark chocolate than milk.
Molten Metal
"The grunge trend with a nod to '90s nostalgia is making its way back to nails," says Yankee. To modernize the look, opt for a 3D design that's inspired by the heavy metal bands of the iconic decade. If you're in a hurry, she suggests trying a press-on polish like Dashing Diva's Titanium Glaze to get the effect without having to spend hours in the salon.
Very Velvet
Along with 3D nails, texture is also having a major moment this fall. "Velvet effects are an easy way to add some edge to your manicure without having to commit to a full nail art design," says Yankee.