The Celebrity-Inspired Spring Outfits To Try If You're Just Not That Into Dresses
They are so easy to recreate.
@lauraharrier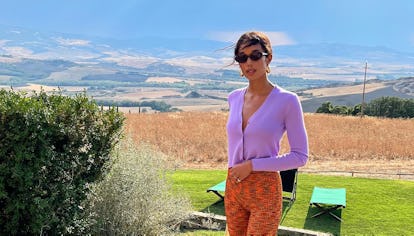 We may receive a portion of sales if you purchase a product through a link in this article.
After piling on the layers all winter long, it feels pretty good when the weather finally permits wearing just one item of clothing like a dress. However, after just a few days of nonstop dress-wearing action, the whole concept can start to feel a bit repetitive. Not to mention, the finicky spring weather doesn't permit bare legs at all times. When tapped out of ideas for season-appropriate ensembles that aren't frocks, you can turn to your favorite celebrity-approved spring outfits for inspiration. Rest assured: The stylish and unfussy looks will reinvigorate your seasonal wardrobe.
Creating different combinations with your extensive closet is half the fun — and every celeb has their own, unique approach to spring styling. On one hand, trendsetters like Gigi Hadid, Gabrielle Union, and Mandy Moore like to wear coordinated or minimalist attire. On the other, Dua Lipa, Gemma Chan, and Emma Roberts prefer more unconventional pairings that include bold prints, sequins, and colorblocking. Whichever camp you're in, their easy-to-recreate ensembles will keep you on trend all season long, no dresses required.
Ahead, find the best spring-ready celebrity outfits worth copying.
This article was originally published on