This Is *Exactly* How Sophie Turner's Colorist Perfects Her Warm Red Hair
Straight from the source, baby.
@georgieeisdell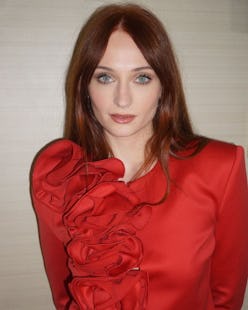 We may receive a portion of sales if you purchase a product through a link in this article.
Some beauty secrets will go to the grave, that's just the way it is. But the hush-hush nature of insider knowledge makes those who do spill the beans all the more endearing. A true woman of the people, Sophie Turner and her team refuses to gatekeep the best findings, sharing exactly what phone case she's using, the lipstick she wore on the red carpet, and the songs she's currently obsessed with, all with no qualms. Now, fans are finally privy to just how she gets the captivating red color that's become her signature. Sophie Turner's red hair color, freshly updated for the new year, is already generating buzz — with good reason, too. Lighter and far more gold-toned than the darker maroon shade seen on Turner all winter, expect to notice this version of red on more than a few other A-listers as temperatures climb. Turner's colorist took TZR behind the scenes for a look at the techniques and tools she uses to make it all happen — and maintain hair health in the process.
Fans knew something major was coming when the Game Of Thrones star was spotted on Cassondra Kaeding's Instagram Story, installed in a salon chair alongside a big bowl of mixed dye formula. As the co-owner of Los Angeles' Crane Salon, Kaeding creates custom color for stars like Miley Cyrus, Hailey Bieber, and Ariana Grande. She's taken Turner's hair from bright blonde to that deep, moody maroon and back again, all with minimal damage to the delicate strands.
Kaeding explains that to prevent damage to the hair, she starts with the professional-use-only K18 Molecular Repair Mist before ever touching Turner with color. By spritzing it all over the hair first, she says, the mist helps heal any existing damage from past color services and even heat styling. "The pro mist will also renew the strength and elasticity from the services that are about to be preformed," Kaeding adds. "After the color services are complete, I finish off with the K18 molecular repair hair mask. The mask reverses damage that may have occurred during the service and brings back strength, softness and smoothness to her hair."
Sophie Turner's current hair color is far more dimensional than just a red. According to Kaeding, the shade can best be describes as a deep copper gold infused with plenty of depth and warmth to maximize shine. "The copper works well with her skin tone and really accentuates her eyes," she says. "Hot tip — I always add a gold to a red root formula. This helps avoid 'hot roots'," which is when the top of the hair is visibly warmer than the rest.
With the redhead craze still going strong for yet another year, plenty will want to copy Turner's warm, vibrant copper on their own. Kaeding emphasizes that red is both the hardest color to keep and to remove, so it's going for it requires a pretty major commitment to the salon. Finding the best shade of red for you requires a bit of outside help, too. Kaeding suggests speaking to your colorist for a professional's take on color that best accentuate your skin tone and eye color.
"When you want to get rid of the red, know it's going to be a very lengthy color service that may have to be done in two separate appointments depending on the new desired color," she says, adding that it's very important to make sure you're hair is healthy through the entire process. "Using the Molecular Repair Hair Mask at home in between your salon visits will maintain the strength of your hair for the services."
Shop Kaeding's pick for healthy hair just below.