These 12 Colorful Dresses Are Like An Instant Shot Of Serotonin
Step into the trending world of statement shades.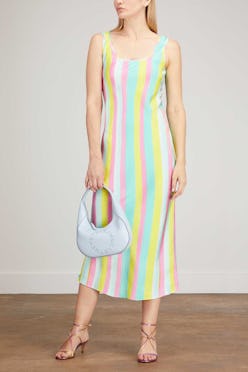 This year, more and more trendsetters are getting into "maximalism," an aesthetic where practically anything goes. Whether you want to play around with different silhouettes, colorful dresses, or bold patterns, all are welcome as part of the anti-minimalism fashion movement. Now, that's not to say your whole wardrobe has to turn upside down, but exploring your personal style — and experimenting with more kitschy looks — can be fun.
Celebrities like Blake Lively (see: her Atelier Versace rainbow gown at a recent movie premiere) and Anne Hathaway (re: her multihued polka-dotted three-piece suit on The Late Show with Stephen Colbert) as well as TikTok influencers like Anna O'Brien of @glitterandlazers have already embraced the super-saturated, joy-sparking trend. And summer is the ideal time for you to delve into a more vibrant closet, too.
Personally, I'm not afraid to experiment with color and style, and this rainbow-hued trend couldn't come at a better time in the midst of Pride Month. And since they're available in a wide variety of styles, colorful dresses are a great way to dive way into the graphic aesthetic.
Scroll below to see and shop 12 colorful dresses and step into the trending world of statement shades.
TZR Shop is The Zoe Report's shoppable guide to editor-approved buys in fashion, beauty, wellness, and lifestyle. We may receive a portion of sales if you purchase a product through a link in this article.
TZR Shop brings you the editor-approved buys we can't get enough of and think you'll adore, too. Best of all, you can shop all of the products above directly on this page without visiting multiple retailers. Simply click on an item to learn more, choose your size or favorite color (if applicable), and then hit "add to cart." When you're done, you can click over to your cart in the top right corner of your screen to purchase all your stellar selects at once. How easy is that?
Questions about shipping, returns, or your order in general? Click here for more information.
Explore more of TZR Shop (and our fashion, beauty, and lifestyle must-haves) here.