Spring's Biggest Nail Art Trends Are For Minimalists & Maximalists Alike
@thehangedit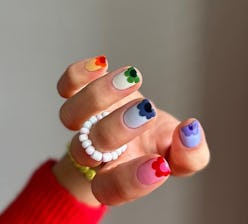 Amidst dark and cold days it can be hard to imagine that spring is around the corner. But, pretty soon, the flowers will start to bloom and the sun will be shining. In the beauty world, the weather shift is a sign that it's time to retire moody midnight blue or matte gray manicures until next year. Instead, usher in the sunny season with a colorful manicure, or better yet, add a design with one of spring 2023's nail art trends.
This year, Hemi Park, LeChat Nails educator, predicts that bright patterns and colors will be more popular than ever. "We are already seeing retro patterns with modern color choices, which are super whimsical and fun," she tells TZR. Some past trends with new variations are also set to make a splash. "Velvety and textured trends are here to stay with tinted clear polishes (aka, jelly polish) becoming popular to layer over textured or glitter polishes," Park continues.
As for what colors to choose for your trendy nail art, Thea Green, founder of Nails. INC, says the bolder the better. "After the dark winter days, we instinctively reach for brighter colors to welcome spring," she says. Green also notes that she typically gets a lot of requests for rich greens, bright corals, and fresh pinks during the spring.
And no matter what length or shape you prefer, this season's nail art trends offer looks for every manicure vibe. Ahead, TZR spoke to several celebrity manicurists to get the lowdown on spring 2023's most popular nail designs.
Negative Space Half Moons
The 1920s nail art design has been experiencing a resurgence since late last year, and the chic look shows no signs of slowing down. Here, celebrity nail artist Betina Goldstein combined the retro design with another major nail art trend: negative space. The result? A cool take on the look for spring. Choose your favorite bright nail polish as a base to lean into the spring vibes.
Lip Gloss Nails
While glazed donut nails had a good run, another minimalist manicure is making waves for spring 2023. Meet lip gloss nails, a look that consists of a sheer neutral base with a high-gloss top coat. "The nails look as if they you just freshly swiped them with lip gloss without using actual gloss," Olivia Van Iderstine, Olive & June Mani Trend Expert + VP of Content and Creative, previously told TZR. "There's a touch of color from the sheer polish and a mega-glossy finish from the topcoat."
Bits & Blobs
The beauty of this funky abstract manicure is that it's incredibly easy for nail art novices to DIY. You don't need special nail art tools (the blobs and stripes can be done with the brush from the nail polish bottle), and it can be done in any color. For example: This jade green is the perfect middle ground between subtle and bold.
Invisible French Manicure
The French manicure continues its reign as one of the most popular nail art designs because there are so many ways to wear one. For spring 2023, the look is trending again via the invisible French manicure, which features negative space, ultra fine lines, and you can even add a pop of color like celebrity manicurist Jin Soon Choi did above.
Hourglass Nails
While hourglass nails originated from one of Maddy Perez's manicures on an episode of Euphoria, the look continues to live on thanks to celebrities like Kourtney Kardashian and nail artists on Instagram. The design consists of a neutral base with chunky colorful swirls framing the sides of the nails.
Taste The Rainbow
When you can't decide on one or two nail polish shades, why not do a variety of colors to showcase all your favorites? "Skittle nails have always been great for us indecisive ones," says Park. "You can choose from nails with colors in the same hues, similar color groups, or do a fun experiment with all different colors."
Airbrush Nails
This popular Y2K style is seeing a resurgence thanks to Instagram influencers. The design is achieved with gel paint and a hand-held airbrush spray to seamlessly spray the polish on the nails. "[Airbrushing] creates the perfect blend of two colors, while adding a blushing shadow of bold shapes (like flames and barbed wires) or other embellishments," Park tells TZR.
Textured Nails
This season, you have free rein to match your favorite cable knit sweater or slip dress to your nails thanks to the textured manicure trend. Celebrity nail artist Elle Gerstein, whose A-list clients include Blake Lively and Mariah Carey, describes the buzzy trend as multiple textures encased in separate layers to create dimension. Embrace the trend with embellishments, decals, different patterns, negative space, and more — via accent nails or a full-blown mani.
Amplified Velvet
Fuzzy, textured velvet nails are a top spring pick. "I like this trend because it's really expressing movement — we're not one dimensional anymore," Gerstein tells TZR. "You can amplify it by adding stones, foil, and textured glitters like LeChat Sky Dust for extra dimension on top of the velvet."
Ombré Nails
A nail art classic, ombré nails use a gradient technique to blend in two different shades, either in the same color palette or opposite. When DIY-ing this look, Gerstein's top tip is to use a cuticle oil and seal with a top coat. "Oil every day maintains the strength and flexibility of the nails," the pro shares. "The life of a manicure really comes down to properly preparing the nail."
Chrome
Last year, Hailey Bieber, Dua Lipa, and Lizzo might have been some of the first to show off glazed nails (aka, chrome) on social media. Since then, many variations on the look have gone viral on TikTok, with the hashtag #glazeddonutnails racking up over 170 million views. And the style is still going strong for spring 2023. Silver, bronze, metallic, milky white — chrome nails in any color are sure to turn heads.
Florals
As Miranda Priestly in The Devil Wears Prada says: "Florals? For spring? Groundbreaking." It really wouldn't be a spring manicure list without florals, but rest assured this year's take on the classic design is not as mundane as Priestly would think. "Florals have always been a huge spring trend for nail lovers," Park says. This spring, try a wildflower bouquet with decals and floral at the tip of your nails for an updated look.
Micro French
If you're looking to move away from long coffin-shaped nails, micro or baby French manicures are on the rise this spring. This style can be done on acrylic, gel, or natural nails, and can be done with neutral colors, simple designs, or maximalist embellishments. For an even longer-lasting French manicure, Green suggests adding another layer of top coat to freshen up the color a week into your manicure.
Jelly Nails
The Kardashians and Hailey Bieber are just a few of the celebrities who have put jelly nails in the spotlight. Similar to the lip gloss you love, jelly nails have semi-sheer shades with multiple color options, and are paired with a chrome finish for glassy-like nails. And if chipping is always an issue, Zola Ganzorigt, consulting manicurist for Dashing Diva, recommends using nail strips or press-on nails instead of polish. "They are much easier and faster to replace than polish — and plus, extras come in the pack," the pro tells TZR.
Groovy Swirls
"Swirl designs fall into the mixed patterns trend, but swirls by themselves create a smooth and calm minimalistic vibe when done in a monochromatic or ombré color scheme," says Park. The fun thing about swirls is given the choice of colors or design used, it can look different each time. Adding simple flowers or hearts will add a retro flair to the design, whereas swirls with gold foil could dip into galaxy nails trend. It's the perfect base for those that like to experiment often.
This article was originally published on