Matte Nails Are Officially In Their Comeback Era – These Are The 8 Manicures To Try
Shiny, glossy nails aren't the only option.
@hellobombshellhawai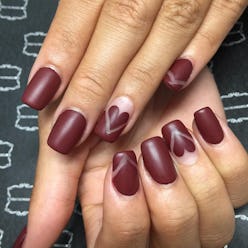 Coming out of the holidays where glitter, embellishments, and 3D nail art reign supreme, it's nice to go back to the manicure basics with one of TikTok's buzziest trends: matte nails. "It's not surprising that after the blingy holidays people are more inclined to wear a more subdued nail finish like matte nails," Vanessa Sanchez McCullough, celebrity manicurist, tells TZR.
Matte nails, of course, aren't new. They're known (and beloved) for their shine-free, edgy finish. But now, they're officially in their comeback era. "Matte never stopped trending," says celebrity nail artist Elle. "It's a necessity and staple in nail art. It's the design that you create with matte that is currently on trend."
There are three ways to achieve a matte manicure: finish with a matte top coat to transform a glossy shade to a shine-free one, polish the entire nail with a matte color, or as Sanchez McCullough suggests, use a nail file to buff out the shine. "A great secret to creating a matte nail without a matte top coat is to take a fine nail buffer (one that won't scratch, so 240 grit or higher) and lightly buff your polished nail," the manicurist tells TZR. "The light grit will remove the shine without breaking any seals that the top coat provides."
And just because matte nails aren't shiny, your manicure won't be boring. You can still have fun with nail art, such as intricate patterns, abstract details, and more. To help you get the upper hand on a top 2023 nail trend, scroll through TZR's list of the eight best matte nail ideas. From bold base polish to accent nails, all of these looks can be done in the comfort of your home or brought to your next salon appointment for inspiration.
Gray Foils
Gray is a great neutral color that goes with all outfits and seasons, especially in the winter. To update the flat color, add in some gold foil and rhinestones and seal with a top coat for durability.
Raised Red
Release your inner power with an all red matte manicure, complimented by 3D embellishments. "[Matte] is a texture creator. It creates a visual illusion — you see it and feel it," Elle tells TZR.
One Is Plenty
If you don't want to go full matte, dip your toes into the trend with one accent nail in a sea of high-gloss nails. For those with a non-steady hand, press-ons work as a great fast, mess-free alternative for achieving this look.
Black Madness
Black goes with everything and with a claw nail shape, this manicure takes new heights. The starry-galaxy theme can have half shiny and half matte nails for a beautiful, moody contrast. "Matte is such a fun way to experiment with textures in any manicure. I like to combine it with glossy accents for a contrasting look," says Anastasia Totty, LeChat nails educator.
Pinkys Up
As we start to approach Valentine's Day, step into your romantic side with a pink matte manicure. To add some spunk, work in a classic French tip and sparkling dots. And even though pink is associated with the day of love, you can also wear this soft look year-round.
Chic Neutrals
Liven up neutral polish with a textured matte manicure. You can play around with negative space, frosted accents, and 3D art. Just don't forget a top coat for a long-lasting mani.
Seeing Plaid
The combination of matte polish and the plaid nail trend is maximalism at its finest. Whether you create a different plaid iteration on all nails or just do a couple french tips every other nail, this one is sure to turn heads.
Girl Party
With the blistering cold temperatures, there's never been a better time to match your favorite and cozy sweater color to your manicure. And it can be the same hue, like this one, or a range of shades in the same color family.