Move Over Glazed Donut Nails — Lip Gloss Nails Are Having A Moment
High shine without the stickiness.
@matejanova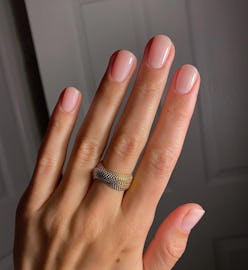 We may receive a portion of sales if you purchase a product through a link in this article.
If 2022 was the year of glazed donut nails, then 2023 is all about lip gloss nails, the latest trend in the world of manicures. Dubbed by TikTokers as the manicure du jour, lip gloss nails are a modern-day take on classic nude-ish nails replete with mega-watt gloss. The look is chic, wearable, and easy to achieve since all it entails is a skin-flattering tone of nail polish that makes the nails appear flush with a hint of color and a super glossy clear coat. Together, the combination of a neutral nail color plus a high-shine glossy finish resembles the look of lip gloss on the lips (hence its name).
If a more subdued yet overtly glossy nail is more your speed, then lip gloss nails may be worth a try. Ahead, TZR unpacks everything there is to know about the lip gloss nail trend, including how to do it yourself at home (it's very possible!) with the help of top manicurists and nail experts.
First, What Are Lip Gloss Nails?
Lip gloss nails are a new way to sport clean, simple, well-manicured nails. The look is all about using nude, natural and baby pink hues of polish and sealing it in with an ultra-glossy topcoat to mimic the look of shiny glossy lips. "The nails look as if they you just freshly swiped them with lip gloss without using actual gloss," says Olivia Van Iderstine, Olive & June Mani Trend Expert + VP of Content and Creative. "There's a touch of color from the sheer polish and a mega-glossy finish from the topcoat," she adds. Shimmer is optional. "With makeup trends being easy, effortless and glossy right now, lip gloss nails are the perfect manicure to complement that vibe."
The shiny, wet-looking finish resembles the look of super shiny lip gloss, where the finish takes center stage to enhance the lips. Likewise, the manicure achieves the same effect with minimal color. Just like how a swipe of a good clear lip gloss can serve as the finishing touch to perk up your makeup, Van Iderstine says lip gloss nails do the same just for the nails.
Unlike glazed donut nails, which are darker, thicker and achieved via a top layer of chrome powder, lip gloss nails veer on the lighter side. "Both have a glossy finish, but lip gloss nails are a bit sheerer and look a bit juicier as they showcase more of the natural nails," says Amy Ling Lin, CEO & Founder of nail polish and nail care brand Sundays.
The sophisticated, chic, and timeless look of lip gloss nails, which celebrity manicurist Bana Jarjour calls "seasonless," works with any base color as long as it's light and transparent. Whether you opt for a neutral beige, a gossamer white or a translucent pale pink — with or without a hint of shimmer — the effect of a glossy diaphanous nail will come through. The more complementary the polish color is to your skin tone, the more seamless the look. "The overall result should look cohesive with the rest of your hands without adding too much color, which is why a sheer polish is best," Jarjour says. "Instead of trying to find a nude polish that's a perfect match, it's easier to find a sheer polish with a hint of your skin's undertone." Shades that are dark or too opaque will prevent the sheerness from coming through.
Lin says that no nail length or shape is off limits with the minimalistic, low-maintenance look. "The trend looks good on both long and short nails. Longer nails have more nail plates to showcase the look and have a bit more variation of underneath colors due to the white nail tip color. Shorter nails will seamlessly blend with the cuticle skin." While Lin prefers lip gloss nails on round and round-square shape nails rather than pointed nails, any shape can pull off this simple-looking nail because of its naturality. "It is versatile and effortlessly cool so that it can go with an evening dress just as well as jeans and a white t-shirt. Lip gloss nails even look good with a yoga outfit."
Traditional polishes are the fastest way to create lip gloss nails, but gel and dip polishes deliver the same end effect.
How To Do Lip Gloss Nails At Home
First, you don't need a tube of clear lip gloss to achieve lip gloss nails. "Sheer nails don't show much mess and therefore are very easy to apply at home," Jarjour says.
Instead, you'll need some essentials to nail the look: a nail file, manicure stick, nail buffer, base coat, sheer nude or light pink nail polish such as Deborah Lippman Gel Lab Pro Nail Polish in Naked or Essie Nail Polish in Limo-Scene, and a glossy top coat like OPI Brilliant Top Coat. Try a subtle iridescent polish such as Olive + June Pink Capiz if you want a shimmery finish.
Start by prepping the nails. Van Iderstine recommends shaping the nails to your favorite shape, gently tidying the cuticles by pushing them back, and then buffing the nail plate. "Once your nails are prepped, apply one coat of either sheer or shimmering iridescent polish to create that jelly-milky effect." As an optional step, you can lightly dust a thin layer of white chrome powder on the nails to create more of a pearlescent effect. Then, finish off with a coat or two of a super shiny topcoat — the glossier the finish, the better. "If you're going with a gel top coat, one layer will work just fine, but for lacquer, add a second coat to increase the shine," Jarjour says.
If you're in a pinch and the nail polish lying around is a bit too creamy, try thinning out the polish with a few drops of nail polish remover. And if you're short on time, opt for a nail-enhancing glaze with a hint of sheer color, like Static Nails Liquid Glass Lacquer in Healthy Glow or LondontownKUR Pink Illuminating Nail Concealer.
If the nails start to look dull and lose their luster, Jarjour says to apply a second topcoat (if you used traditional lacquer). "No matter which polish you wear, hydrating with cuticle oil and lotion is key to maintaining a glossy, blended look," she adds.
The Best Products For Lip Gloss Nails