10 Summer Nail Polish Colors To Get You Out Of Your Manicure Rut
@paintedbyjools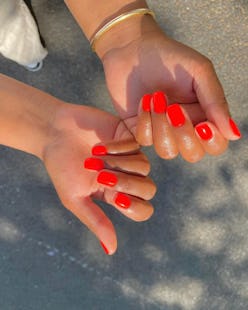 We may receive a portion of sales if you purchase a product through a link in this article.
Join TZR editors for Main Squeeze, the series dedicated to sharing beloved beauty products — be they bold, effective, or simply fun — that make our week just a little bit better. Ahead, Team TZR spotlights their favorite summer nail colors of the moment.
A set of freshly-painted nails is extremely satisfying. For whatever reason, looking down and seeing a new color smiling back up at you is immediately uplifting. Why else would Jennifer Lopez and Hailey Bieber constantly change up their manicures, and in turn, shower the internet with inspiration? While there's no seasonal tie to the joy of a getting your nails done, the warmer months of the year arguably have the best nail polish color palette. With that in mind, it should come as no surprise that this summer's most beloved nail colors include a mix of bold and neutral shades that are equally sunny as your disposition this season.
In line with the creative spirit of other seasonal trends like copper hair and blueberry lips, summer is the ideal time to step outside of your comfort zone by adding a new nail polish color to your manicure repertoire. If you're in need of additional inspiration (outside of Lopez and Bieber) or you're simply overwhelmed by all of the options, may the TZR team suggest a shade or two? From seductive reds to soft sorbet-inspired hues, read on for editor-approved summer nail polish colors that are sure to double as mood-boosters.
"I'm going through a big red nail phase right now, so I'm stocking up on my favorite brands. Chanel's Longwear Nail Colour actually lasts a long time without chipping, and the brush makes mess-free application a breeze. The "Incendiaire" shade is the perfect summer red – warm, light, and bright." — Maggie Haddad, senior social media strategist, TZR
"I've given up on trying to do my own nails and let the professionals handle it, so for my next mani-pedi appointment, I'm requesting this fun lavender shade that feels very appropriate for the season. It'll add a nice pop of color when I'm wearing my white summer dresses and black two-piece skirt sets." — Marina Liao, senior fashion news editor, TZR
"They say summer is for bright colors, and while I do enjoy a juicy orange or vibrant fuchsia, this mellow mustard color feels more in tune with my summer vibe. Instead of a sunny yellow or pale pastel hue, this shade is slightly muted and will easily pair with the linen looks and silky slip dresses living in my closet." — Jessica Fields, beauty writer, TZR
"I'm as excited to bust out Daisy in the summer as I am the Christmas tree in the winter — it just feels synonymous with the season. The multicolored flecks have every trending shade all swirled together (the slime green is a favorite), with bigger flower-shaped sequins throughout for a hint of florals. It's a JINsoon signature polish and it might just be my all-time top." —Amanda Ross, beauty editor, TZR
"Come summer I really lean into fiery red nails — they are classic, go with everything, and look sexy in a non-overt way. I've found myself reaching for this cherry shade more than a few times at my local salon (and, upon reading the name, inevitably hum early aughts Nelly to myself the rest of the day — there are worse fates, IMO!)." — Alison Syrett, deputy fashion editor, TZR
"Part of ORLY's latest collaboration with Adam Lambert, this Granny Smith green screams summer pool time, amirite? It has a pretty pearlescent finish that adds a touch of elegance, along with a heaping spoonful of fun. This will be on heavy rotation for the next three months!" — Angela Melero, executive editor, TZR
"Typically, summertime is when I dust off my boldest, brightest nail polishes. Blame it on how exhausting 2023 has been thus far, but this year I'm fully embracing the quiet luxury shades that have been driving manicure trends as of late. This shimmery nude shade from Olive & June is The Row ballet flats of nail polishes – it's a subdued neutral polish that looks expensive, thanks to the tiniest bit of sparkle that catches in the sunlight." —Erin Lukas, deputy beauty editor, TZR
"Chanel makes the most enticing nail polish colors, and the shade Ovni is the perfect lemony-sorbet shade that feels super fresh for summer. It's an elegant alternative to the neon nail obsession, and pops even more when I have a tan." —Faith Xue, executive beauty director, lifestyle, BDG
"Brown nail polishes are a favorite of mine year-round, but come summer this is the one I reach for the most. The amber shade is ultra-flattering against my complexion and it always delivers a shine that's just as good as a gel manicure. This formula is also pretty long-wearing, so I'm able to keep it on for quite awhile with little chipping." — Jessica Fields, beauty writer, TZR
"Cheerful, sky-blue nails are my thing this summer, worn plain and dressed up that ever-viral chrome powder — I'm still so into the trend, I can't help it. This time of year, a bright blue basically feels like a neutral and is always a solid choice for a beach trip or lake day." —Amanda Ross, beauty editor, TZR