Hailey Bieber's Coachella Manicure Took 50 Tries To Perfect
@haileybieber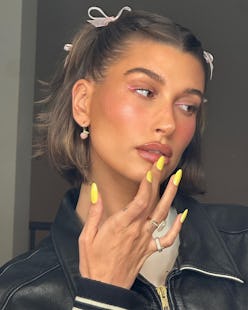 Hailey Bieber is known (and beloved) for her mostly low-key approach to makeup and hair, but that philosophy screeches to a halt when it comes to her manicures. Not only was Bieber a major proponent of the Great French Manicure Boom of 2020, but she essentially created the still-going chrome nail craze with her love for pearlescent finishes — the very nails typing this story are chrome-ified, in fact. But just in time for Coachella and festival season as a whole, Bieber might have just signaled the start of an entirely new manicure trend. Hailey Bieber's neon green nails don't just feature veins of metallic gold running through them like a technicolor geode — when night falls or the lights go out, they actually glow in the dark.
The day-glo green is pretty in-line with the spirit of music festivals in general, a favorite choice of Coachella-goers and ravers alike. But what sets Bieber's manicure apart is how elaborate it looks in bright lighting. Even among her recent manicures — which included new yellow and pink chrome nails — this captivating new style more than stands out. The Rhode founder showed off the new look on her Instagram, personally demonstrating the glow-in-the-dark effect for fans.
The impressive length of her almond-shaped nails provides the perfect canvas for the bold look, created by celebrity nail artist Zola Ganzorigt, the very artist responsible for Bieber's glazed donut nails, the manicure that earned her a spot on everyone's nail art mood board last year.
Luckily, Ganzorigt shared the breakdown for Bieber's day-glo nails too. However, unlike the pearlescent manicure, this process is a lot more complex. In her Instagram post sharing the look, the nail artist reveals that her and Bieber went through an astonishing 50 colors before landing on "the one." The green shade isn't a straight-from-the-bottle polish, but in fact, a combo of gel shades: OPI GelColor in No Faux Yellow, OPI GelColor in Green Come True, and OPI Stay Strong GelColor Base Coat with a little bit of glow-in-the-dark dip powder mixed in for good measure. Ganzorigt says she applied as single coat of the polish concoction, then applied a OPI's Apply Stay Shiny GelColor. Then, she went in with OPI GelColor in Suzy's Slinging Mezcal to draw the squiggly lines and rubbed a bit of OPI Chrome Effects in Gold Digger on them for extra shine. Finally, she applied another coat of the Stay Shiny GelColor Top Coat and cured it.
With Bieber's track record of igniting viral manicure trends, her day-glo nails will live on long after she hangs up her Coachella VIP pass when she gets home from Weekend One on Sunday night. In fact, it wouldn't be out of line to proclaim it the soon-to-be biggest manicure style of summer 2023.