Hailey Bieber's Experimental Manicure Streak Continues With A Bold Take On A Classic
@haileybieber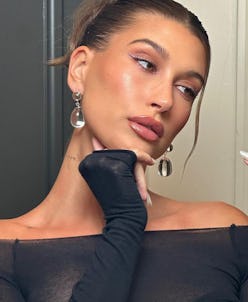 Hailey Bieber will be the first one to say it: her Rhode skin care brand is absolutely her baby, her passion project in every sense. So naturally, when the line's first anniversary rolled around, Bieber celebrated the milestone with all the fervor of a full-fledged birthday party. To match the sparkling mini-dress she wore to her private party, Bieber's colorful French tip nails featured bright shades of red and pink. An electric take on the classic manicure style, it's further proof like Bieber has left her subdued chrome nails in the past for good, continuing on the streak of bold nail art and unexpected color choices she's gravitated toward over the past several months.
The first glimpse of Bieber's nearly neon nails appeared on Instagram. The Rhode founder showed off a quick clip of herself shimmying in her rhinestone-drenched dress, but it was actually a shot shared by Emily Ratajkowski that gave fans a clear look at the nails in all their Valentine-colored glory. Bieber's stayed true to her preferred nail length and shape, a long, natural almond style, but paired a glossy cherry red shade with candy pink tips for the big Rhode party. The pink kept her manicure on-theme with the rest of her look, but the commanding red color adds a spicy bit of contrast perfect for such a major night out.
Though it's yet to be officially confirmed, it's likely that this look comes courtesy of celebrity nail artist Zola Ganzorigt. The Los Angeles-based manicurist is behind some of Bieber's most iconic nail moments, including her original "glazed donut nails" and all its subsequent iterations. As Bieber's grown fonder of more elaborate styles in recent months, Ganzoright's delivered — who could forget her glow-in-the-dark green manicure from Coachella 2023?
Bieber's pulled out all the stops to celebrate the Rhode anniversary, from her pink-themed party to the launch of an entirely new product, the ceramide-enriched Glazing Milk essence. As the brand — and its founder — only continue to grow in popularity, expect many more standout beauty moments at all the events surrounding it.