Megan The Stallion Just Made Glossy 'Blueberry Lips' A Thing & It's Surprisingly So Wearable
@theestallion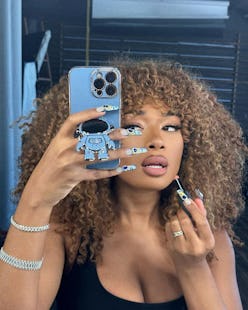 We may receive a portion of sales if you purchase a product through a link in this article.
Based on her intricate manicures, experimental outfits, and always-clever song lyrics, Megan Thee Stallion's artistry expresses itself in about a million different ways. To be a truly impactful musician with resonance beyond just the streaming world, celebrities need more than the proverbial it-factor — they need to be legitimate creatives in their own right. That's a massive part of Megan's worldwide appeal, and she brings her million-dollar touch to every project or event on her schedule. Most recently, Megan Thee Stallion's chrome lips — created using an eyeliner and one especially spangly lip gloss — brought an entirely new, burgeoning trend to her massive social audience of 31 million, as well as her fellow attendees at the Louis Vuitton runway show. She might be better known for her versatile hair colors and fashion-forward ensembles, but she could clearly handle a career as an editorial makeup artist if that whole Grammy-winning superstar thing ever gets old.
Megan shared a look at her catwalk-side makeup on Instagram first, showing off some new black French tip nails and hair along the way. Beneath her long, straightened wig and wispy blunt bangs, her lips are lined with a deep blue, shaded and blended toward the center, and then illuminated with holographic gloss.
On another slide, she reveals that it's actually the work of a blue Revlon eyeliner, paired with one of the brand's best-selling lip glosses. "Did a lil blueberry lip for the LV fashion show," she captioned the post. Megan's love for a killer lip liner-gloss combo is unmatched, but branching out into non-neutrals is somewhat new territory for the star. By keeping the liner on the subtler side, she makes a super-bold shade feel actually wearable.
The creative product pairing isn't exactly surprising coming from the "Sweetest Pie" rapper, though. She's been the face of Revlon since 2020, even doing her own makeup for the announcement campaign photos. If anyone can single-handidly develop the latest cosmetic trend, it's Megan.
Shop her essentials for the blueberry chrome lip look just below.