The Only 8 Summer Nail Color Trends Worth Trying
Sorbet shades are going to be everywhere.
@betina_goldstein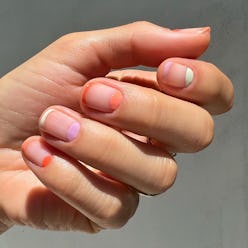 We may receive a portion of sales if you purchase a product through a link in this article.
After weeks of fluctuating temperatures and the stress of transitional dressing, spring is finally starting to give way to sunny days and warmer weather. No doubt about it, summer is on the horizon and, with it comes the inaugural shift of nail colors and designs. Typically, the arrival of longer hazy days also brings forth bright polish shades, be they fluorescent or warm muted hues. But where spring's biggest manicures focused heavily on polish looks that went viral in 2022, the summer 2023 nail color trends are about reviving and embracing the micro-trends that were left behind.
Over the last few months, several styles have captivated the nail scene and remained highly favored by celebrities and social media creators alike. Take glazed finishes, for example, which have flourished from last spring through fall and winter. Or the classic French manicures that were reimagined with an artsy twist. Instead of relishing in the past, this season is leading with small trends like airbrushed art and unique shapes while modernizing the looks beloved throughout the year.
Below, TZR speaks with three nail artists for their expert eye on this summer's nail trends. The pros share which polish colors and artistic techniques will dominate, plus the looks on their way out.
Sorbet Hues Are A Cool Alternative To Neons
Bold, bright nail polish are synonymous with summer, but these shades might be a little too extreme for minimalists. For a more subdue way to add color to your manicure wardrobe, opt for creamy sorbet and ice cream-inspired polish shades.
You could paint your nails in one of these sweet shades and call it a day, but mixing and matching them with an on-trend minimalist nail art trend like micro French tips, half moons, or both, will result in a unique design that isn't too far out of your comfort zone.
Embrace Unexpected Shades Like Chocolate Brown
In tune with the influx of neutral manicure trends flooding social feeds, shades of rich chocolate brown are trending for summer. While the color is typically one that's reserved for fall, a milky brown doesn't feel too off base — think of it as a softer alternative to classic dark manicures such as black and navy.
While simply painting your nails a solid shade of brown is a quick and easy way to lean into this trend, you can also incorporate other of-the-moment finishes to your manicure. As demonstrated by Hailey Bieber's go-to nail artist, Zola Ganzorigt who added glazed powder to a brown base for Vanessa Hudgens.
Banana Yellow Is Having A Moment
Call it the Hailey Bieber effect. Ever since the star's followers spotted sunny yellow nails on the star in a mirror selfie she shared on Instagram in March, the vibrant summer-friendly nail polish shade has been everywhere.
If banana yellow nails aren't your vibe, opt for a pastel lemon shade instead. Whatever version is more your speed, both will make in impact. Just prepare yourself for an influx of compliments.
Water-Colored Pastels Are Here To Stay
Pale shades are a given for springtime, but according to nail artist Amy Le, they'll be sticking around throughout the summer. "Expect to see soft pastels in a range of colors and even utilized various techniques like airbrushing (more on this below)," she says.
However, she notes that there is one style frequently paired with these hues that will be less popular heading into summer and that is blooming gel — a style that uses a translucent formula that causes colors painted over the top of it to bleed and bloom out. "The manicure had a major moment during spring/summer 2022 but it's fizzled out this year," she says. Instead of colorful jelly swirls, opt for washed-out versions of your favorite polish tones like baby blue, lavender, peach, and lemon.
Chrome Is Coming Back
As an offshoot of this year's punk rock fashion trend, chrome nails became a popular manicure that also garnered celebrity approval before slowly fading into the background. This season, the shiny finish is making a comeback, only lighter and brighter. "Chrome — either a hint or a full metallic look — is being more incorporated into everyday nails," says Cynthia Casado nail artist at Vanity Projects nail salon. She continues, saying that pink and silver have been especially popular for those who are trying the look for the first time because they're in the market for an eye-catching manicure.
The difference with this summer's chrome nails is the intentional metallic effect as opposed to a general chrome finish. "Gunmetal and gold are still going strong and look even better when combined in a two-toned design," says Le. But if you're looking for a more minimalist approach, she suggests trying a vibrant shade on just the tips as accent colors.
Balletcore Will Still Rule
The baby pinks, creamy nudes, and muted colors that defined balletcore are still going strong — especially for those fond of natural nail looks. "A lot of clients are looking to softer tints, like blush and milky off-white, in lieu of a tradition nude," says Casado. While pink is no stranger to popular polish choices, this summer the look is taking cues from Barbiecore with sheer finishes and bubblegum hues.
Airbrush Is In
Unlike the stencil designs of the early 2000s, today's airbrush techniques add texture and blurring effects to nail art. For summer, the aura nail — a style featuring blended colors with a hazy finish — is an artsy look that's making waves. To get the look, Casado likes to airbrush pastel tones of gel nail polish, but says a similar result can be achieved at home using a sponge. "It's also pretty perfect for festival season that's creative and easy to wear," says nail artist Sigourney Nuñez
Vivid Hues Shine Bright
Of course, nothing really says "summer nails" like bright nail polish. As the temperatures rise, consider rich shades like butter yellow, grass green, chartreuse, and watermelon "Saturated tones such as OPI's 'Blinded by the Ring Light' are playful and perfectly align with the feeling of summer," says Nuñez. However, if you prefer something a little darker, Le recommends trying a cobalt blue hue as it also makes a great pedicure shade if you're into matching your toes to your hands.