Winter Can Last Forever If It Means More Of Kendall Jenner's Moody Manicures
@kendalljenner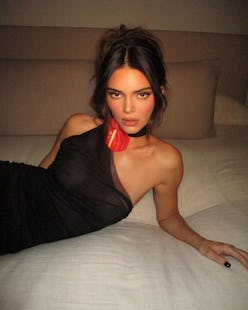 Considering she's a Scorpio baby, it just makes sense that Kendall Jenner would want to stay enmeshed in deep autumnal tones and luxe fabrics forever. While her bestie Hailey Bieber is already inviting warmer spring weather with her new candy-pink manicure, Jenner is staying true to the current season with a decidedly moodier nail color. For the tail-end of winter, Kendall Jenner's dark red nails are timeless, chic, and more than a little vampy — especially when paired with the velvet slip dress she wore to an exclusive Grammys after-party dinner. Stepping out in a curve-hugging Bottega Veneta gown, complete with matching opaque tights, Jenner took her commitment to the color very seriously with a rusty red-brown manicure — she's quite literally wearing the shade from head to toe.
To avoid upstaging the monochromatic moment, Jenner kept the rest of her glam relatively minimal for the night. Her center-parted blowout is glossy as ever, while Jenner's brushed-up brows and long, defined eyelashes — not to mention a warming wash of cheekbone contour — play up her natural features. But judging by the way Jenner takes care to hold her hands aloft in the photos, it sure seems like she wants onlookers to notice her dark red manicure.
While the artist who worked on Jenner's dark red manicure is still unknown, it's worth pointing out that she consistently chooses to forgo extensions and tips. Unlike her sisters — including Kim Kardashian, who shared she's been into press-on nails lately — Jenner usually sticks with her natural nails, length and all. But this (slightly) bolder color does happen to be a pretty major shakeup for Jenner, who largely sticks to muted shades and neutral tones, like the glossy black manicure she wore to Lori Harvey's birthday party in January. This stands in total contrast to Bieber, who goes for brighter shades regardless of season. Are the besties rubbing off on each other? Only time and Bieber's tights collection will tell.