No One Saw This Summer Manicure Trend Coming
Milk chocolate nails aren't just for sweater weather.
@avrnailswatches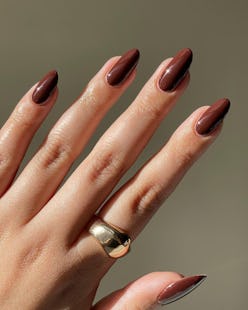 It's a fact that beauty trends come and go. However, no category experiences a quicker turnover than manicures. Since the top of 2023, bold nail art has reigned supreme, ranging from glazed and chrome finishes to airbrushed designs. But that doesn't mean manicure minimalists are out of luck. As it turns out, chocolate milk nails have been gaining steam online as the new neutral nail color du jour.
Distinguished by creamy brown polish shades with or without nail art, this trend is the perfect option for those who prefer classic and clean manicures. But just like the beverage, these hues can vary in depth making them ideal for a range of styles. For example, if you skew towards moody shades like vampy burgundy or patent leather jet black, a rich coco color will be your go-to. In contrast, light coffee hues will be a match made in heaven for those who are still enjoying the milk bath nail trend.
Whether you're intrigued by the recent uptick in brown nail polish hitting your FYP or you've always been drawn to neutral shades, there's a take on this trend for everyone to try. Ahead, 10 chocolate milk nail designs to inspire your own manicures.
Deep Coco
Dark chocolate polishes are a go-to shade in the fall and winter, but the deep hue can also work well during the warmer months. This is especially true when your manicure is finished off with a shiny top coat.
Split Decision
Channel your favorite cookie with rich color-blocked brown and cream nail polish. For a style like this, look for polishes that have similar neutral undertones as those will pair best.
Chocolate Cinnamon
A cinnamon coco polish is the perfect shade for almond-shaped nails thanks to its warm undertones. Unlike bright colors which can make the long shape look dramatic, this muted brown polish keeps the manicure feeling natural.
Chocolate Gradient
This tonal look is perfect if you like to play with varying shades. To get a look that really shows the range of the color, start with a light brown and continue with polishes that increase with intensity with each finger.
Matte Chocolate
While generally characterized by its glossy look, a matte finish gives chocolate milk nails and edgy look that's still on trend. To keep your manicure from looking flat, try using a different shade of brown on every nail.
Milk Chocolate French Manicure
There are many ways to update the classic French manicure. But if you're looking for something that's of the moment, this design with coco-dipped tips is the way to go.
Coffee
The color brown is extremely versatile and has the ability to match a range of skin tones. If your undertones typically run cool, a neutral coffee-colored shade will be the best fit for your chocolate milk manicure.
Stencil Heart Design
Add a bit of whimsy to your look with a stencil design that pairs perfectly with short square nails.
Milky Chocolate Swirls
Think of this look as a creamy cheesecake with milky chocolate swirls. Just like the dessert, this delicious look is sure to draw a crowd.
Mixed Manicure
For the ultimate maximalist chocolate milk manicure, mix and match different tones of brown with glossy and matte finishes. While this design aesthetic will work on any nail shape, it's most alluring on extensions — the extra length will really show off the color variations.