The Best Wedding Manicures Include Options For Every Kind Of Bride
Something old and something new.
@raelondonnails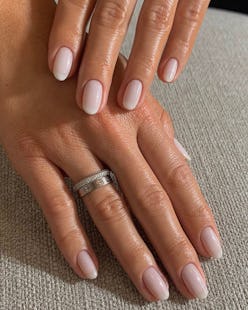 Weddings require extra attention to detail in the beauty department and for that special day, full glam is a big part of the process. A bride's hairstyle needs to be beautiful while complementing the dress's neckline. The makeup must be expertly applied to hold up throughout the day and, last but certainly not least, the manicure needs to be perfect. After all, your left hand will be pulling in just as much attention (if not more!) as the dress.
Unfortunately, bridal nail technicians aren't as widespread as makeup artists or hairstylists, so choosing the right manicure to round off your bridal look can be daunting a task. For wedding nails, there are a few different routes you can choose. You can go with a simple, classic design, say for instance, a traditional French manicure, so as to not distract from the gown. Or maybe you want to play with nail art in a delicate way that exhibits your personality.
Whatever style you're considering, it's best to lean into the overall aesthetics of the event and even better to get insider tips from the experts. Luckily, TZR has that lane covered. Ahead, two celebrity nail artists share their insights for selecting the best types of bridal manicures including polish colors, designs, and more.
How To Choose Your Wedding Nails
Despite being a small feature, well-groomed hands are an integral part of the overall look. When it comes to making the decision, it never hurts to head to abide by the "less is more" mantra, says Brittney Boyce, celebrity nail artist and founder of Nails of LA. "Yes, trendy is eye-catching and fun, but sometimes it's better to stick to a minimalist look."
Celebrity nail artist Chaun Legend tells TZR that soft and clean is the best place to start. "Think classic shades and simple but elegant designs," he says. You'll also want to keep the theme of the day in mind. These photos will be timeless and sticking to a cohesive aesthetic will help ensure you'll never have any wedding day regrets.
When Should You Get Your Nails Done?
Obviously, you'll want to walk down the aisle as freshly glammed as possible, and with hair and makeup taking precedence the day of, your manicure will need to be done ahead of time. "One to three days before the wedding is always best," says Boyce. This way your cuticles and manicure will look fresh.
She also suggests opting for a gel manicure to ensure your style will stay put from the time you leave the salon till the big day. "Personally I like to add a little bit of length using extensions but shorter nails work just as well with gel," she says.
What Colors Should You Use?
The minimalist aesthetic is not lost here. With decor, floral arrangements, and dresses skewing towards neutral tones, the manicure should, too. For his clients, Legend prefers natural colors with a sheer finish. "I tend to go for soft nude shades and milky whites for brides," he says.
Unsurprisingly Boyce agrees and recommends semi-translucent polishes in pale pinks and muddled rose colors. "Befittingly, 'First Kiss' by Orly is one of my favorite shades for wedding manicures because of its pale color and creamy consistency," she says.
What Kind Of Nail Designs Work Best?
Though uncomplicated and low-key looks are go-to options, it doesn't mean nail art is completely out of the question. "You can easily dress up your nails with delicate and dainty accents such as metallic gold cuffs or tiny rhinestones placed at the base of each nail, says Boyce.
Classic designs such as crisp white French tips are also a favorable choice if a single polish color is a little too plain for your taste. And there are many other sophisticated and artful styles appropriate for brides. If you want something a little more unique, Legend suggests trying a chrome or ombré technique in a pearly shade. "Changing the finish is a quick way to modernize an enduring design," he says.
Keep scrolling to see a few more elegant wedding day manicure options.
Pale Rose
A dusty rose color and impeccable cuticles give an elevated natural look that will seamlessly pair with any style of wedding dress.
Dainty French Manicure
You'll never go wrong with a twist on a classic like this wispy French manicure design.
Lip Gloss Nails
The lip gloss nail trend is actually quite perfect for brides thanks to its high-shine effect and delicate color palette.
Ombré Extensions
If you prefer longer nails on your wedding day stick to neutral colors and a simple look like this elegant ombré style.
Delicate Nail Art
Is there anything more appropriate than this single white heart design on nearly nude nails?
Medium-Length Square Nails
The popularity of square nails is on the rise. This baby pink color gives the classic shape a soft and feminine feel that's perfect for a matrimonial manicure.
Glazed Donut Nails
For the trendy bride, short glazed donut nails are sophisticated and Instagram-friendly.
Milky Nudes
In the midst of detailed romantic looks, traditional nude shades can come across flat. To keep them in line with the day's decor, try using a color with a milky cream finish.
Invisible French Manicure
The invisible French manicure combines the timeless appeal of the traditional style with a modern design.