These 9 New Beauty Brands Are Poised To Replace The OGs
Rael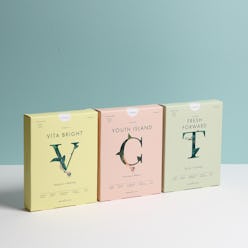 There's no denying that the beauty business is booming. The industry is reportedly at an all-time high, growing at a faster clip than fashion; and buzzy brands, fresh products, and innovative concepts abound (I mean, "scalp care" wasn't a thing before 2019). But the constant influx of new beauty goodies to buy and try can feel a little overwhelming. However, these nine new 2019 beauty brands, which span the categories of skincare, hair care, makeup, and body care, are the ones to watch… and add to your shopping cart ASAP.
Read more: Why Frankincense Oil Is Like "Liquid Gold" For Your Skin
Even though all they sit in separate markets, the brands have one major quality in common: Each is bringing much-needed attention to an overlooked area of the beauty industry.
"After we launched our organic cotton pads and tampons, we reviewed all the issues women deal with due to hormonal changes, and skin troubles turned out to be one of the top concerns," Yanghee Paik, the co-founder and CEO of Rael, tells The Zoe Report — and thus, hormonal skincare made with clean, functional ingredients to tackle PMS breakouts was born. Act + Acre similarly found a gap in the hair care market and delivered. "The scalp ages 12 times faster than the skin, which is consistently overlooked by the beauty and hair industry," Colm Mackin and Helen Reavey, Act + Acre's founders, tell TZR. "We are proud to have introduced something that really helps solve for this."
High-performing products with mission statements that actually mean something? So worth switching up from my typical go-tos. Ahead, read more about the brands bound to change the way you view beauty from here on out.
Skincare
Saint Jane
CBD is seemingly everywhere lately, but there's still a lot of confusion over what CBD does and how to find reputable sources — especially in the skincare space. Enter Saint Jane, a CBD-laced beauty brand founded by Casey Georgeson, an industry veteran who helped build brands like Marc Jacobs, Elizabeth & James, and more. "I started dreaming up our Luxury Beauty Serum when I learned about the powerful benefits of CBD for the skin," she tells TZR. "I walked into a dispensary and asked to try all of their CBD products without THC (the part that makes you feel high), and I realized something major was missing: A luxurious beauty collection with clean, beautiful formulas and this extraordinary ingredient."
Saint Jane's first (and only) product, the Luxury Beauty Serum, features calming calendula oil, brightening sandalwood, and a hit of glow-inducing CBD — all of which are clean, natural, vegan, and sustainably sourced. It's a high-quality offering that happens to have beautiful packaging, too (a rarity when it comes to CBD products).
Keep an eye out for Saint Jane's next launch, a CBD-spiked lip gloss set be released later this month. "Saint Jane is one of the first brands to include CBD in color cosmetics," Georgeson says. "These glosses are a game changer."
Rael
Rael started out producing pads, tampons, and other period products, but the company realized there was one PMS symptom it wasn't addressing: hormonal acne. "It was a logical move for us to create a skincare line that is clean and functional, so that women can have a better experience during their period each month," Paik says.
Rael now offers a pack of four sheet masks, which conveniently mirror the four weeks of the menstrual cycle. Its Hydrolock Mask was practically made for the follicular phase, when testosterone levels drop and oil production slows; while the Fresh Forward Tea Tree Oil Mask tackles premenstrual breakouts in 20 minutes flat.
But if you're only going to try one Rael product, make it the Acne Healing Patches. "You don't have to do anything but put this invisible sticker, made of hydrocolloid dressing, on your pimple overnight or during the day for four hours, and your pimple will be reduced or gone while not leaving any scars on your face," Paik explains. "Some customers call it a life-changer, and it was indeed for me!"
Wildling
What do you get when you combine an herbalist, an acupuncturist, and a holistic aesthetician? Wildling, a brand breathing new life into the ancient art of facial gua sha. Its initial product offerings make up the Empress Collection: a gua sha tool (a facial massage device similar to a jade roller) carved out of antioxidant bian stone, a detoxifying tonic, and a plumping oil; all designed to work in tandem to smooth, sculpt, and tone the skin.
"The Empress Ritual is a modern take on gua sha, which has been practiced for thousands of years," Jill Munson, one of Wildling's co-founders, tells The Zoe Report. "By practicing these rituals today — in a way that is modern, sacred, and sexy — women can restore their connection with nature and rediscover a form of beauty that is healthy, sustainable, and wild."
The brand's must-try product is without a doubt the Empress Stone. "It is custom designed to hug every angle of your face just right," Munson says. The result? Sculpted facial muscles, glowier skin, and zero tension.
Hair Care
Act + Acre
Besides the odd dandruff shampoo, scalp care wasn't really on anyone's radar until Act + Acre stepped onto the scene. Launched earlier this year, the brand is pioneering the concept of "hair wellness" with its three-product lineup of scalp essentials: Hair Cleanse, Hair Conditioner, and Scalp Detox.
"Our Scalp Detox is really exceptional and the reason why we started on this journey," Colm and Reavey say. "It's a weekly treatment that works miracles on the scalp to remove impurities, pollution, and buildup so your follicles are revitalized, balanced, and moisturized."
Seen
Did you know that shampoos, conditioners, and styling products can clog your pores and lead to breakouts? When Harvard-trained dermatologist Dr. Iris Rubin discovered that comedogenic hair care was contributing to her acne, she decided to do something about it and in late 2018 launched SEEN: hair care that's actually good for your skin. "We spent over four years developing luxury hair care that won't cause breakouts," Dr. Rubin tells The Zoe Report. "Why choose between beautiful hair and beautiful skin when you can have both?"
The brand launched late last year with a shampoo and conditioner set, but SEEN recently added a fresh new styler to range. "The Skin-Caring Blow-Out Creme is our hero product," Dr. Rubin says. "It is light and does not weigh down the hair, yet delivers so many benefits, including heat protection and UV and pollution protection for hair. It has a plant sugar derived silicone substitute that reduces frizz and leaves the hair silky and smooth." In addition, it's free from sulfates, silicones, phthalates, parabens, and dyes and is clinically proven to be non-comedogenic.
Makeup
Christen Dominique
YouTube and Instagram have launched many a beauty influencer's career — but Christen Dominique took her success to the next level with the 2018 release of Dominique Cosmetics, a makeup line that offers "effortless blendable formulas, highly pigmented eyeshadow, and creamy matte liquid lipsticks," Christen Dominique, the brand's founder, tells TZR.
While the Berries & Cream Collection of matte liquid lipsticks made a splash, beauty enthusiasts are really responding to Dominique's eyeshadow palettes, which feature extra-large pans — in other words, they give you more beauty bang for your buck. "As a young artist, I would save up for high-end makeup palettes and test a lot of products — from years of trying different palettes and products in the market, I was inspired to create my own versatile palette with large pan sizes," Dominique says. "When I hear customers comment on the large pan sizes, I feel like I've truly accomplished my goal."
Cai Para Mi
Inclusivity is now an industry standard, with 40 or more foundation shades quickly becoming the norm for cosmetic companies. But Ralph Mandil, the founder of Cai Para Mi, still spied a gap in the market: makeup for Latinx women.
Cai Para Mi, which is now available at Target, has seen the most success with their foundation range. "The formulation was made specifically with olive, brown, and yellow undertones to complement a Latina woman's complexion, so this has definitely been a best-seller and a concept the brand is based off of," Mandil tells TZR. "We're constantly hearing how grateful Latina women are that they can finally find products that match their shade and undertone at not only an affordable price point, but is easily accessible as well."
Body Care
Nécessaire
Buzzy new brand Nécessaire believes you should treat the skin on your body like the skin on your face — and you can't really argue with that. "Our mission is to reimagine personal care as self-care," Randi Christiansen and Nick Axelrod, the co-founders of Nécessaire, tell The Zoe Report. "We believe in better personal care, made in a better way, and people are coming with us."
Nécessaire's initial product offering includes three body care essentials — The Body Wash, The Body Lotion, and The Sex Gel (yes, it's lube) — all made with clean, skincare-level ingredients like ceramides, lactic acid, and niacinamide. The company is big on transparency, too, and is open about its ever-expanding sustainability efforts. "It's awesome to read product reviews, but even more so, it is exciting to see people embracing our brand and what we stand for including, our sustainability goals and ingredient transparency," the founders share.
If you're new to Nécessaire, The Body Lotion is the place to start. "Most formulas we have tried are highly fragranced or ultra-greasy," Christiansen and Axelrod note. "Necessaire's The Body Lotion absorbs almost instantly, yet leaves you feeling moisturized and soothed all day. It's face-grade skincare for your body."
Esker
When Shannon Davenport launched Esker in late 2018, her goal was to create body care that served a deeper purpose. The resulting line, a range of three body oil blends featuring functional essential oils, is more than just luxe-feeling and #shelfie-worthy — it delivers serious skincare benefits, as well. The Clarifying Collection evens skin tone thanks to a potent dose of cypress, the Restorative Collection promotes youthful-looking skin with frankincense and carrot seed, and the Firming Collection boosts circulation to smooth texture and reduce cellulite via juniper. Oh, and they all smell incredible.
Davenport's secondary goal? To prove that oils don't have to feel greasy or slippery. "I love hearing about how people's reaction when they first experience the silkiness of the oil on their skin," the founder tells The Zoe Report. "I think a lot of people haven't experienced a true dry body oil — when they try it, they're in love with how quickly it absorbs." You can slather on a layer before bed and snuggle up in your silk sheets immediately — no mess, no transfer.