How 7 Black And Latina French Girls Reckon With Parisian Beauty Ideals
IMAXtree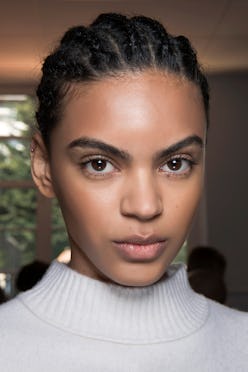 As a woman of color, finding the right products and treatments can be a challenge. The industry is starting to catch up (thanks, Rihanna!), but unfortunately, not everyone knows how to handle melanin-kissed skin and kinkier hair textures. Since I'm a beauty editor by trade, I'm lucky enough to have access to some of the best hair, makeup and nail techs in the biz, especially in New York City. However, once I lift off at JFK or LGA, I get a tiny bit nervous. What if I run out of foundation? What if my curl cream leaks? Where will I find more?
Case in point: I just got back from Paris Fashion Week to cover Dior, where I saw plenty of stylish, well-groomed women of color looking great at the last leg of the marathon known as Fashion Month. While there, those Black and Latina French girls (who either live in France or frequent the country often) got candid about how people view beauty — and how they maintain their own. Keep scrolling for a few real life accounts of the good, the bad, and the in between about getting gorgeous in the city of lights. From hair salons to hammams, here's what the très chic women had to say.
Paris, France
"I've lived in Paris for six years and it's a very special city because of it is multiculturalism. You can find the best of all worlds, like African hair stylists, Arabic waxing salons, and Caribbean hair salons. A few places in the city that do cater to women of color would be Laser Marceau for laser hair removal, or dermatologist Isabelle Murgey for skin peels. I was really happy to find a clinic that caters specifically to laser hair removal for people of color. I've lived in other areas of France and finding a YAG laser was very difficult — but in Paris, you don't encounter this sort of setback.
"My hair is natural, and I wore it in a protective style until recently. Now, I just wear my 4C curls out on their own. A few of my favorite products include Jamaican castor oil (for a hot oil treatment), Shea Moisture's Deep Treatment Masque or Aphogee Keratin Reconstructor (for deep conditioning) and finally, I moisturize with Cantu Shea Butter and use Design Essentials Honey Curl Custard for my twist-out. I do have a stylist in Belleville [a neighborhood in Paris] who I see twice a month for my blowouts."
New York, NY
"Every time I travel to Paris, it's a missing a diverse and inclusive beauty offering — hair and makeup included. For instance, the Sephora options are limited and the associates will advise that you order online to fulfill your request. [In terms of beauty standards,] there is a need for more inclusion and variety over the counter — and across the board."
Felita Harris, CEO of Enform @msfashionbiz
New York, NY
"Once, I interviewed a lady while in Paris and envied her haircut. I decided to book an appointment with her hairstylist. I should've known I was in trouble when she turned the chair away from the mirror. I was completely in shock. I stumbled to the car and cried. When I arrived back at the showroom, no one could look me in the eye — it was so embarrassing. One of my worst rookie moves.
"Another challenge is finding expanded range of foundation colors for Black women. I've had makeup emergencies in Paris and I'm always shocked at the lack options for women like me."
Paris, France
"After living in Paris for six years, I might actually be conforming to French beauty standards without realizing it. The French are known for 'effortless' beauty (which really isn't effortless), but because I generally like looking a little understated, the French 'standard' is in line with what I naturally like.
"I've had great experiences getting braids done at a little shop in the 18th on Rue Ramey and Rue du Baigneur. It's not as hectic as the braid shops in the Château d'Eau area. And just like Harlem, you usually get two women braiding your hair at a time. It took me awhile to wean myself off of having products shipped to me from the U.S. or stocking up when I go back home. When I first got to Paris it was hard to find products I was used to. There's a store called Colorful Black that has all the major natural hair products —but they're expensive because of import taxes. However, in recent years, I started seeing more of the beauty supply stores have products like Cantu. There's also a brand called Activilong that's pretty good and affordable here."
Peju Famojure, fashion editor & stylist, @pejufamojure
New York, NY
"The pharmacies in Paris are treasure troves of creams and sprays. It's the capital of many legacy beauty brands, after all. In all honesty, I was so used to seeing limited shade ranges that Lancôme just became my go-to brand. However, I discovered BlackUp in Paris and also experimented with their product range. I also frequented the M.A.C Cosmetics store, too.
"For me, maintaining even skin tone is the number one tenet of my beauty regimen. I actually don't splurge on products because when I have, I didn't really notice any results. But one product that is mid-range in price that I swear by is Embryolisse Creme Hydratante a l'orange.
"Additionally, there's a large Moroccan community in Paris that should definitely not be ignored. Going to the hammam [a Turkish bath] is totally worth the experience and results. Prices range from more luxury to inexpensive. In general, Moroccan women have beauty practices that I love and products that are natural with ingredients that aren't strictly produced in a lab."
Paris, France and Bronx, NY
"I've been in Paris for almost four years, but had a full meltdown when it came time to get my first hair trim. Between the language barrier and having someone a stranger deal with my Afro-texture hair, I was sure I'd end up bald. When I said I just want a trim and he said 'half-shaved like Rihanna?' I just sunk into despair on the inside. In retrospect, I have to give French [people] credit. They may not give me a bone-straight Dominican blowout, but they understand the value in being gentle and not burning off your scalp with too-hot hair dryer.
"Every city has its 'hood where us women of color can find products for their hair. The Afro-Parisian neighborhoods have rows and rows of beauty supplies. From my experience, because French products are such good quality, they work really well for our skin so it's less daunting having to find places just for us. And my skincare routine is really my one and only beauty routine. But unfortunately, so many French brands are these big powerhouses that none of us see ourselves in — although Aroma Zone is a DIY skin and haircare shop my Afro-French girls and I live in. There, I never splurge on expensive products. There are so many good quality product that don't break the bank. Nuxe Reve de Miel or a good Argan oil might be my splurge. Avene, Evian, or Bioderma sprays and Caudalie Vinoperfect Essence Concentré Eclat are my staples."
New York, NY
"What started as a three-month trip to learn French ended up becoming a four-and-a-half-year tenure. I went to do my hair at a small salon on the 2nd Arrondissement while there. When I went, I told them in advance that my hair had a tendency to go orange because I'm Latin, and that I like my tone very ashy. The French stylist thought he knew better and told me to trust him. Of course, when I came out I looked like a carrot. I had to stay for two more hours after trying to get the correct blonde. And he charged me for it! I made a quick scene and never went back.
"Now, my favorite hair salon in the world is David Mallet. Period. They have the friendliest team, the most beautiful salon, and the best stylists in town. A former PR girl recommended them to me, and since I arrived, it was love at first blow-dry. Even now that I live back in New York, I leave enough time to go see them every time I go to Paris for a job. The good news is that they are opening a salon in the city — and all of my favorite stylists will be coming once a month for appointments."