Tata Harper, Kat Von D, & Other Latina-Owned Beauty Brands To Shop This Season
Besame Cosmetics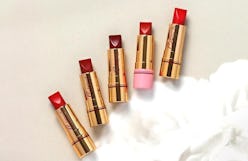 As international influence continues to permeate the American beauty market, it's hard to ignore the passion, camaraderie, and confidence that radiates from Latina-owned beauty brands. It's as if there is an unspoken bond rooted deep in Latina culture that shines through their glowing complexion in a way that not even my favorite highlighter can replicate. Every detail of their meticulously-designed product lines stems from their roots, from the intricate packaging, unique product design, and cheeky shade names.
But these Latina-owned beauty brands span well beyond a lineup of must-have products. They tap deeper into their community of beauty believers who connect, relate, engage, and celebrate the brand, in the genuine, passionate way that speaks to their heritage and way of life.
"When I look at the history of art, everything from old sculptures in Mexico to the revolutionary art in the 50s, [Latina] women are [portrayed as] goddesses," Kat Von D, who is Mexican, once said in an interview with Mario Lopez. "They're strong. There's something about Latin women that make the most inspiring females out there. To be in the same sentence with that is probably the coolest thing."
Though that sense of pride can't be purchased, you can shop the 13 well-known and indie Latina-owned beauty brands, below, this holiday season.