The Fall 2018 Makeup Palettes You Shouldn't Miss, According To Experts
S. Alemdar/Getty Images Entertainment/Getty Images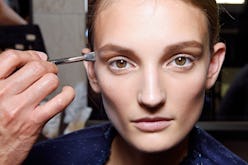 I consider myself low-maintenance when it comes to my makeup routine. For a long time, I thought that meant makeup palettes were out of my league. What would I do with all of those shades, anyway? Flash forward to approximately 27 single pots of various brown eyeshadow later, and I realized that investing in an incredible shadow palette might actually be the more low-maintenance thing to do. And the new fall 2018 eyeshadow palette launches are so good, though, they're tempting me into into high-maintenance territory — as in, I think I need them all.
It's especially hard to pick just one, because fall makeup products tend to include my favorite, subtly-pretty shades: shimmering neutrals, deep jewel tones, and a warm berry or two. The latest crop of shadow palettes doesn't disappoint.
Beauty brands have tapped into two specific directions for the new season: You can choose from palettes that tell a single color story (like Huda Beauty's new Precious Stones Ruby Collection, filled with red tones), or palettes that span the entire spectrum (like the Urban Decay's latest launch, which brings 19 shades together in one kit).
Not sure where to start? This organized-by-vibe shopping list — complete with advice from experts like backstage beauty fixture Jaleesa Jaikaran (the makeup artist behind the recent Savage x Fenty runway looks) and celebrity makeup artist Hrush Achemyan, who works with Kourtney and Khloé Kardashian, should help.
If You're Into... Neutrals
Look no further than the Huda Beauty Precious Stones Collection in Topaz. Jaikaran cites it as her favorite new release of the season, if only because "you can do so much with it," she tells The Zoe Report via email.
"You can go from the office to dinner to a party so easily," she continues. "The colors, when used lightly, can even be duped as blushes and highlighters."
Jaikaran is particularly into the Huda Beauty Topaz palette because the richly pigmented tones pop on people of color, especially "the matte burnt orange and the gold shimmer," she tells us. While the makeup artist says, "I try not to abide by eye color rules anymore," she notes that the peach shades look great with blue eyes, and the gold shades work well with hazel eyes.
If You're Into... Jewel Tones
Molly R. Stern, makeup artist to Maya Rudolph and Sarah Paulson, can't get enough of the limited edition NARS Holiday Eyeshadow Palette in Provocateur, which holds six versatile jewel-toned shades, from dark berry to metallic navy. "The shades can be worn both naturally or very dramatic," Stern tells TZR. Additionally, they pair well with literally any skin tone: "The colors are pigmented so they will show up on darker complexions but can be applied softer for fairer tones."
Stern makes it sound so easy to create a cohesive eye look with the diverse shades, too. "I love highlighting the lid with the two lightest shades in the palette and then combining the bright orange with the cool taupe shimmer for the crease," she explains. "Then you have the choice of the two darker shades to smoke out the upper and lower lash lines." It's pretty much foolproof.
If You're Into... Berry Tones
Those who already have a pretty extensive collection of neutral palettes will find something new in the Huda Beauty Palette Precious Stones Collection in Ruby. A favorite of Michael Ashton, an artist who's worked with Adele and Jameela Jamil, it features nine shades, ranging from light peach to deep maroon and every shade of red in between. Don't let that scare you, though. Ashton tells us, "The beautiful burnished jewel tones will warm up any skin tone and can be used for a gentle wash of color right through to a dramatic and sultry smokey eye."
Apparently, when it comes to eye color, you can't go wrong. Ashton explains, "Warm ruby toned shades will give added depth of color to amber, brown, green, hazel eyes and give lighter blue and grey eyes a mesmerizing effect."
If You're Into... Options
If you're looking for one mega-palette that covers everything from subtle neutrals to holiday brights, Achemyan suggests the recently-released Kylie Cosmetics Sipping Pretty Palette. "You can create several full looks using just this, from a natural look to a dramatic look," she says.
Since there are a lot of options, I asked Achemyan for a tour around the palette to help demystify exactly which shades to use when. "For green to hazel eyes I would use Pre-Game, Sex on the Beach, and Close the Tab," she says, citing three of the collection's neutral brown shades. "For darker eyes, I would use Moscow Mule and Mimosa," both of which are in the rosy-maroon family.
"Bronze, gold, and orange undertones look great on [darker skin tones]," Achemyan adds. "These shades complement their skin tones well."
Still haven't found your perfect palette? Ahead, all the fall 2018 makeup palette releases you need to consider.
More Options