10 Facial Oil And Moisturizer Combos For Bright, Hydrated Skin
Peter Thomas Roth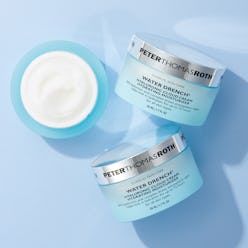 Teamwork makes the dream work, as they say — even when it comes to your skincare routine. And just like with any team, a lineup of all-star products that stand out on their own might not be the most efficient way to achieve the skin of your dreams. If you're after that gold medal glow, it's essential to look for products and ingredients that support each other — and the first step is learning how to pair facial oils and moisturizers.
Although both oils and moisturizers have the same goal — keeping the skin hydrated — they're not interchangeable. "Oil and moisturizers go hand in hand, as the oils act as a sealant to the moisturizer," Dr. Aanand Geria, a dermatologist at Geria Dermatology in New Jersey, tells The Zoe Report. He explains that the two products can work in tandem to deliver hydration to different layers of the skin; moisturizers penetrate pores to hydrate the inner layers of the dermis, while oils maintain superficial hydration levels. "Oils are important to maintain a protective barrier against debris and free radicals; and moisturizer is needed for deeper hydration," he says.
There are two factors to consider when assembling your moisturizer-oil dream team: how the ingredients of the two will interact with each other, and your skin type.
For starters, be on the lookout for an overload of active ingredients — in other words, combining a moisturizer and oil that both boast skin-brightening vitamin C might result in an "overdose;" leading to redness and irritation. Conversely, if you're experimenting with an ingredient that's known to increase skin sensitivity (like retinol), you can mitigate that side effect by pairing it with a soothing oil (like jojoba), according to Dr. Geria.
If you don't want to comb through the inches-long ingredient lists on the back of every bottle of moisturizer and oil to figure out which products will best support each other, scroll ahead for a no-fail guide to the best moisturizer-oil combinations — including one moisturizer that works with any oil.
Hyaluronic Acid + Jojoba
Hyaluronic acid and jojoba oil are basically the gentle giants of the skincare realm — they pack a lot of power, but are safe for all skin types (and have virtually no adverse side effects). Dr. Geria recommends this lightweight combination especially for those with oily skin, since both deliver the hydration your skin needs (minus the dreaded heavy, greasy feeling).
He suggests starting with a hyaluronic acid moisturizer, like Dr. Dennis Gross Hyaluronic Marine Oil-Free Moisture Cushion. "Follow up with jojoba oil, which may help regulate sebum production," he says. Opt for a pure version, like Radha Beauty Jojoba Oil, or use a multi-ingredient facial oil with a jojoba base, like Honest Beauty's Organic Beauty Facial Oil.
Dimethicone + Avocado Oil
"To treat a dry face, I would say look for a moisturizer with dimethicone, a silicone-based emollient," Dr. Geria tells us. As an emollient, this ingredient serves to lock in moisture and prevent a natural function of the skin known as Transepidermal Water Loss — one of the leading causes of dry skin. Dr. Loretta Anti-Aging Repair Moisturizer features dimethicone alongside a slew of other skin-loving ingredients, like pollution-protecting antioxidants and soothing vitamin E.
Next, Dr. Geria recommends slathering dry skin in an ultra-hydrating natural oil, like avocado oil, which features fatty acids and vitamin E to keep skin healthy and plump. Eve Lom Radiance Face Oil is a smart pick.
Retinol + Watermelon Seed Oil
Retinol is one of the most buzzy skincare ingredients of the moment (it increases cellular turnover to leave skin clear from acne and wrinkles), but it's not without its side effects. For many, retinol famously causes dryness and inflammation for the first few weeks of use — but that could all change with the right moisturizer and oil pairing.
"Retinol and watermelon seed oil work well together to combat acne," Dr. Geria says. Even though the former, found in the new Drunk Elephant A-Passioni Retinol Cream, may cause irritation at first, the the latter soon swoops in to save the day. It's high in linoleic acid, which dissolves the excess sebum that often clogs pores; ultra-moisturizing to fight off dry patches; and anti-inflammatory to take down irritation in the gentlest way possible. Find it in African Botanics Fleurs D'Afrique Intensive Recovery Face Oil.
Retinol + Jojoba Oil
Looking to prevent future fine lines? Dr. Geria loves the pairing of retinol (a derivative of vitamin A) and jojoba oil. "This is one of the most hydrating oils out there, and is perfect for combating any dryness experienced from retinol products," he says. Before bed, call on this dream team: a layer of Olehenriksen Goodnight Glow Retin-ALT Sleeping Crème, followed by a few drops of Radha Beauty 100% Pure Jojoba Oil.
Peptides + Pomegranate Seed Oil
Another combo to keep skin fresh is peptides and pomegranate seed oil. "This lineup is ideal for anti-aging, due to its effects on fighting free radicals from pollution and sun damage," Dr. Geria says. Try Fresh Black Tea Corset Cream Firming Moisturizer and John Masters Organics Nourish Facial Oil With Pomegranate, and be wowed by the results.
Petrolatum + Argan Oil
Moisturizers with petrolatum (sometimes labeled as mineral oil) will help keep the skin barrier protected from possible irritants. Cetaphil Moisturizing Lotion is a dermatologist fave. As far as a complementary oil, look for a pure formulation of argan oil. This ingredient has been shown to boost skin's hydration levels and elasticity without any irritation, making it ideal for those with sensitive skin.
Ceramides + Coconut Oil
If you're dealing with a condition like dermatitis or eczema, a ceramide-rich moisturizer (like First Aid Beauty Ultra Repair Cream Intense Hydration) and coconut oil (like Kopari Save Face Oil) combination should be your new go-to. "These work well together to repair the skin barrier," Dr. Geria explains — a key factor in fighting inflammatory skin conditions like these.
Vitamin C + Carrot Seed Oil
Orange you glad about this pairing? A vitamin C moisturizer, like Sunday Riley C.E.O. C + E antiOXIDANT Protect + Repair Moisturizer, with carrot seed oil, like Naturopathica Carrot Seed Soothing Facial Oil will "help diminish hyperpigmentation."
Shea Butter + Raspberry Seed Oil
Dealing with inflammation of any kind? "Combine shea butter with raspberry seed oil, due it combined anti-inflammatory effects on the skin," the dermatologist suggests. BareMinerals BUTTER DRENCH™ Restorative Rich Cream Moisturizer with Girl Undiscovered Stars Aligning Facial Oil Elixir is a winning match.
Hyaluronic Acid + Any Oil
"Generally a moisturizer with hyaluronic acid is key, as hyaluronic acid helps bind water to skin cells," Dr. Geria tells TZR. "The Water Drench Hyaluronic Cloud Cream by Peter Thomas Roth is great — this would work great with all oils."
All of this mixing and matching might feel overwhelming, but Dr. Geria maintains it's nothing to stress about. Besides double-dosing on active ingredients (don't pair a retinol moisturizer with a retinol oil, for example), there aren't many risks in this tag-team game. "With respect to oils and moisturizer ingredients, there are not specifically any pairings that don't work well together," he tells us. "However, I do advise to avoid coconut oil in acne prone-skin and to avoid tea tree and lavender oil altogether, due to mounting evidence that these are potential endocrine [hormone] disruptors."