How To Protect Your Hair From Air Pollution's Dulling, Drying Effects
Tristan Fewings/Getty Images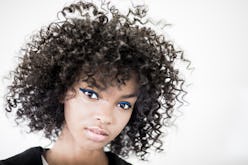 There's no denying that pollution can have some serious effects on your appearance — it's proven to impair the skin's barrier and cause signs of premature aging, like wrinkles and dark spots — but it isn't just your skin that suffers.
"Many people don't know that pollution can also cause damage to the hair and scalp," Michele Burgess, the Executive Director of Product Development for Oribe, tells The Zoe Report. It makes sense: The harmful pollution particles (also known as free radicals) that cause damage to your skin cells would naturally land on your hair follicles, as well — only instead of wrinkles and hyperpigmentation, your hair experiences "breakage, frizz, dandruff, and even hair loss," Chase Kusero, co-founder of IGK Hair Care, tells us in an email.
So if that anti-frizz serum or medicated dandruff shampoo just isn't cutting it anymore, it may be time to tackle the problem at the source. The latest crop of anti-pollution hair care products is making that a whole lot easier.
But before getting into the cutting-edge hair care products that belong in your collection, a mini science lesson on pollution and free radicals: "Pollution is comprised of harmful gases and particulate matter, which have been shown to promote free radical damage," Dr. Joshua Zeichner of Zeichner Dermatology tells The Zoe Report. The effects of oxygen-based free radicals can be neutralized with the help of a class of ingredients known as antioxidants. "Antioxidants are like fire extinguishers that minimize damage caused by exposure to pollution," he says.
Some antioxidant-rich hair care ingredients include hyaluronic acid, which creates a barrier around the hair cuticle to protect it from the elements (Dr. Zeichner cites a healthy skin barrier as one of the keys to fighting pollution damage), and moringa seed extract, which neutralizes free radicals and prevents polluting micro-particles from adhering to the hair; both of which are found in Oribe's recently released Hydration & Anti-Pollution Booster Power Drops. Vitamin E, algae extracts, bamboo extract, and grape stem cells also offer antioxidant-packed, pollution-fighting benefits for the strands and scalp.
"Like most beauty and wellness concerns, prevention is easier than correction," Ed Valentine, the Managing Director of NatureLab. Tokyo, tells The Zoe Report. To that end, it's important to not only treat pollution damage with antioxidants, but also prevent the effects of pollution in the first place, by making sure your hair is healthy and strong.
"The key to healthy hair is a healthy scalp — otherwise pollutants can really settle in and do their damage," Kusero tells us. He suggests working scalp care into your routine once a week, as well as utilizing daily leave-in conditioners and weekly hair masks to hydrate and seal the hair cuticle, so that pollution particles can't infiltrate.
Another way to keep your hair healthy? "Don't wash it as much," Kusero says — as if you needed another reason to postpone wash day. "Air pollution and UV exposure dry out the hair, and over-cleansing makes the situation worse. When you do wash, do so with sulfate-free products." The ideal number of washes-per-week is different for everyone and every hair type; the real takeaway here is to only shampoo when you need to. For those with thin hair or an oily scalp, this could mean every other day; for those with thick coils and curls, once a week is optimal.
It's worth noting that although heat styling with a blow dryer doesn't add more pollution to your hair (it simply recycles the air that's already around you), it can exacerbate the drying effects of pollution. If your hair is particularly brittle or prone to breakage, make sure to add a pollution protectant and a heat protectant, like Bumble & bumble Hairdresser's Invisible Oil Heat/UV Protective Primer, to your daily routine.
"Everyone should be using daily hair protection, much like you would with sunscreen and your skin," Burgess says. Luckily, the diverse range of anti-pollution hair care products available makes that super easy to do — and although one anti-pollution product per day will suffice, there's no reason not to incorporate protective products into every level of your routine, from shampoo to shine mist, for the healthiest hair possible.
Ahead, the anti-pollution hair care products to add to your routine ASAP.
Shampoo
Conditioner
Leave-In Conditioner
Serum
Styling
Scalp Treatment
Hair Mask