Miranda Kerr Tells Us How To Use A Sleeping Mask (So Listen Up)
Kora Organics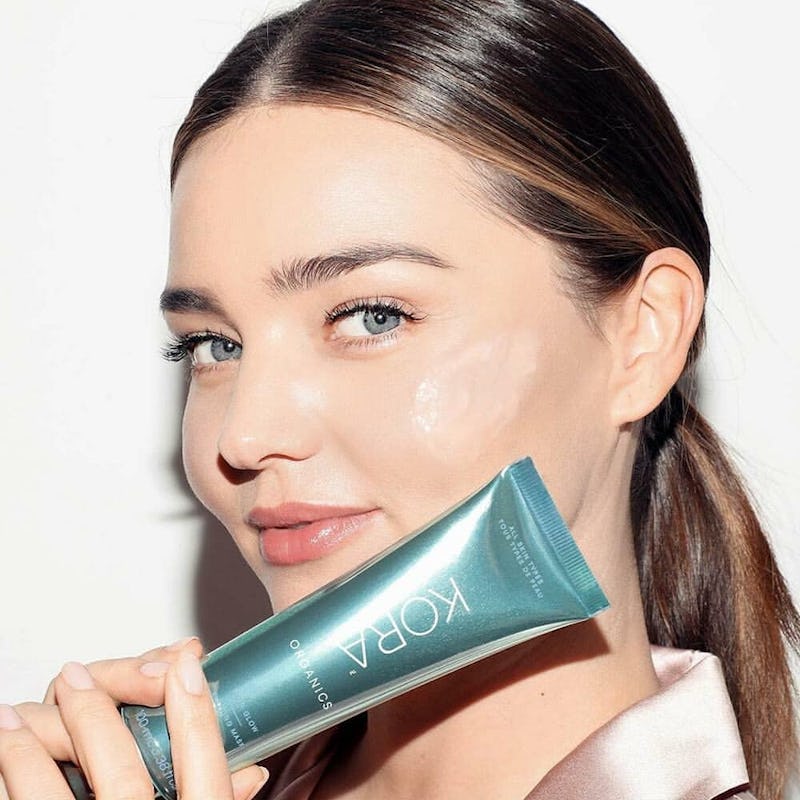 Cleanser, toner, serum, moisturizer, oil, repeat. If your nighttime skincare routine is starting to feel, well, routine, it might be time to experiment with a new step — one that requires zero extra effort and is easy enough to do in your sleep. Actually, for this new crop of skincare products, that's kind of the whole point. Skincare sleeping masks are on the rise, promising to deliver hydration and glow overnight (and revolutionizing the term "beauty sleep" in the process). To get the scoop on the trending must-have, The Zoe Report consulted derms and beauty brands about why, when, and how to use them.
Though they share a common category, sleep masks are different from typical face masks in almost every way. "Regular face masks can serve to lightly peel damaged epidermis, hydrate, and calm down irritation and are applied for 15 to 20 minutes, whereas sleeping masks are applied for long periods of time and are designed to provide longer, more substantial care," Dr. Neil Sadick of Sadick Dermatology tells The Zoe Report. "Sleeping masks typically contain hydrating or remodeling agents such as hyaluronic acid and retinol, and their consistency is thick but non-comedogenic, meaning they let the skin breathe without clogging the pores," he says.
You can think of them almost as super-potent moisturizers… but they won't necessarily take the place of your regular moisturizer. "Sleeping masks are best applied as the final step — layered on top of a complete regimen — ideally just before bed," Dr. Craig Kraffert, a board-certified dermatologist, tells The Zoe Report. So go ahead and pile on the essence, serum, moisturizer, and face oil beforehand. (And no, these products won't mess up your pillow any more than your usual skincare regimen would.)
"You can definitely layer it with other products (as I do!) as long as there are no silicones in any of the products you apply beforehand," Miranda Kerr, the founder of KORA Organics (and, you know, an iconic model), tells The Zoe Report of her brand's new Noni Glow Sleeping Mask. Since silicones create a moisture barrier on the skin, essentially locking in hydration, they'll block the absorption of your sleeping mask. "We do not use silicones in any of our products — that's why it's totally fine when I apply the Noni Glow Sleeping Mask on top of my Noni Radiant Eye Oil and Noni Glow Face Oil," she says. "All the products will absorb."
For some sleeping masks, it's best to apply directly on clean, washed skin, Tammy Yaiser, the Vice President of Product Development at Algenist, tells The Zoe Report. "It's what we recommend with our SPLASH Sleeping Pack," she says. "It contains a red microalgae polysaccharide and skin-energizing electrolytes to help restore essential moisture to replenish dehydrated skin overnight" — in other words, it provides all the hydration and moisture you need in one easy step. But still check the instructions of your particular sleeping mask to find out if it works best layered or on its own.
Product layering does present a bit of a problem when it comes to topicals prescribed by your dermatologist, which are typically intended for overnight use, too. Dr. Sadick notes that hyaluronic acid-based sleeping masks, like the new Youth to the People Superberry Hydrate + Glow Dream Mask and Laneige Lavender Water Sleeping Mask, are gentle enough to be layered over your prescription creams without a problem. "But sleeping masks that contain additional active agents need to be used with care in combination with prescriptions," he warns. "Consult your dermatologist on the best method of use."
As for how often to reach for these products? "I recommend using the mask only every other night, or less often as a solo act, after cleaning and prepping skin," Dr. Audrey Kunin, a board-certified dermatologist and the founder of DERMAdoctor, tells The Zoe Report. They can be particularly helpful during season shifts, when the skin is craving more moisture.
While Dr. Kunin notes that there are no known risks associated with sleeping masks, Dr. Sadick suggestions cross-checking the ingredient lists of your skincare products to ensure you're not double-dosing on potent actives, like vitamin C or retinol. "Make sure there is no excess of these agents, as it can lead to skin irritation," he says.
Ahead, 12 hydrating, brightening, glow-inducing sleeping masks that dreams are made of.
Shop Sleeping Masks