Here's What To Use Instead Of A Jade Roller For Brighter, Clearer Skin
Skin Gym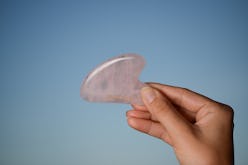 Google "jade roller" and you'll find more than 20 million articles on how the tool is a a must-have for any skincare routine — but I beg to differ. The real skincare essential here is facial massage, and jade rolling is merely one way to do that. Though these crystal massagers have been around for centuries, they've risen in popularity as of late for a few reasons: Jade rollers are pretty (crystals!) and easy to use (like a paint roller). But by no means are they the only device that delivers the multifaceted benefits of facial massage. There are so many jade roller alternatives, including Gua Sha tools and Kansa wands, that are just as aesthetically pleasing — and effective.
While facial massage techniques vary from tool to tool, the benefits (mostly) remain the same. "Facial massage is fitness for your face," Oresta Korbutiak, the aesthetician behind Oresta Organic Skincare, tells The Zoe Report. "It relaxes you, guiding you into a parasympathetic state which allows muscles to relax and release tension." Over time, the relaxing factor results in fewer wrinkles, since consistent tension (a permanently furrowed brow, a resting frown) carves fine lines into the face.
"When we do face massage, we help bring the blood to our skin, which brings nutrients and oxygen," Angela Peck, a facial massage expert and the founder of Wholistic Skin + Care, tells us. With improved circulation and oxygenation, the skin develops a healthy flush and that coveted lit-from-within glow. "It assists the lymph system with draining cellular waste, as well," she says. Peck explains that when the lymphatic system (aka, the body's natural "detox" center) is stagnant, cellular waste and toxins that should have been cleared away can actually sit under the skin and cause issues like acne and puffiness. "This waste takes up the space where fresh nutrients and oxygen need to go," she says. "When we can assist this drainage, we create space for fresh nutrients and oxygen again — therefore we get that fresh look on our face."
"Facial massage also helps strengthen facial muscles," Korbutiak adds. "It lifts skin that has been drawn down by gravity, maintains facial muscle and firms skin tone, and improves the contours of the face." Since the face is the one area of the body where the skin is actually attached to the muscles beneath it, you can immediately see a difference in tone and shape when you "work out" your facial muscles. This is the basis of Skin Gym's new Los Angeles outpost, Skin Camp: Customers can book a 15 minute facial massage to tone up their muscles, kind of like a bootcamp for your face.
Additionally, facial massage can help relieve headaches and clear the sinuses, and helps your skincare products better penetrate the skin (which is why these tools are all recommended to be used directly after the application of a serum or face oil).
Ahead, discover nine tools that rival jade rollers — many with storied histories from all over the globe — and exactly how to use them, straight from the experts.
Gua Sha
"While a Gua Sha tool can be pretty simple to use, it's not quite as simple as a jade roller — but Gua Sha goes a lot deeper," Dara Kennedy of Ayla Beauty tells TZR. Like jade rollers, Gua Sha tools originated from Traditional Chinese Medicine (TCM); but unlike jade rollers, they utilize a long, rounded edge and a scraping motion to promote circulation and tension release. "It helps release muscle tension in a way that jade rollers can't, and I'd say its effect on the lymphatic system is more significant," Kennedy says. The recommended massaging motion is pretty complicated, but Kennedy maintains it can be done at home. "I use my Gua Sha tool every night and I just do a quick, five minute routine," she tells us, citing this YouTube tutorial as a great place to start learning.
FaSha
The FaSha, from beauty brand Shiffa, is an updated take on the traditional Gua Sha tool that focuses on breaking up the fascia in the face. "Superficial fascia is a layer of multidirectional connective tissue under your skin that connects your face, neck muscles and lymph nodes," the brand explains in a press release. "With continued use of the FaSha tool, loosening the tension that prevents the lymph from doing its job results in the release of toxins, relaxed muscles, decreased puffiness, softening of wrinkles, and reduced hyperpigmentation."
To use the FaSha, first apply your favorite oil to your neck and face; then, starting at the back of the head, move the FaSha forward onto the neck and upwards towards the face.
Using different edges of the clear quartz crystal tool — some soft and round to smooth the contours of the face, some serrated to break up fascia — will have different results. "My own FaSha Gua Sha tool is specially designed with different edges, because fascia is multidirectional, so to properly release tightness you need to use it a little differently to the jade roller," Dr. Lamees Hamdan, founder and CEO of Shiffa, tells The Zoe Report. "Think foam rolling, but for your face." Full usage instructions are included with purchase.
Marble Eraser
A new addition to the facial massage game, Make's Marble Eraser (carved from Naxian Marble from the Cycladic island in Greece and quartz crystal) acts as both a product applicator and a facial massager. The brand tells The Zoe Report that it's "a contemporary Gua Sha," so the recommended massaging motion is very similar to the traditional tool and can be performed on the face, neck, and body. How you use it is totally up to you. "Sweeping strokes away from and down the side of the nose and across the cheekbones, up and arching from the third eye across each brow bone, and horizontally across the forehead are all in our motion-repertoire," Ariana Mouyiaris, the creative director at MAKE, tells us.
Gold Wand
Whereas jade rollers and Gua Sha tools are derived from TCM, Tatcha's Akari Gold Massager is based on ancient Japanese skincare practices. "Tatcha is founded on the principles of Miyakofuzoku kewaiden, a book from 1813 that captures Japanese beauty rituals from centuries ago," Vicky Tsai, the founder of Tatcha, tells TZR. "Long before we were getting facials, Japanese women recognized the importance of gently massaging the face, using either their fingers or a tool; this was the inspiration behind the Akari Gold Massager."
Tatcha's wand has a rounded, tapered shape and both sides can be used to massage different points of the face — the broad side is best for the forehead, jaw, and cheekbones; while the smaller end targets the under eye area and temples. "You can submerge it in hot water for a relaxing warm facial massage, or keep it in the fridge for a revitalizing cool massage," Tsai notes, explaining that warm massages promote lymphatic draining while cool massages tighten and de-puff the skin. "The material is 24-karat gold leaf around a thermal core, which allows the massager to retain temperature," she says.
The brand worked with an aesthetician originally from Kyoto to develop three massage techniques, all of which are fully explained on the brand's site: the Yuyake massage (to relax), the Asayake massage (to lift and tone), and the Mezame massage (to refresh tired eyes).
Eye Flowies
If you specifically want to target puffy or sleepy eyes, reach for Skin Gym's Eye Flowies, made of rose quartz crystal (the stone of universal love). "These are specifically designed for the delicate eye area," Karina Sulzer, the founder of Skin Gym, tells TZR. "They reduce the appearance of fine lines and wrinkles while lifting and tightening the area around your brow — no one will know that you are running on four hours of sleep." To use, target the cheeks, under-eyes, and brow using a light gliding motion moving upwards towards the ears. Two minutes per eye should do the trick.
Kansa Wand
The ancient Indian approach to facial massage involves something called a Kansa wand, "a facial massage tool that is made of wood and healing sacred metals of copper, tin and zinc," Korbutiak says. A teaching of Ayurveda, the traditional Indian healing system, Kansa massage was specifically created as a daily practice to aid in lymphatic drainage and promote full-body health.
To use, "massage gently on the skin in a circular motion around the jawline, neck, cheeks, and around the eyes and forehead," Korbutiak instructs. This circular motion stands in contrast to the rolling and scraping of other popular tools, and may be more efficient for releasing tension around the temples and jawline. "Used over a facial oil, it stimulates circulation, resulting in clearer, plumper, smoother skin," Korbutiak says. In Ayurveda, Kansa metal is considered a sacred healing material — so this wand just might help balance your chakras, too.
Ice Roller
"Jade rollers have a cooling feeling when you first apply it to the skin, but this sensation dissipates quickly as the stone warms from your natural body heat," Kerry Benjamin, the founder of StackedSkincare, tells us. Her proposed solution? The ice roller: A tool that looks similar to a jade roller, but is executed in stainless steel and designed to stay cold while you roll.
"It's my favorite way to cool skin, reducing inflammation, itchiness, puffiness, and redness," Benjamin says. "It works wonders following professional treatments including Botox, lasers, and fillers to reduce swelling and bruising." Other unexpected benefits include calming soreness after a workout when used on arms or legs, soothing the skin post-waxing session, and even relieving hot flashes for pregnant or menopausal women. Simply roll over the skin as you would a jade roller (with light pressure) and relax.
Crystal Wand
Rendered in clear quartz (to promote healing), rose quartz (to promote love), or black obsidian (to ward off negative energy), Skin Gym's Crystal Wands are part relaxing roller, part fascial tension reliever (thanks to those angled edges). "It's perfect on-the-go beauty tool," Sulzer tells us. "Throw it in your purse before heading into the office to ward off any negative energy, or use it to massage any muscle tension you might be holding in your face or neck." Who doesn't love a multitasking beauty tool?
Studded Roller
To really stimulate your facial muscles and blood circulation, opt for a studded rolling tool, which will work deep within the skin to boost your glow. "This one is a fan-favorite because it has these little non-invasive studs all over that give you a quick, intensive workout and leave you glowing," Sulzer says of The Goldie from Skin Gym. "We recommend using it before putting on oil or serum, because it can help with product absorption while smoothing out the appearance of any fine lines and wrinkles." Warning: This might not be the most pleasant experience on active breakouts, so use with caution if you've got a pimple or two.
Your Fingers
You don't need to drop money on a fancy facial massager to reap the benefits — your hands will do just fine."I think your fingers can be incredibly effective facial massage tools," Kennedy tells us. "Really take your time massaging in your cleanser or pressing in your face oil or serum while trying to relax your forehead muscles — I think that could do more for your skin and your spirit than most any tool in the long run."
Peck suggests massaging your face over a warm, wet towel (soaked in tea or water and wrung out) for the ultimate tension-releasing DIY treatment. "Press to your face, paying special attention to tense areas like eyes, the corners of the jaw, and the neck," she instructs. "Breathe in and allow the heat to melt the tension." This mini-massage boosts circulation and lymphatic flow — and as the aesthetician says, "No flow, no glow."