Fleur Marché Wants You To Rethink The Way You Shop For CBD Beauty Products
Courtesy of Fleur Marché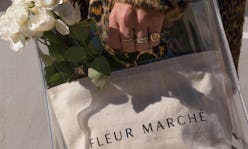 The new CBD retailer named Fleur Marché is not one of the hazy, confusing smoke shops of yesterday — it's a self-titled "cannabis apothecary". The website is beautiful, as could be expected from its founders Ashley Lewis and Meredith Schroeder, two former goop directors. Peruse the front page, and you'll see CBD starter kits packaged in on-trend clear tote bags, CBD bath bombs, and a slideshow of aesthetically-pleasing pictures directly from Fleur Marché's Instagram (titled 'Le Gram').
But Fleur Marché is more than just pretty design and trendy packaging. Above all, it wants to make shopping for CBD products as easy as buying new mascara at Sephora.
Which is no small task. Fleur Marché has a lot to clarify — starting with a resounding no, its CBD products will not get you high. But Fleur Marché explains that and more, and will keep doing so as more tentative buyers explore its site. "We are focused on being a user-friendly and trustworthy resource for female consumers interested in learning more about CBD," the co-founders tell TZR.
"Our brand pillars – transparency, trust, and curation – inform everything we do, from the site design and layout, to the way we choose and vet our products, to the extremely transparent information we share on our website," the co-founders explain. "We are holding ourselves to a higher standard when it comes to earning our customers' trust and loyalty."
CBD rookies can shop Fleur Marché one of two easy ways: By Need or By Form. By Need separates the CBD products that help squash anxiety from those that will help you sleep at night. By Form shows you Fleur Marché's favorites, skincare, and starter kits. Whether you go with needs, forms, or just scroll Fleur Marché's collection, all products are covered by the brand's impressively thorough CBD safety guarantee.
So go with whichever CBD product catches your eye, whether it be the $180 Le Beauty starter kit or a $34 bottle of CBD-infused olive oil; Lewis and Schroeder made Fleur Marché because there were so many CBD choices already. "After a ton of research, we found a lot of best-in-class brands, making really wonderful products," the co-founders explain. "So, instead of putting another product into the market and hoping that customers would somehow find it, we wanted to create one trustworthy destination where all of the best brands could be showcased."
Olive oil and bath bombs are just two ways to get your CBD fix. Ahead, seven CBD products from Fleur Marché you can shop easily, safely, and best of all, knowledgeably.
Readers should note that the regulations and data surrounding CBD are still developing. As such, the information contained in this post should not be construed as medical or legal advice. Always consult with your doctor before trying any substance or supplement.