On The Fence About Bangs? Let This Guide Help You Choose The Right Type
@mariesteller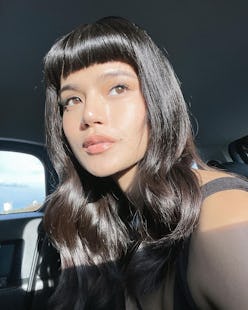 It's beauty's eternal question: to cut bangs, or not to cut bangs? It's true that a fringe is one of the quickest ways to switch up your signature style, but with so many different versions trending on social media and seen on celebrities, choosing the right kind for you is often the trickiest part of the process. A quick search online yields a shocking number of popular types of bangs to choose from, but whether you wear your hair straight, curly, extra-long, or close-cropped, finding a style you love isn't going to be hard. But before you fully commit, there are a few key factors to consider. After all, you want to leave the salon feeling empowered, not regretful.
Many bangs, like the wispy curtain cut or shaggy, mullet-esque fringe, are known for their adaptability. But as Nexxus Stylist Clariss Rubenstein notes, choosing the right version of a popular style that's most complementary to your face shape is essential. The internet is teeming with swoon-worthy options, but if you're unsure where to begin, expert guidance is essential to shaping your decision.
To help whittle down your choices, TZR spoke with top celebrity hairstylists for a breakdown of the most popular types of bangs, their tips for choosing the best fit, and how to style them at home.
Curtain Bangs
Arguably one of the trendiest styles of the 2020s, curtain bangs feature soft layers that lightly fall around the outer portion of the face. Just as the name suggests, it's meant to mimic the look of drawn-open curtain and, as such, literally frames your best attributes. "For a curtain fringe, the hair should be split down the middle and cut around the temples to a shape that resembles the letter C," says celebrity stylist and MAV artistic director, Marilisa Sears.
The primary reason for the popularity of these bangs are their versatility. Sears explains that it's ideal for virtually all face shapes because you can control the width and length of the edges to get the most flattering style. "Longer bangs help soften square and oval shapes and give a more edgy and lived-in look, while cleaner, shorter versions are ideal for adding texture," she adds.
Styling requires a little more maintenance, as the longer pieces can look flat if they're not touched up. That said, Sears recommends investing in a large-barrel, natural bristle round brush to create a naturally fluffed look. "The brush should be just large enough to slightly bend the ends of the hair," she says. A good mousse will also be key to give the bangs movement. "Cake 'The Thick Trick' Volumizing Styling Foam is my go-to. Just a small amount on damp hair is all that's needed to revive lifeless strands."
Bardot Bangs
Bardot bangs are similar to curtain bangs, but with a little more oomph — think fuller and much more lived-in. "This type of bang doesn't have a distinct middle part and has built-in volume due to the way it's cut," says Rubenstein. Much like the actor, they exude femininity and main character energy. Instead of long edges, Bardot bangs feature shorter pieces that softly sweep the forehead and frame the face. "The look is meant to have a fluffy powdery finish and is less about defined lines," she says.
Styling this type of fringe is also much more forgiving thanks to its shorter layers. For the most natural feel, Rubenstein recommends using a volumizing product, like the Nexxus Unbreakable Care Root Lift Thickening Spray, to lay the foundation for all that billowy texture. "First, spray it on damp hair, then give the strands a few tugs with a medium round brush for extra bounce," she advises.
Blunt Bangs
A blunt fringe is so classic, it's the style most people think of when they hear the word bangs. Cut even across the forehead, the dramatic shape can emphasize any haircut, but can veer too thick or bulky for some. According to celebrity stylist and Eco Style brand ambassador Ursula Stephen, this type of bang requires some maintenance depending on your hair type. "Consulting with your stylist will answer all your concerns and help determine if this look will work for you," she adds.
Fans of blunt bangs love its timeless edge and the way it instantly gives you a signature look. At its best, straight fringe that grazes the brow with the right amount of thickness feels bold and fashion-forward. "It also is great for strengthening the cheekbones when styled right," adds Sears.
She tells TZR that a Mason Pearson brush and flexible hairspray will become your go-to tools for keeping your bangs pristine. "A blunt style needs a strong look and not a lot of lift, this brush smoothes the hair and helps create a sleek finish while blow-drying," says Sears. Her pro tip? Blow the hair out from the root from left to right — this will keep the bangs tight to the forehead and ensure they don't appear too bulky.
Birkin Bangs
Inspired by the legendary Jane Birkin, this classic bang is always in style and especially popular for the fall. "The main characteristics of this look are the longer length that falls just below the eyebrow and the wispy, never blunt, ends," notes Rubenstein. This also makes them great for those who are new to bangs. "Some styles take a while to grow out, but this option is a nice way to change up your hair without going too dramatic," she says.
The key to this fringe is embracing the sultrily rumpled bedhead look. Rubenstein tells TZR that while the bangs are meant to be straightforward, they should never look too neat or overly styled. As such, she suggests keeping a good dry shampoo on hand to lightly lift the hair and add the right amount of texture. "A flat brush can be useful if you need to work out any curl, but for this kind of bang your fingers are better suited to make them appear effortlessly tousled."
Curly Bangs
On natural curls, bangs can be used to add shape and definition to the hairstyle. "It can completely change the cut, but what's most appealing is that there's no rules when it comes to thickness," says Sears. Whether you have tight coils or loose curls, you can easily add a bang to your look without changing too much of your regular hair care routine.
The beauty of this style is that you don't need a bunch of new products or tools. According to Sears, the biggest adjustment is simply allotting a little extra time for twisting to ensure the curls all move cohesively. "A defining curl cream works well for this as it will give the curls movement and keep them from looking rigid."
Shaggy Fringe
The shaggy fringe is most associated with choppy haircuts like the wolf cut and its close cousin, the cub. For these styles, a bang helps create a blended look that fits seamlessly with the rest of your layers. It's a very low-maintenance look especially great for naturally wavy textures or those who cringe at the thought of daily styling.
"The shaggy fringe is easily the most simple type of bang to manage at home," says Sears. In place of special brushes or hot tools, she suggests applying a leave-in conditioner and letting your hair air-dry before giving it a slight tousle or scrunch if you have curly hair. However, if you are in a rush, a diffuser can help speed up the process. "Remember — the layers will automatically give you texture, so your focus should be on blending the bangs into the cut to better frame the face," she adds.
No matter which style you choose, Stephen notes that you'll need to consider your lifestyle and how much time you want to devote to maintenance. Bangs are pretty easy, but many looks need a few extra minutes in the morning to really reach their full potential. "It's best to have a heart-to-heart with yourself and your stylist, that way you can commit with confidence," she says. From there, all that's left to do is simply take the plunge.