The 10 Biggest Fall 2023 Haircut Trends Are Updates On Your Favorite Looks
John Lamparski/Getty Images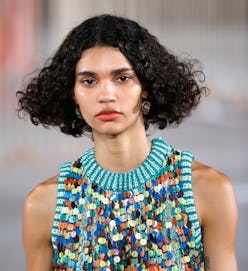 The long hazy days of summer have come and gone. For some, the close of the season couldn't come any sooner as the crisp days also bring vampy manicures, sultry makeup looks, and cozy sweaters. While fall might be in full swing, it's not too late to update your hair for the season. "Everyone wants a refresh after summer when your locks become a little bit longer or drier from time spent in the sun and on water," says Frédéric Fekkai, celebrity stylist and founder of his namesake haircare line. Thankfully, the fall 2023 haircut trends are ideal for doing just that.
It's also the best time of year to embrace the bold and the dramatic — two elements that are distinctly driving the motifs behind this season's top cuts. Instead of weighty styles, autumn is bringing new life to layered cuts and borrowing voluminous techniques from the '90s. As celebrity hairstylist and artist, Lacy Redway states, "bouncy curls and roller sets are making a strong appearance for fall." While she expects they'll be sticking around throughout the season, she also notes that texture is a major component to this season's haircuts. From bobs to shags and even bangs, it's clear that static, uniform hair isn't the vibe this fall.
Ahead, TZR chatted with three top celebrity stylists for the haircut trends that are defining the season. Read on for their expert tips and start planning your fall hair moodboard, ASAP.
The Hush Cut
One of the most-search looks for fall, the hush cut has skyrocketed in popularity because it's extremely versatile. While most cuts are defined by length, stratigically layers are what make this look. At the salon, ask your stylist for long curtain bangs and face-framing layers. The combination results in a low-maintenance, light, feathery cut that compliments a range of face shapes and hair textures.
Butterfly Bob
It was the breakout haircut of 2022, but the butterfly cut is still taking flight a year later. (Sorry, had to.) This fall, the most popular way to wear it is at a bob length. This laidback version of the classic cut features short layers that frame the face and add movement.
Shaggy Lob
The long bob, also known as the lob, has remained a top haircut thanks to its ease and versatility. While variations often shift with trends of the season, this fall, the cut is embracing the shaggy versions made popular in the spring and summer. From mullets to curly shags and the viral wolf cut, the lob is skewing a lot more edgy than romantic. "Shaggy layers are back in a big way," says Min Kim, colorist and L'Oréal Professionnel global ambassador.
With large choppy layers that provide a relaxed, low-maintenance finish, it's not hard to see why this rendition of the classic hairstyle has continued to be a top request at salons. As Kim notes, "one of the elements that makes the shaggy lob beloved is that it's easy to style and works well on a range of hair textures," she says. All that's needed is a quick tousle for the ultimate cool-girl look.
'90s Supermodel Layers
The butterfly cut may have ruled summer, but as the weather begins to cool down, the trend is shifting to a more iconic bouncy hairstyle. Characterized by stacked voluminous roots and subtle layers, the '90s blowout is back and bigger than ever this fall. Beloved by supermodels during the pivotal era and by TikTok creators today, New York City-based celebrity hairstylist Adam Maclay tells TZR that the cut and style is on the uptick for the season to come.
While it does require a bit more upkeep, like blow drying and roller sets, to maintain, Maclay assures that the right products will simplify the steps and save time during styling. "A good mousse, such as the René Furterer STYLE Sculpting Mousse, is the key to creating maximum volume," he says. His pro tip is to apply it to damp hair before thoroughly drying it in order to keep the tension directly at the roots. To extend the life of your blowout when things start to fall flat, Maclay suggests adding a dry shampoo into your routine. "This will absorb the oils from the scalp and strands while adding texture back into the hair."
Curtain Bangs
Season after season, curtain bangs continue to be a trendy way to quickly change up your existing haircut. "Not only does the soft face-framing cut complement many different hair lengths, but it also works well with a range of hair textures," says Kim. Whether you have curly, fine, wavy, or thick hair, curtain bangs can be the ideal accessory to build onto your go-to look. Even better? This style requires less commitment than other styles of bangs.
"Some haircuts require more frequent maintenance to keep their shape, while others can grow out more gracefully," says Kim. The latter is certainly the case with curtain bangs, thanks to their longer length and feathered shape.
The Italian Bob
If you're noticing a theme of texture, specifically with this season's bob haircuts, you're right on target. "Textural details are what makes each kind of bob feel different and unique," says Kim. The Italian version brings chunky blunt ends to the classic cut and gives it an airy voluminous look that's not heavy or bulky. Though it's been sported on several celebrities and fashion it-Girls like Kia Gerber and most recently, Zendaya, the Italian bob train is moving full steam ahead into fall.
"It's hard to ignore how popular this look has gotten over the last few months and it's going to grow as we head into the next season," says Kim. "It offers lots of flexibility for styling and most importantly it has dimension and movement," notes the stylist.
Revised Pixie
According to Fekkai, the pixie is getting a modern twist that's more timely for the chilly days to come. "Not quite a mullet, the revised pixie is a little bit longer than the traditional cut and exudes the contemporary feeling of a modern young woman." Instead of shaggy and disheveled, the layers of this haircut read refined and romantic and elevate the style entirely.
By nature, pixies can be hard to execute, especially on thicker hair textures that can easily come across as bulky. For this reason, Fekkai notes that it's most suitable for fine or wavy hair that will add just a touch of weight to the finished cut.
Curve Cut Bangs
A close cousin to the curtain-cut style, curve bangs are another favorable option for all face shapes. "This look blends elements of the trendy curve cut and fringe bangs for an elongated variation that hits right above the jawline to frame the face," says Redway. The stylist notes the shortened ends in the front bend out to create a more defined shape than the traditional curtain cut.
With piece-y, subdued layers, Redway explains that you need to reach for products that will reduce frizz and add volume plus shine when styling. For the best results, she recommends using TRESemmé Volume Thickening Spray for controlled lift and a blow-dry cream or balm to keep the hair looking smooth and mess free.
The Rachel 2.0
'The Rachel' has stood the test of time, but this 2.0 version is the latest, most modern way to wear the iconic hairstyle. "When choosing a haircut, it's important to factor in several elements: hair texture, face shape, upkeep, but most importantly, make sure there is something individually 'you' within that desired style," says Maclay. With elongated soft layers, the cut is complementary on almost every face, so it's easy to make your own.
Birkin Bangs
Not quite ready to lop off inches of hair? According to Fekkai there's an autumn trend specific to longer lengths. The top-notch stylist tells TZR that the combination of bangs and long hair is poised to be one of the season's breakout trends thanks to its elegance and allure. "For those with longer hair that trails down past the shoulders, a good bang can do wonders," he says. Inspired by the late actor Jane Birkin, this hairstyle epitomizes French beauty.
Another great thing about this particular "cut" is that it can easily be achieved with extensions if your normal length is on the shorter side. But whether natural or enhanced, Fekkai notes that the hair should have some light layers that can be slightly feathered when styling. "This look isn't about volume but you don't want it to be too flat," he says. Think tousled but not unkept, simple and stylish just like Birkin.
This article was originally published on