Wispy Bangs Look Amazing On Everyone — Including All The Most Stylish Stars
Behold, the best trend ever.
@selenagomez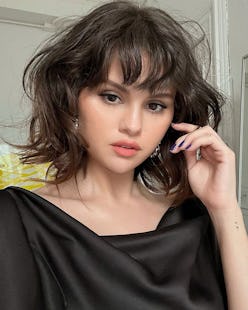 It's undeniable — bangs, despite their polarizing reputation, are simply more popular than ever. Actually, their influence has never really waned. Venture through the portraits of any given art museum and find time-withstanding testaments to one of humanity's oldest haircuts. But not all fringe types are created equal — and they don't always trend at the same time, either. If you've been noticing celebrities' long, wispy bangs popping up all over Instagram and at assorted high-profile events, you're not alone. The length, volume, and inherent nature of the cut makes it both universally flattering and refreshingly low-maintenance. In fact, it's just the thing to finally edge out those ubiquitous curtain bangs once and for all.
The best thing about wispy bangs is right in their versatility. Working equally well with curls, waves, and all levels of thickness (they're especially great for those with thinner hair), they can easily be adjusted to fit any aesthetic. Yara Shahidi's always-romantic ensembles pair perfectly with her delicately curly bangs, while Billie Eilish embraces all the alt-rock edge with her own straightened set. To get your own fringe, bring in a photo (there's tons of celebrity inspo to choose from just below) and explain that you're after lash-length, textured bangs that show plenty of forehead. And if you end up hating them, the good news is that they're already nearly long enough to blend back in with the rest of your hair.
Just ahead, some of the best A-list wispy bangs looks of the moment.
Jennie Kim
Even among her glam bandmates, Kim is still a Blackpink standout thanks to her experimental streak. She spent spring showing off these light-as-air wispy bangs, which she incorporated into all sorts of updos for the red carpet.
Emma Chamberlain
On the edgier end of the spectrum, Chamberlain's choppy "cub cut" includes some featherweight baby bangs by design. It's a great example of just how many ways you can wear the look — hers feature just a few pieces spilling down from the rough-cut layers.
Rihanna
And here we have the very best of both worlds. Always a visionary, Rih combined both the long, wispy bang and curtain bang trends — years before either one fully made it onto the radar, too.
Reese Witherspoon
Do you remember the fanfare of Witherspoon unveiling her original "revenge bangs" back in 2009? They're just as stunning today as they were then, too. Witherspoon added some texture into her straight, butter-blonde hair, allowing the fringe to get piece-y for an effortless, lived-in look.
Yara Shahidi
Curls look incredible with the wispy bang trend, as evidenced by Shahidi's dreamy look. She lets just a few of the shorter-cut pieces fall in her eyes, the quickest recipe to that whimsical ingenue aesthetic.
Taylor Swift
Swift usual sticks to blunter takes on bangs overall, but her messy, textured look in 2013 was a refreshing change of pace. The key to the wispy look is allowing skin to show in between the hair gaps, just like in Swift's tousled fringe.
Billie Eilish
Eilish wears bangs so well, can you even remember a time before them? Her take on the look features some extra length, with the tips of her fringe hitting at the bottom of her eyes for an edgy look an '80s-era Robert Smith would adore.
Jennifer Lopez
Lopez has teased a full-fledged fringe cut plenty of times over the years, and we're all just waiting for her to take the plunge. Her clip-in bangs work just fine in the meantime, though, especially this sultry, wispy set that expertly blends in with her voluminous layers.
Keke Palmer
Palmer's been on an unbelievable roll all summer 2023, switching up her hair length, color, and cut for every event or activity she attends. Even amid her all-star roster of looks, these wispy bangs with highlights are special. The longest piece is toward the center, which gives the cut a fresh, effortless feel.
Selena Gomez
You can just tell how much Gomez is feeling this cut, and with good reason. The choppy layers and bangs make her French-girl bob look so voluminous, and the long fringe draws all the attention straight to her big brown eyes.