The 'Cub Cut' Is The Coolest Addition To The Bob Family
A new era for the classic style.
@yukistylist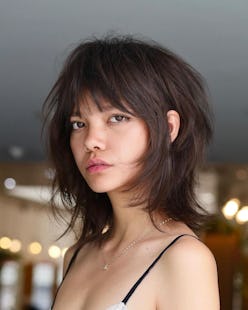 We may receive a portion of sales if you purchase a product through a link in this article.
The bob continues to be the perfect haircut because it can easily be adapted to fit any personal style. Throughout the years, asymmetrical styles, blunt cuts, and lobs have all maintained cult followings, but now it's the cub cut's time to shine.
A distant cousin of the shaggy bob and close sibling to the wolf cut, the cub cut is on track to become one of 2023's biggest hair trends and has even garnered celebrity approval. "What makes this cut so unique is the fact that it's a hybrid formed from a classic," says celebrity hairstylist Olivia Casanova. It features elements like framing layers that add texture and movement to the style and can easily fit any face shape.
While layers are nothing new, the cub brings an edgy feel to medium-length hairstyles popularized in the '90s. The secret to its draw lies in the razor-chopped strands at the crown which create a textured and voluminous effect. So if you're searching for a new style that doesn't require much maintenance and is guaranteed to give you main character energy, you should consider giving the cub a try. Ahead, TZR spoke with top hairstylists to get the details on how to achieve this viral look and how to style it.
What Are The Benefits of The Cub Cut?
Recently there has been an uptick in strong styles, like the skullet or the popular octopus haircut, that feature hair tightly cut and tapered to the head. But according to hairstylist, educator, and owner of Edo salon, Jayne Matthews, people are ready for a softer silhouette. "The cub has a fuller, more feminine shape while still retaining a bit of edge, which makes it a safe and playful style," she says.
It's also incredibly easy to maintain at home — especially for those who are short on time in the morning. "I always feel like the best styles have that lived-in feel, meaning they look just as good if not better the next day," she says. The shoulder-grazing length will also ensure that your hair reads tousled and not messy.
What Hair Types Work Best With The Cub Cut?
While medium to thick hair densities will give the stylist the most options when it comes to shaping the cut and adding in the layers, those with straight hair and wavy or loose curls can also enjoy this look. Casanova tells TZR that as with any style, customization is key. "If you have wavy hair, you'd want your stylist to cut it dry while your hair holds the shape and texture you wear naturally," she says.
How To Maintain The Cub Cut
Of course, good haircut maintenance involves going to the salon for routine trims. But another great benefit of the cub is the grow-out period. "For a cut like this I'd use a razor to really get choppy layers that also fall naturally so the shape maintains as the hair starts to get longer," Matthews says.
How To Style The Cub Cut
Because texture plays such a big role in this cut, Matthews suggests using a cleansing cream, such as HAIRSTORY's New Wash, rather than a shampoo and conditioner to avoid completely stripping the hair of its natural oils. Next, begin styling on wet hair using a texture spray at the roots, like IGK's beach club texture spray, before finally adding a little bit of hair balm on the ends. Reverie's RAKE Styling Balm is a good option for adding definition without completely weighing the hair down. "This look relies on simplicity so there's not much need to blow it out or use hair tools," she says.
However, if your texture is a bit more curly, Casanova suggests trying a diffuser if you don't have the time to air dry.
Products For Styling A Cub Cut