These Dry Shampoos Are The Easiest Way To Bring Your Hair Back To Life
Ideal for bouncy & shiny hair.
@breakfastatbetsys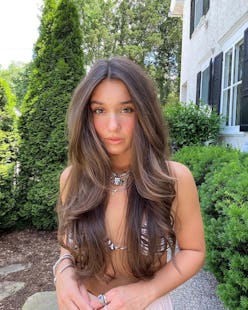 We may receive a portion of sales if you purchase a product through a link in this article.
There's nothing quite as uplifting as a fresh blow-out. Not only has your hair been throughly cleaned and aptly conditioned, but it now sports an airy style that has just the right amount of volume and bounce. But like most good things in life, a blowout will come to an end. In time, gravity and your hair's natural oils can turn your fluffy blown-out style into a flat and lifeless one. And while you could book another appointment or give into washing your hair more often, reaching for a dry shampoo can be a better option. It's no secret that over-washing your strands can be stripping. But the best dry shampoos can cleanse and lift your roots without throwing your scalp off balance – a vital factor in maintaining healthy hair.
From sprays to powders, these alternative hair cleansers have come a long way over the years. Long gone are the days when a spritz of dry shampoo left a chalky residue or resulted in strands weighed down with product. With a versatile selection made for any texture, hair color, and hair concern, dry shampoos have become a staple product in medicine cabinets. Which means you've got some decisions to make when shopping for one. Ahead, TZR editors share their go-to bottles for refreshing hair in between washes.
"This is a great non-aerosol dry shampoo that I use when I travel. All you do is pour a light amount into your roots, then use your fingers to massage the powdery formula in. Somehow, it disappears without a trace and soaks up any excess oil at my roots in just a few seconds." — Faith Xue, Executive Beauty Director, Lifestyle, BDG
"Hands down, this is the best dry shampoo I've ever used. It leaves my dark brunette hair feeling clean and free of product buildup without any chalky white residue or leaving my strands dry and gritty. Instead, my hair is soft and smooth – as though I just had a blowout." — Erin Lukas, deputy beauty editor, TZR
"I use dry shampoo sparingly but when I do, this one is my go-to. It's not heavily scented nor builds up on my scalp. It leaves my hair light and fluffy, with nice added volume to the roots." — Kathy Lee, editor-in-chief, TZR
"I don't use dry shampoo often, but when I do, it's usually Redken's Deep Clean Dry Shampoo. I can always count on this product to give my strands a much-needed refresh. Plus, I find that some dry shampoos leave behind a white residue; however, that's not the case with this formula." — Kelsey Stewart, associate fashion editor, TZR
"When I'm not quite ready to wash my hair but I'm tired of pulling it back, I reach for this dry shampoo by Verb for a quick refresh. Though I don't put much product in my hair after washing it, it tends to get oily from wrapping it nightly. But with a just few sprays of this dry shampoo at my roots, my hair instantly becomes light and manageable. As an added bonus, I don't have to think twice about a chalky residue. I simply spray, comb it through, and go." — Jessica Fields, beauty writer, TZR
"My roots get super oily, and I love how this dry shampoo from Olaplex makes them look (and feel) instantly fresh and clean. A few spritzes, and my hair looks fuller, cleaner and freshly-washed without any greasiness or buildup later in the day (even if I use it a few days in a row, which I do)." — Faith Xue, Executive Beauty Director, Lifestyle, BDG
"I'm a purist when it comes to my dry shampoo, and I've stuck to Not Your Mother's formulas for years. It's affordable, effective, and gives my second- and third-day hair some much-needed body and texture without weighing it down. Another bonus: The brand makes travel-sized options, so I can pack my go-to dry shampoo in my carry-on!" —Angela Melero, executive editor, TZR
"I'm big on dry shampoo to extend my time between washes, but recent conversations around potentially toxic ingredients has made me reconsider exactly what I'm putting on my scalp. Rahua's plant-based dry shampoo effectively absorbs oil and grease, gives my hair great lift and volume, and (maybe most importantly to me) is non-aerosol. It's helped convert me from harsher alternatives, but doesn't sacrifice the squeaky-clean look I absolutely need during the week." — Amanda Ross, beauty editor, TZR
"If my hair is dirty, I strongly prefer a true wash to get it looking its best, but when in an absolute pickle I rely on Arey's Wait A Sec dry shampoo. It's super gentle, made with all-clean ingredients, and synthetic fragrance-free, which is as good as it gets."— Rebecca Iloulian, Director, Newsletter Revenue and Marketing
"I'm a bit of a traditionalist when it comes to dry shampoo, and have used this cult favorite (and blowout preserving OG) spray for years. I've heard it was actually the late designer Karl Lagerfeld's favorite, too — and if it's good enough for the king of fashion, it's good enough for me." — Alison Syrett, deputy fashion editor, TZR