Juicy, Hydrated Curls Are Cinch With This Key Product
Begone brittleness and frizz.
@slimreshae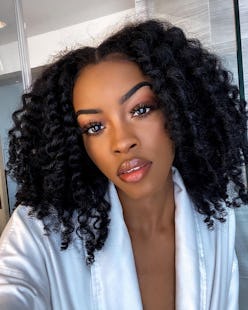 We may receive a portion of sales if you purchase a product through a link in this article.
Curls, whether coily, loose, or wavy, are a unique hair texture that can lend itself to many fun hairstyles. But as anyone with naturally curly hair will attest to, finding the right products and tools are crucial to achieving a look that is long-lasting and frizz-free. Along with staple wash items, like shampoos, co-washes, and detangling brushes, curl-defining creams are essential for creating hydrated and juicy waves. "Curl creams provide necessary moisture to the hair in order to keep the strands hydrated and bring a more defined pattern to the hair," says Sarah Lund, an Austin-based hairstylist and style master for KEVIN.MURPHY.
By nature, curly hair loses its moisture a lot faster than other hair types because of its high porosity — meaning it has difficulty retaining water and hydrating agents. This is why nourishing and rich products, like curl creams, are needed to seal in moisture and nurture the hair. Lund tells TZR that "the main benefit of any good curl cream is to provide protein, lock in moisture, and enhance the structure of the natural curl pattern."
The product also aids with styling, which can be a lifesaver when dealing with humidity that threatens to turn curls into a frizzy nightmare. "Curl creams are thick emollients that add weight to the curls, making them easy to manage and manipulate for styling," says Fabian Lliguin, hairstylist and founder of plant-powered natural hair care brand Rahua.
"In terms of styling, curl creams can provide amazing slip and detangling when it comes to application," says Christin Brown, celebrity curl expert and co-owner of LunaBella Makeup & Hair Salon in Santa Barbara, Calif.
But applying the cream to your curls the right way is also crucial for obtaining a dreamy style. For the best approach, all three stylists agree that using a cream on wet hair is the way to go. "I always recommend that my clients apply them while they're in the shower on freshly-washed hair for the best result," says Brown. Not only does this allow the product to seal in the water, but it also helps with evenly distributing the product throughout the whole head.
There are number of options on the market formulated to enhance a range of different textures. As Lund notes, variety is so important as each head of curly hair has its own specific set of needs. Ahead, some of the top curl creams that will hydrate and define your curls.