Revisit Jane Birkin's Best Fashion Moments Of All Time
She'll forever be the ultimate style icon.
David Thorpe/Hulton Archive/Getty Images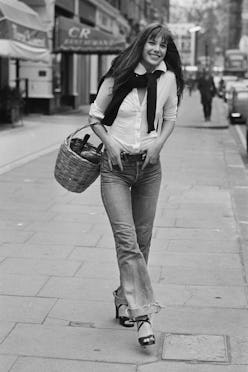 The fashion world is mourning the loss of British actor, singer, and sartorial muse Jane Birkin, who died at 76 on Sunday, June 16, at her home in Paris. Her passing was confirmed in a tweet by French President Emmanuel Macron, writing: "Because she embodied freedom, because she sang the most beautiful words of our language, Jane Birkin was a French icon." Indeed, the bona fide trendsetter will forever be a household name. In fact, there's no denying Birkin is the ultimate style icon.
With her signature uniform including a white t-shirt, wide-leg jeans, and a basket bag, Birkin's lauded looks were chic and casual in equal measure. Mini dresses, too, were a favorite of hers — who could forget the leg-baring Paco Rabanne numbers she turned heads in? And though the word effortless is used ad nauseam these days, there is perhaps no better way to describe Birkin's style, as her clothes always fit beautifully. Even now, the masses draw outfit inspiration from the actor's legendary looks, including those she wore in recent years.
Of course, many know the celebrity for her inspiration behind Hermès' namesake Birkin bag. Believe it or not, the famous — and very pricey — carryall was born by accident in 1984, when the actor's plastic bag, which was used to hold her belongings, broke and spilled all her items while on a flight from Paris to London. As a result, the actor complained about the incident, which caught the attention of her seatmate — the one and only Jean-Louis Dumas, who was the executive chairman of Hermès at the time. Together, the two had a genius thought: To create a silhouette with interior pockets to house one's personal possessions. Thus, the Birkin was sold that same year. Today, the famous tote, which is incredibly hard to come by due to waitlists (unless you're J. Lo or a Kardashian), retails for up to $30,000, sometimes more.
Bauer-Griffin/GC Images/Getty Images
Neil Mockford/FilmMagic/Getty Images
Beyond her famed style, Birkin was a mainstay in the film and music industries. Her first movies include Blow Up, Kaleidoscope, and Wonderwall. In 1969, Birkin was cast in Slogan alongside French singer and actor Serge Gainsbourg. That same year, the actor fell into a relationship with her co-star, which put Birkin on the map as well. The pair dropped a duet titled "Je t'aime... moi non plus" (translating to "I love you... me neither"), which marked Birkin's first foray into the music scene. While popular, the song was so explicit, it was banned in several countries and by countless radio stations.
Birkin and Gainsbourg, whose tumultuous love affair spanned just over a decade, became the '70s It couple. In 1971, the pair gave birth to their daughter, Charlotte Gainsbourg, who later followed in Birkin's footsteps by becoming an actor and singer. The couple never officially tied the knot and parted ways in 1980, when Birkin ended the relationship and left Gainsbourg for director Jacques Doillon. Two years later, Birkin and Doillon had a daughter, Lou Doillon.
REPORTERS ASSOCIES/Gamma-Rapho/Getty Images
Sunset Boulevard/Corbis Historical/Getty Images
In recent years, Birkin battled health issues, according to her family, who shared with the Agence France-Presse in 2021 that the celebrity suffered from a minor stroke. Therefore, Birkin canceled her appearance at the American Film Festival in Deauville, France. She was scheduled to attend the event to speak about her daughter Charlotte's directorial debut for her documentary Jane by Charlotte. Despite her health, Birkin spent 2022 traveling the world on tour to promote her newest album, Oh! Pardon tu dormais..., which came out in 2021.
Even through all the ups and downs in Birkin's life, one thing remained the same: her captivating style. Ahead, celebrate her fashion legacy by revisiting some of Birkin's best outfits throughout her time in the spotlight.
1967
While on set for her film Wonderwall, Birkin posed in a frilly white top and straight-leg trousers.
1970
In the '70s, a woven basket bag was a Birkin signature, so much so she was rarely photographed without the style. Here, she teamed the carryall with her go-to leggy denim and baby tee combination.
1975
Birkin was a fan of wardrobe classics, including a timeless trench coat. In this image, she styled the jacket with cuffed jeans and ballet flats.
1980
Though she often gravitated toward easy tomboyish pieces, Birkin showcased some seriously glamorous numbers, too, such as this dazzling gown.
1986
Here, Birkin traded her trusty white tee for a crisp button-down. As you can see, the fashion icon also loved a pair of laid-back kicks.
1993
We'll be copying with Birkin's oversized cardigan and flowy maxi skirt combo circa '93, stat.
2000
Rocking an all-white look, the A-lister hit the catwalk at the Martin Margiela for Hermès Spring/Summer 2000 show.
2005
Birkin attended Jean Paul Gaultier's Spring/Summer 2005 show with her namesake Birkin bag in hand, naturally.
2015
Leave it to the actor to rock a tie and Converse sneakers at a Saint Laurent menswear show in 2015.
2021
Even over the past few years, Birkin continued wearing her favorite white button-down, slouchy denim, and sneakers combination.