This Controversial Y2K Nail Shape Is One Of 2023's Biggest Manicure Trends
Even Zendaya and Kim Kardashian are on board.
@fayelouisedennis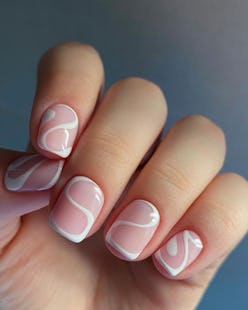 We may receive a portion of sales if you purchase a product through a link in this article.
A jackpot of buzzy fashion and beauty trends, the '90s and noughties continue to influence pop culture in 2023, with square nails as the latest look to experience a resurgence. "Take a look at the red carpet these days and you will see many people sporting square nails again," says Vanessa Sanchez McCullough, a celebrity nail artist. "Just like everything else in fashion, old becomes new." Square nails are beloved for their versatility, as they can be styled both striking and bold, or minimalist and low-maintenance depending on your mani personal style.
Not to mention, it's easy to get the look at home compared to some shapes like coffin nails. All you really need is a great nail file to square off the tip of your nails. But while square tip nails are having their time in the spotlight, there are still a ton of chic colors and designs that fit all manicure preferences. For example, if you like to keep things simple and clean, shiny coats of gel polish are ideal for this boxy shape. Or maybe you like to play with fun nail art created using nail accessories like stickers or detailed hand-painted designs. Regardless of your style, square nails offer an array of options for a fresh summer mani.
For that reason, TZR spoke to several celebrity manicurists to get the 411 on the square nail shape looks currently trending. Ahead, they are even sharing some tried-and-true tools to achieve the look from the comfort of your own home.
How To File Square Nails
Defined by their 90-degree angles and flat tops, square nails are a great choice for narrow nail beds as they give the impression of extra width — making nails appear wider than they are. "Square nails tend to be harder wearing and withstand more impact than other shapes so your nails could last longer," says Thea Greene, founder of Nails.INC.
Hang Nguyen, Nailing Hollywood artist and author of Nail Art Deck notes that, much like almond shapes, square nails are also ideal for those who prefer a more natural-looking manicure. In that vein, she assures all that's needed to achieve the look at home is a nail clipper and a good file. For short and medium lengths, she suggests first clipping the nails and then filing them following your natural growing pattern. Because square nails tend to snap at the edges, the expert recommends keeping nails supple and flexible by slathering them with cuticle oil so they stay conditioned.
The Best Nail Art For Square Nails
According to McCullough, nail art on a square nail can go two ways: you can complement the shape and work with straight lines and geometric shapes, or contrast the shape and introduce more flowy lines and negative space. Due to the tapered square shape, the world of designs and color choices is almost endless. "Regardless of length, a lot of designs can work perfectly for short nails thanks to the flat canvas they provide for artists," says Nguyen.
Negative Space
"Negative space art is one of my favorite short square nail designs because it adds a texture and depth to the manicure that is difficult to recreate on longer shapes," says Nguyen. The alluring design is also great for minimalists, as it adheres to a 'barely there' look that's artistic and polished.
Aura Nails
As one of the biggest nail trends for summer, aura nails offer a galaxy-like design that is especially favorable on square nails. With a shorter shape, the airbrushed colors can cover the entire nail as opposed to being directly in the center like with longer, more tapered nail shapes.
Milky Colors
While a range of polish shades works well on this nail shape, Nguyen assures that the most sought-after look continues to be a milky finish. "Creamy neutrals and baby pinks are great for square nails because they give the manicure a natural feel," she says.
Colorful Stickers
Nail art doesn't always have to be painted to be pretty. Using the natural nail as the base, this design is an intricate collage of stickers that is ideal for shorter square nail shapes.
Gel Colors
To ensure your manicure remains chip free, Nguyen suggests opting for a gel polish over a standard polish. "Square nails always look extra shiny with gel polish and for short or medium lengths, the hard coating will keep your nails protected," she says. This is especially important for your natural nails if you choose not to add an extension.
Chrome Nails
When you desire something that's trendy and practical, look no further than chrome nails. With its shiny metallic-like finish, this is a fun way to accentuate a natural shape. As Hannah Park, brand representative at Color Street tells TZR, moisture is the key to keeping nails healthy and your manicure looking fresh.
Pastel Colors
Bright pastel hues have a candy-like effect on square nails that is unmatched. While this look can be achieved with acrylics or gel extensions, you can also take a less committed approach and play around with press-on options.
Delicate Nail Art
For minimalist lovers, square nails are great way to display intricate nail art and hand-painted designs.
Ready to try out some of the these nail shape trends yourself? Ahead, some highly expert-recommended products to achieve your desired look with ease.
This article was originally published on