Multicolor Manicures Take The Stress Out Of Choosing One Nail Polish Shade
Why not wear all of your favorites?
@disseynails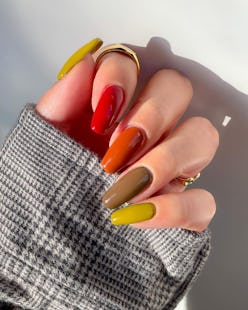 There's nothing quite like the feeling of a fresh manicure. Whether you're just leaving the salon or admiring the DIY set you crafted at home, there's a satisfying sense of pride that's hard to ignore. These days, there's plenty of nail inspiration online, making hunting for a look you love just as exciting as the actual execution. But when the sea of options becomes overwhelming, it's a good idea to go back to the basics. While you could turn to a classic seasonal shade like burgundy, orange, or navy, the newest trend combines all of them — and thanks to creators, there are tons of these multicolor nail ideas to choose from right now.
Unlike more opulent designs, these manicures rely on a rainbow of hues and cool techniques like ombré and gradient to create a unique set. The simple approach allows the color combos to speak for themselves, and the varying palettes also makes this trend versatile and easy to recreate on your own. However, there's room to play if your manicure preferences lean maximalist. If you're feeling festive, a spectrum of glittering shades are ideal to ring in the holiday season. Or you can try the ever-popular aura nails trend on for size, a design that blends a plethora of shades together. Needless to say, the possibilities are endless.
Ahead, 10 of the best multicolor looks to get you out of your manicure slump. You can easily keep your look simple with straightforward shade combinations or go bold with hand-painted works of art.
Rainbow Aura
While the aura design is still fairly new, it's popular because it's extremely customizable. The style is crafted by blending bright neon hues to deliver an airbrushed effect. However, this take on the trend offers a different approach, and uses deeper shades like oxblood, magenta, mustard, and earthy greens. Together, they create a unique set that's trendy and just moody enough for the colder months.
Festive Glitter
One of the easiest ways to embrace the holidays is through your manicure. But if cutesy nail art just isn't your thing, you can still ring in the season with this festive set. The sparkly shades of red, pink, and green embody the jolly feeling this time of year brings — and the flecks of glitter are reminiscent of gleaming ornaments.
Pattern Play
The beauty of nail art is that it is truly unique — your imagination is the only limit. Whether you use jewels, stencils, or create a hand-painted design, the result is a one-of-a-kind manicure. For an intricate pattern like this, the artist treats each nail like a tiny canvas. This set features a mix of butterflies, colorful polka dots, and bright watercolors that double as wearable art.
Ethereal Gems
When one sparkly polish just won't do, why not add a few others? This manicure embraces the "more is more" motto by combining several shimmering shades for a bejeweled appearance. The key to nailing it is to choose colors that have a similar level of sparkle so that they feel cohesive. After all, you want them to shine equally bright when the sunlight hits them to get that gemstone look.
Double Ombré
While there are tons of ways to spice up a French manicure, the viral double ombré look is one of the freshest. Typically, the look uses two shades in the same color family to create an optical illusion. It's a bold statement on its own. But if you really want to make the design interesting, opt for contrasting shades like these cotton candy hues to make the set bright, vibrant, and striking in a new way.
Burgundy Gradient
Still can't get enough of burgundy manis? This gradient option will be right up your alley. Instead of focusing on one shade, it features a range of hues like wine, brick red, and rose. Be sure to use polishes that are rich in color and truly opaque, and to paint them from darkest to lightest for the full effect.
Colorful Swirls
Ditch your classic French tips and opt for this fun swirl design instead. Much like the original white-tipped manicure, it uses a nude base to let the colors shine. The simplicity also gives it lots of variation so you change up the look per your mood. This option uses an eclectic mix of shades, but you could lean into darker polishes to create a contrasting look.
Muted Pastels
Sundays are the perfect time to binge-watch your favorite shows and bust open your nail kit for a DIY manicure. While a solid color set is always a good choice, this Skittle-inspired option with subdued pastel shades is a nice change of pace. Not only is it easy to recreate, but the muted polishes feel fresh. Just be sure to finish them with a glossy top coat to give them that salon shine.
Moody Mirage
There's no denying the allure of a moody nail polish, especially during the colder months. This intriguing design uses them to make a manicure that's both stunning and a little avant-garde. To recreate the look, first apply a layer of a pinky nude shade. Then use a paintbrush in the color of your choosing to delicately paint half of the tip before mirroring it at the base of the nail. When done right, you'll have an eye-catching look that's sure to become one of your favorites.
Contrasting French Tips
FYI: multicolor manicures are perfect for minimalists looking to shake up their rotation of looks. Minimalists can embrace the trend with creative styles that blend simple elements and bare nails. Take this set, for example, which remixes a traditional design with a crosshatch pattern in contrasting shades. Against the natural base, the polishes create an elegant and effortless manicure.