Megan Fox's Razor-Sharp Aura Nails Help Show Off Her Intricate Hand Tattoos
Do you want to touch the cosmic?
@meganfox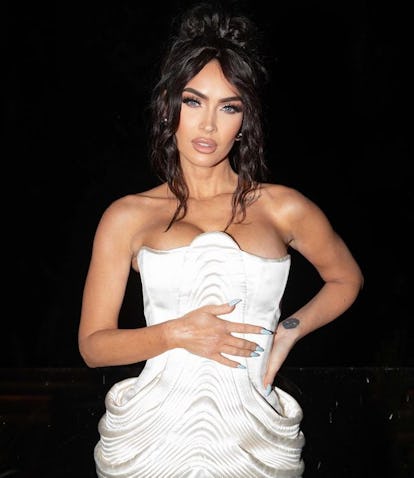 Megan Fox has never been shy about embracing and showing off her more spiritual side. A devoted follower of shamanic meditation, moon rituals, and the concept of past lives, she once even described herself as someone with "a rainbow aura." Her newest manicure certainly fits right in with her transcendent worldview, but she appears to have taken just a few liberties with the color scheme. Fox's cotton candy-colored aura nails are a sweet blue-and-pink confection that combines her love for the metaphysical with one of the year's best beauty trends — but in true Fox fashion, the new look doesn't come without some serious edge.
The actor's go-to nail artist, Brittney Boyce, offered a first glimpse at the sweet-scary style on her Instagram page, sandwiched between stunning nail art for fellow stars like Kim Kardashian and Kerry Washington. Boyce has personally created many of Fox's most detailed manicures (their 3D nail streak is still unmatched), but these airbrushed aura circles are really something special. After laying down a base coat of soft baby-blue gel polish, Boyce sprayed on a hazy, hot pink shade for excellent contrast. Perhaps most notable, though, is the extreme stiletto shape. Even for Fox, proud owner of some of the pointiest claws in the game, these are sharp.
Of course, the debut of a new Fox manicure always comes with extra bonus: fresh photos of her fine, detailed hand tattoos. She's had all-over body ink for years now, but got a slew of fresh additions in early July courtesy of tattoo artist Sydney Smith. The freehand eyes, dots, moons, and twinkling stars all make her nail designs feel even more intricate, like combining a bunch of glittering accessories.
Aura nails have been extremely popular among the celebrity set over the past couple of years, beloved by other A-listers like Dua Lipa, Madelyn Cline, and Cardi B. But while this look would be incredible even in a vacuum, it's extra-great considering the nail art streak Boyce and Fox have been on all summer. As the spooky season approaches — unsurprisingly, it's Fox's favorite time of year — get ready for some next-level designs and more daring shapes.