Dyson's Airstrait Straightener Dried My Thick Hair In 10 Minutes Flat
Erin Lukas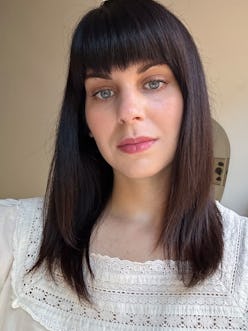 We may receive a portion of sales if you purchase a product through a link in this article.
In our series Trial Run, TZR editors and writers put the buzziest new beauty products to the test and share their honest reviews. This week, deputy beauty editor Erin Lukas is testing Dyson's Airstrait Straightener.
As someone with extremely thick hair, any hot tool that promises to take my hair from wet to dry makes me roll my eyes. With my at-home blowouts clocking in at 20 minutes (after I've towel-dried my hair) and stylists tag-teaming my hair with their blow-dryers when I'm at a salon, using whatever hair-dryer brush that's currently trending is seemingly implausible. Since sizzling my wet hair like bacon in a greased pan to failed results doesn't seem worth the potential heat damage, I've respectively sat out whenever the opportunity has arisen to try one of these tools. However, there are always exceptions to every rule, which is where the Dyson Airstrait, the brand's wet-to-dry hair straightener, comes in.
After breaking the internet with the launch of the Airwrap in 2018, Dyson's latest innovation is a wet-to-dry hair straightener that doesn't use extreme heat, thus eliminating the risk of damage. Like the brand's powerful vacuum and other hair tools, years of research and testing went into creating the Airstrait, and naturally, the final product has fans online proclaiming they need it without questioning its $500 price tag. And despite my skepticism with hair tools of this nature, even I was dying to get my hands on one.
Ahead, my honest experience drying and straightening my hair with the Dyson Airstrait, along with a detailed breakdown on the technology behind it. Spoiler: The results left me speechless, which doesn't happen often.
Fast Facts
Price: $500
Weight: 2.2 lbs
Best For: Those who want to dry and/or straighten their hair quickly without causing potential damage to hair
Technology Highlights:
What We Like: Lightweight; automatically shuts off to conserve energy; can be used to rough dry
What We Don't Like: Pricey
Rating: 4/5
How TZR Keeps Score: 1/5: Making a return; 2/5: Keeping as a backup; 3/5: Finishing to the last drop; 4/5: Recommending to my group texts; 5/5: Already on auto-replenish
How The Dyson Airstrait Works
Harnessing the same airflow technology as the Airwrap and the brand's vacuums, the hot plate-free Airstrait dries and straightens hair types 1 through 4 without exposing it to flat iron-level heat, and it can also be used on dry hair to refresh your style.
"With over five years in the making, Dyson engineers from around the world worked with professionals like me and many others, as well as testing the device on all textures and hair types," says Matthew Collins, celebrity hairstylist and Dyson global styling ambassador. We wanted this tool to have unique advantages for every single hair type. Since you are minimizing the damage, the elasticity of your hair is kept and you can get a naturally straight look then wash your hair and your curls come back with all their glory."
The tool's airflow is projected downwards at a 45-degree angle to create the tension needed to stretch and smooth the hair for a sleek finish. It also has a built in ion-izer, through which high-velocity air delivers neutralizing particles to create a shiny, frizz-free style. The button that locks it closed also transforms the straightener into a blow dryer — when turned on its side, the vents can be used to rough dry the roots or the rest of the hair as needed.
Along with the tool's wet and dry options, there are three heat settings: 175°F, 230°F and 285°F, and a boost adjustment for maximum shine. To keep hair from overheating, the Airstrait's internal glass bead thermistors continuously monitor the airstream's temperature, measuring it 30 times each second.
"There are also many head sensors around the arms on both sides to ensure the hot air does not go over the temperature set to ensure hair health is key," Collins adds. "Just airflow means nothing; it must be focused and directed at the perfect angle to ensure effectiveness."
And in efforts to conserve energy, the Airstrait automatically pauses after three seconds of inactivity — think if you have to put it down to resection your hair mid-styling session. Simply touch the tool to turn it back on.
My Typical Hair-Styling Routine
For as long as I can remember, blow-drying my thick, 1C hair has been a sweaty chore. When I was little, my mom used to sit me down in front of the TV to get me to stay still long enough to completely dry it, tugging my strands with a brush as she went over and over them with an airplane-level loud dryer. As an adult, I'll still only wash my hair at night, letting my hair air dry for 20 to 30 minutes before picking up my dryer, which then takes 10 to 15 minutes to finish the job. Air-drying my hair or going to bed with it a bit wet is completely out of the question — I'd wake up with slightly frizzy damp strands. During my evening hair wash routine, I'll apply a heat protectant before blowing it out. JVN's Complete Blowout Styling Milk is my go-to because it also helps lockout frizz and humidity.
After my hair is fully dry I'll smooth it out with a flat iron or add in some loose beachy waves in the morning, which I'll touch up daily in-between washes. I use minimal styling products; I simply spritz some Oribe Dry Texture Spray on my mid-lengths to ends for a piecey, lived-in finish.
Because I'm subjecting my hair to so much heat, I typically treat my strands with a leave-in conditioner when it's freshly washed (my current favorite is from Crown Affair) and I'll add a bit of nourishing oil (I'm a fan of RŌZ's Willow Glen Oil) to my ends on the days it's not.
My Experience & Results
To truly see if the Airstrait delivers on its promises, I tried it on wet, freshly washed hair. After towel-drying my strands for five minutes to get the excess moisture out, I turned the Airstrait on to the wet setting at 230°F, then locked it closed to rough dry my bangs. Next, I twisted the top half of my hair up with a claw clip, then divided the lower half into four two-inch sections. I unlocked the Airstrait and ran it over each section — the first pass almost fully dried my hair, while the second finished it off, leaving the strand silky smooth. The trick is to go slow when passing the tool over each section. I tried various frequencies during my styling session and noticed the more time I took with a pass, the drier it made my hair.
Once the lower half of my hair was dry, I took down one side of the top half of my hair, rough dried the roots, then divided it into two sections. After I dried this side of my hair with the tool, I followed the same steps on the remaining half. I also passed it through my bangs, which further smoothed them out without creating any weird dents or kinks.
To finish things off, I turned on the cool setting and passed the tool throughout my hair to lock in the style. Miraculously, the whole process only took 10 minutes, and I was pleasantly surprised at how smooth my hair was — it looked exactly like it did when I blow dry it regularly minus the sweat that's usually collected on the nape of my neck.
My towel-dried hair pre-styling session. Courtesy of Erin Lukas
My hair after using the Dyson Airstrait.Courtesy of Erin Lukas
Is The Dyson Airstrait Worth It?
While the Airstrait's results genuinely impressed me, the one caveat is the price tag. At $500 do you need the tool if you own a blow dryer and a flat iron? Depending on your hair type and styling routine, I say yes. As someone who spends so much time blow-drying and styling their hair, which leads to dryness and color fading, the Airstrait will completely change how I schedule my workouts and social plans during the week. For example, since rinsing my hair after a spin class would require me to spend 20 minutes blow-drying it afterwards, I only do this workout on wash days. With the Airstrait, I can quickly dry my hair post-gym — morning or night. So if you're into shaving time off your hairstyling routine and want to minimize damage, I resoundingly say yes to investing in this tool.