The Hush Cut Is The One Fall Hair Trend That Works With Any Length
@sabinasocol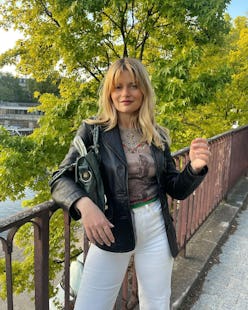 Getting a haircut isn't always the easiest decision because trying a drastic new look is a risk and it's hard to part ways with your current length. However, if you are in the market for a fresh style, the hush cut is the perfect option. A blend of face-framing layers and curtain bangs, the look has become one of the top trends for fall and has even been seen on a celebrity or two as of late. In fact, Rihanna recently sported a long variation of the cut as she casually posed with her newborn for SavagexFenty's Instagram account. Jennifer Korab, celebrity stylist and owner of the New Jersey-based Renaissance Salon & Spa, tells TZR, "the hush cut aims to to achieve the perfect balance between style and length."
In other words, it's ideal for almost any length of hair. Whether you have chin-grazing bob, a lob, or waist-length strands, the range of this trendy cut is endless. This all-around versatility is likely the main reason why the hush cut has quickly gone viral. Internet fame aside, you should still be knowledgeable before jumping on the trend in order to get a cut that best fits your hair type. For this reason, TZR tapped three celebrity stylists for the basics behind the hush cut, including its benefits and the best way to style it.
What Is The Hush Cut?
Many recent haircut trends have featured shaggy layers, a piecey texture, or blunt ends (think the classic bob). According to Jae-Manuel Cardenas, senior stylist at Sally Hershberger Salon in New York City, the hush cut trend is different. "Unlike the shags, mullets, and wolf cuts that have been popular as of late, this style offers a softer, more lived-in feel," he says. Popularized in Korea before making its way stateside, the hush cut is a more feathered version of those aforementioned haircuts. "At its core, this cut is characterized by its soft, face-framing layers that melt together as opposed to sitting on top of one another," notes Cardenas
What Are The Benefits Of The Hush Cut?
Layers are an easy way to add dimension to any hairstyle without having to sacrifice too much length. The hush cut fully embraces that ethos but with "a soft approach," says Korab. Instead of focusing on volume, the layers of this style are all about artfully framing the face with wispy pieces. "The key here is to bring attention to the face with shorter strands around the hairline, cheekbones, and rest of the face," says Korab. But these subtle cuts do much more than just accentuate your prominent features.
The layer placement also makes the haircut incredibly low maintenance. With no blunt or harsh lines, it's easy to maintain and has a graceful grow-out period. "In a unique way, it actually allows you to maintain your length and continuously give you movement," says hairstylist and Wella Professionals brand ambassador, Briana Cisneros. Whether you like to wear your hair down or prefer to keep it tied back, she notes that the hush cut can add dimension to daily styling.
What Hair Types Work Best For The Hush Cut?
Since light and airy layers are the key to the hush cut, those with straight hair or medium thickness make the best candidates. "If you typically wear your hair naturally curly or have a really tight curl pattern, it may be harder to achieve the desired layered look," says Cardenas. Cisneros agrees, noting that even those with fine hair may run into some difficulty with the layers of this cut. "Trust your stylist to use this trend as inspiration and allow them the freedom to make it suitable to your hair's specific needs. This way you will attain a look that best suits you," he says.
How To Style The Hush Cut?
Aside from the occasional bang trim, the hush cut requires little upkeep once you leave the salon. That said, styling tools and products are going to be your top concern. "This cut is meant to be super easy to wear and style," says Cardenas. After washing, add some product to your damp hair to add a touch of volume as it dries. According to Cisneros, raking a small amount from your roots to the tips of your strands beforehand will give you just enough separation to define the contour of the cut.
Another great benefit to the hush cut is that you don't always have to go the blow-drying route. "The shape of this cut easily adapts to wavy textures and loose curls, which can enhanced through air drying," says Cardenas. If, however, you are opting to blow-dry your hair, he recommends doing so with a round brush for a soft layered look.